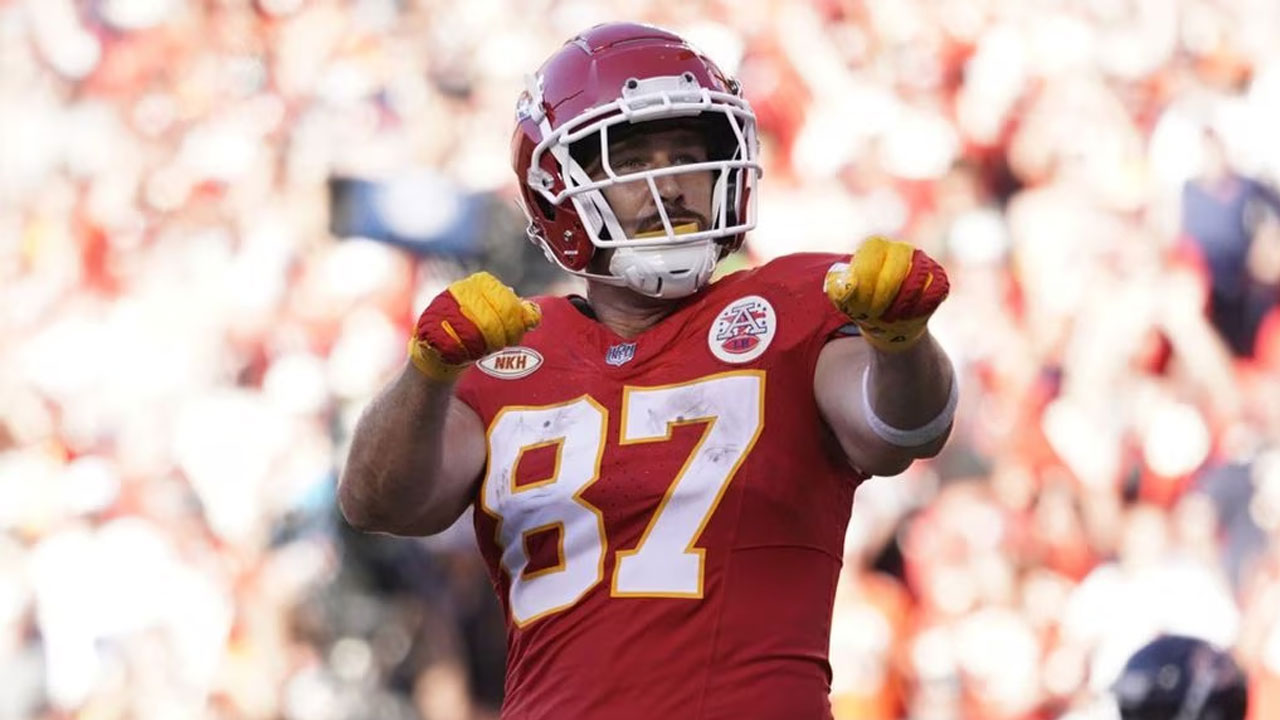 [Source: 1News]
Travis Kelce called an appearance by Taylor Swift at the Kansas City Chiefs' victory over the Chicago Bears last weekend pretty bold, but the All-Pro tight end insisted that he wants to keep future details about their relationship private.
Kelce discussed the pop superstar's well-publicised appearance in a suite at Arrowhead Stadium on his podcast, New Heights with Jason and Travis Kelce.
The younger of the Kelce brothers said it was "awesome" how everyone treated Swift during her time in his suite, and he was in awe of the way the 12-time Grammy Award-winner connected with his mum, Donna.
Article continues after advertisement
"She looked amazing," said Kelce, who had invited Swift to the game after trying — and failing — to give her a friendship bracelet when her Eras Tour made its stop in Kansas City.
"Everybody was talking about her and in a great light. And on top of that, you know, the day went perfect for Chiefs fans. Of course, we script it all, ladies and gentlemen."
Kelce had a game-high seven catches for 69 yards and a touchdown in the 41-10 victory over the Bears.
After his touchdown catch, when Kelce was supposed to break outside on the route but ducked inside to catch the perfectly thrown pass from Patrick Mahomes, cameras showed Swift pounding on the glass in celebration.
At one point, Swift even chest-bumped Kameron Saunders, one of her backup dancers and the brother of former Chiefs and current New Orleans Saints defensive tackle Khalen Saunders.
Kelce and Swift were seen leaving the stadium afterward, with the two-time Super Bowl winner joking they "slid off into the getaway car".
The convertible wound up heading to Prime Social Rooftop, a place to be seen in the upscale Country Club Plaza neighbourhood of Kansas City, which Kelce had rented out for a postgame soiree with the rest of the team.
"I met her. She was really good. Good people," Mahomes said before practice, the first in the Chiefs' prep for Monday's game at the New York Jets.
"Like Travis said, I'm going to let them have their privacy and keep it moving."
Kelce acknowledged on his podcast the widespread interest in him with Swift, adding that he has seen paparazzi suddenly staking out his Kansas City-area home. When his brother, Jason, asked how he knew they were paparazzi, Kelce replied: "They have a camera in their hands and they're screaming my name".
Jersey sales for Kelce spiked before and after last Sunday's game, a spokesperson for apparel and merchandise company Fanatics told The Associated Press, making his No. 87 one of the five top-selling jerseys over the weekend.
"Sounds like the Swifties are also part of Chiefs Kingdom," Kelce said.
Kelce, who was not available to reporters, is known for his public persona. He frequently attends major sports and entertainment events — Kelce and Mahomes upset the Warriors' Stephen Curry and Klay Thompson in a made-for-TV golf match over the summer — and even starred in a reality dating show in 2016 called Catching Kelce.
Yet with Swift known for keeping her personal life private, Kelce apparently has decided to begin doing the same.
"What's real is that it is my personal life. I want to respect both of our lives," Kelce said on his podcast.