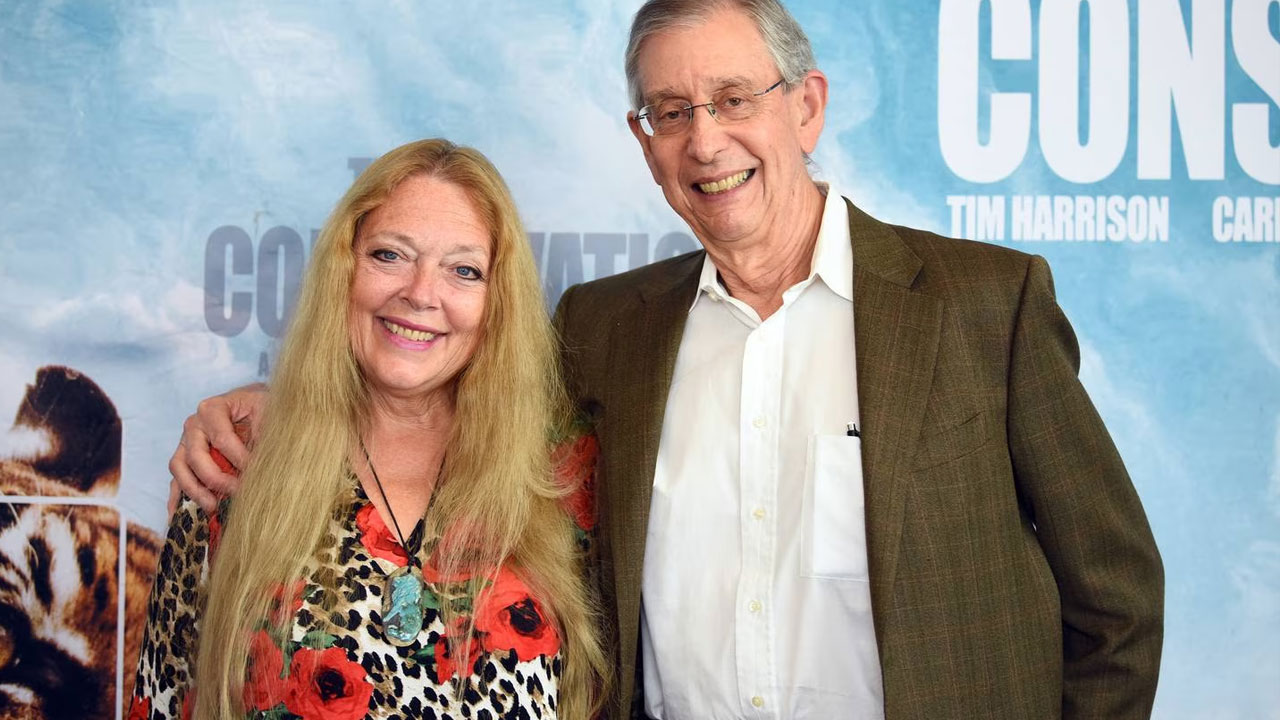 Carole Baskin and now-husband Howard Baskin. [Source: NZ Herald]
"Hey all you cool cats and kittens," Carole Baskin's husband isn't actually six feet under, reports New York Post.
Don Lewis, the Tiger King star's ex-husband, has been found in Costa Rica – alive and well.
But, perhaps what's even more shocking than Don Lewis' rise from the dead, is the fact that we all missed it.
Article continues after advertisement
In November 2021, Baskin revealed in an interview with ITV's This Morning talk show that her ex-husband, who in 2002 was pronounced legally dead after being missing for several years, is actually alive.
The Big Cat Rescue star claimed that the Department of Homeland Security had been in contact with her former lover.
"One of the really exciting things that came out of Tiger King 2 is that they produced a letter from Homeland Security and it says that a special agent in charge with the FBI at Homeland Security reached out to the sheriff's detective George [Jorge] Fernandez, which means this had to have happened after 2002, because Homeland Security wasn't even around until 2002," Baskin told the show.
She continued, "And they said that my husband, Don Lewis, is alive and well in Costa Rica."
Baskin went on to share her surprise at the news, adding: "I didn't think he was capable of supporting himself. He took about a million dollars (NZ$1.55 million) down to Costa Rica, I had agreed to let him do that so he could prove to himself that he could make a living."
As for what happened to the large amount of money, Baskin said she tried to recover the sum, only to find there was a mere $80,000 (NZ$124,000) left "because the investments he had made were so bad."
Lewis has refrained from making any public statements squashing the rumours of his death.
Despite the news being over a year old, people are only just hearing about the revelation thanks to the story going viral on social media.
Someone wrote on Twitter, "Was I the only one that didn't know they found Carole Baskin's husband living his best life in Costa Rica?!"
Another person wrote, "Hold on, I'm seeing people saying that Carole Baskin's husband was found ALIVE???"
The popular Netflix docu-series shot to fame in 2020 at the peak of the coronavirus pandemic. During the show, Baskin revealed that her ex-husband, Don Lewis, had mysteriously disappeared in 1997. The pair were married at the time of his disappearance, however she claimed she never heard from Lewis again, according to CBS News.
The Netflix star is now remarried, tying the knot with husband Howard Baskin in 2004.
After Baskin's series, which followed the strange adventures of now-incarcerated big-cat keeper Joseph Maldonado-Passage (or Joe Exotic as most people know him), many of the show's watchers thought Baskin may have been involved in her ex's disappearance.
Some fans proposed some wacky conspiracy theories regarding her mysterious missing ex, including an unsupported claim that she was somehow involved in a murder-for-hire scheme.
Additionally, Joe Exotic accused Baskin of feeding her ex-husband to the tigers at Big Cat Rescue.
Baskin was so traumatised by the allegation that she joined a "secret" celebrity support group.
What's more, Don Lewis' family also believed Baskin was responsible for his disappearance, even paying for a television spot during Baskin's debut on Dancing with the Stars asking if anyone had any information regarding their missing relative.
"Do you know who did this or if Carole Baskin was involved?" family lawyer John Phillips asked in the televised commercial.
Baskin boldly denied the claims at the time.
"I believe their actions are just a publicity stunt," the Netflix star said in an email to CNN, "but if it helps us find Don, then that will be a huge relief."