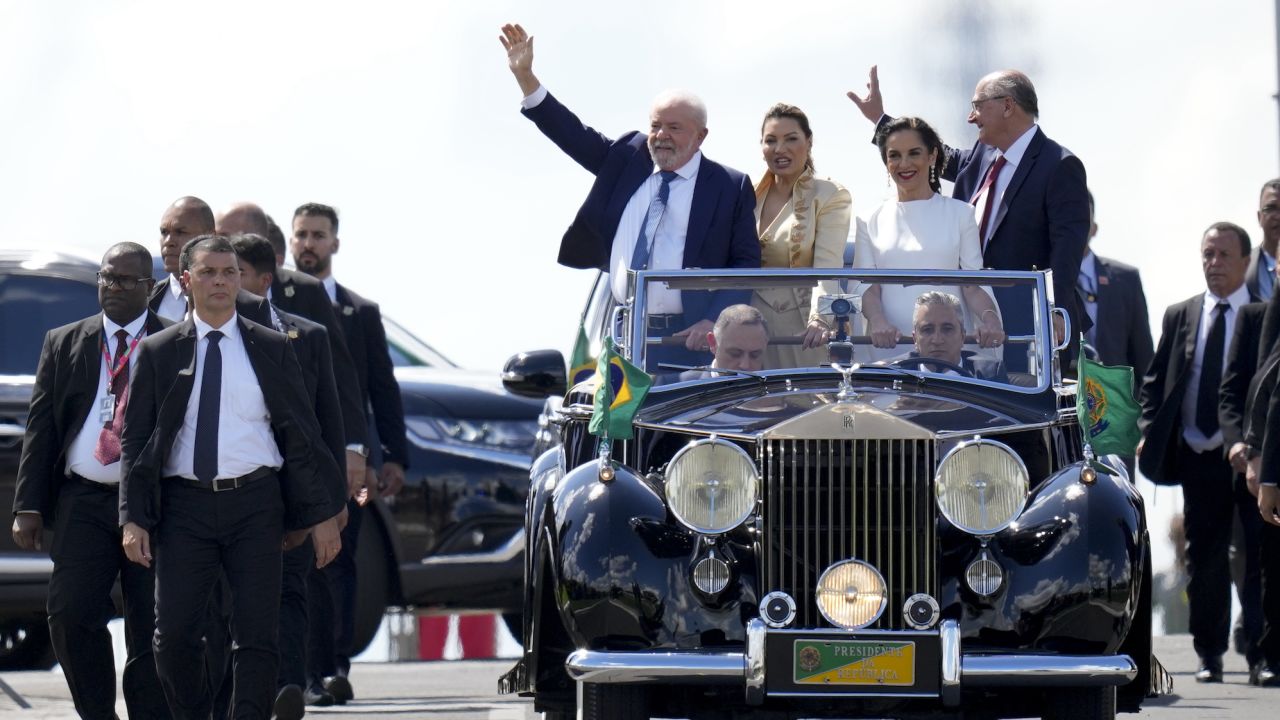 [Source: CNN]
Luiz Inácio "Lula" da Silva was sworn in as Brazil's president for the third time on Sunday, as threats of violence loomed from supporters of his predecessor, Jair Bolsonaro.
"I promise to maintain, defend and fulfill the constitution, observe the laws, promote the general good of the Brazilian people, support the unity, integrity and independence of Brazil," Lula said.
The 76-year-old politician, returning to the presidency after a 12-year hiatus, arrived with his wife, Rosângela da Silva, at the Metropolitan Cathedral in Brasília at 12:20 p.m. local time before heading to congress where a formal congressional session took place.
Article continues after advertisement
Parliamentarians applauded Lula before breaking into a chant of "ole, ole ola, Lula, Lula."
The Senate president opened the ceremony by paying respects to Pelé and Pope Benedict with a minute of silence.
During the ceremony, Lula broke with traditional protocol to tell a short story about the pen he used to sign congressional documents.
"In 1989 was in a rally in Piaui, then we walked until the San Benedict church, and a citizen gave me this pen and asked me to use this to sign in if I win the election in '89. I didn't win the election in '89, didn't win in '94, didn't win '98. In 2002 I won, but when I arrived here I had forgotten the pen and signed with a senator pen. In 2006, I signed with the Senate pen, and now I found the pen, and I do in honor of the people of Piaui state," he said.
The newly inaugurated president and the first lady then traveled in an open car parade to attend a military honors ceremony outside the presidential palace.
Looming over the ceremony was the notable absence of Bolsonaro, who left Brazil for Florida on Friday and did not specify his return date.
His trip to the United States breaks with Brazilian convention of outgoing leaders being present at their successors' inauguration ceremony. It came as Brazil's government issued an ordinance on Friday authorizing five civil servants to accompany "future ex-president" Bolsonaro to Miami, Florida, between January 1 and 30, 2023.
Lula won a tight run-off race on October 30, in a stunning comeback that marked the return of the left in power in Brazil following four years of Bolsonaro's far-right administration.
Lula accomplished a remarkable return to power after a series of corruption allegations that led to his imprisonment for 580 days. The Supreme Court later ruled it a mistrial, clearing his path to run for reelection.
After previously governing Brazil for two consecutive terms between 2003 and 2010, Lula will inherit a country with crippling debt and much higher levels of poverty than when he left office.
Bolsonaro's former vice president, Hamilton Mourao, addressed the nation in a speech on national television this Saturday on the last day of his government and criticized leaders whose silence created "an atmosphere of chaos."
"Leaders that should reassure and unite the nation around a project for the country allowed that silence to create an atmosphere of chaos and social division," said Mourao, who added that the armed forces had to pay the bill. Since the election results, Bolsonaro had addressed the public only three times. He did not accept election results in those addresses, fomenting his radical base into believing the result could be reversed.