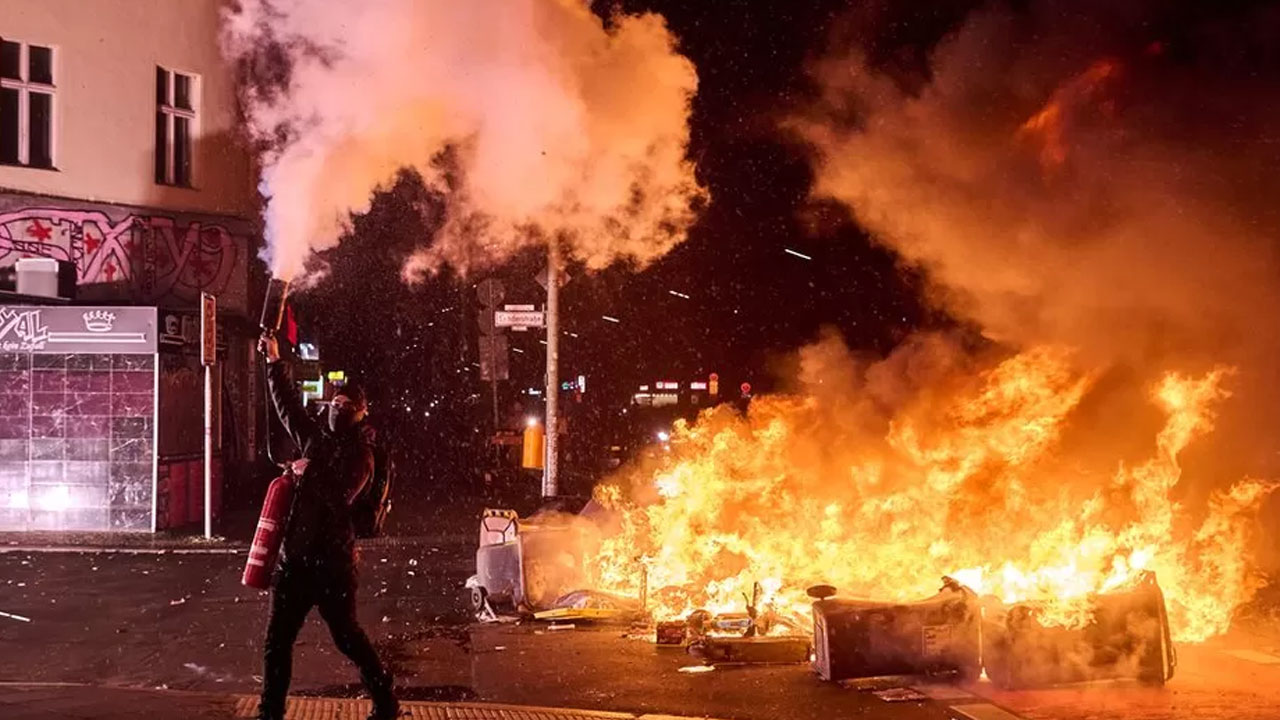 Some of the worst violence came in the Neukölln district of Berlin. [Source: BBC News]
A night of new year rioting and attacks on emergency services in Berlin and other cities has shocked Germans and prompted calls for a ban on fireworks and firecrackers.
Forty-one police officers were hurt in the capital alone and there were dozens of attacks on firefighters.
Mayor Franziska Giffey has called a youth summit, condemning the violence as "absolutely unacceptable".
Article continues after advertisement
Several figures highlighted the migrant background of many of the youths.
But the Berlin mayor insisted the issue was more to do with the social environment in which young Berliners had grown up: "We're not talking about immigration labels but about what went wrong in the social flashpoints."
It was not just Berlin that witnessed violence. There were reports of rockets, firecrackers and even a starting pistol being fired at emergency vehicles in cities including Hamburg, Bonn, Dortmund and Essen.
Police said of the 145 arrests made during the Berlin riots that the majority were men, 45 were German while 27 were of Afghan nationality and 21 were Syrians.
The revelations fed into a broader debate, and leading conservative figure Jens Spahn spoke of "unregulated migration, failed integration".
Some commentators questioned whether breaking down the suspects' nationalities was helpful. Germany's press code makes clear that ethnic or religious background should only be reported where there is legitimate public interest.
Government integration commissioner Reem Alabali-Radovan called for perpetrators to be judged on their actions and "not according to their presumed origins, as some are now doing".
Interior Minister Nancy Faeser said that while a debate had to take place on the background to the riots, it should not be used to stir up "racist resentment".
But she told the Funke newspaper group that Germany's major cities had a significant issue with "certain young men with a migration background, who hold our state in contempt, commit acts of violence and who can hardly be reached via education and integration programmes".
Part of the problem is thought to have stemmed from the brief lifting of a ban on sales of fireworks and firecrackers over the new year.
After a two-year halt on sales during the Covid pandemic to prevent hospitals coming under further pressure, authorities said pyrotechnics would be allowed between 6pm on New Year's Eve and 6am on New Year's Day. One of the police unions said sales should be banned completely in future.
The Berlin district of Neukölln was worst-hit by the violence and local mayor Martin Hikel spoke of conditions similar to a civil war, with rescue workers being lured into ambushes.
He told the newspaper Die Welt that the violence was less about migration issues and more to do with socially disadvantaged areas. He warned of the risk of moving towards a situation similar to that in suburban areas of France.
Neukölln's integration commissioner Güner Balci said those who took part in the attacks came from a small group of "absolute losers". In some inner city areas facing major social issues, she said children and young people were growing up witnessing domestic violence as part of their daily lives.