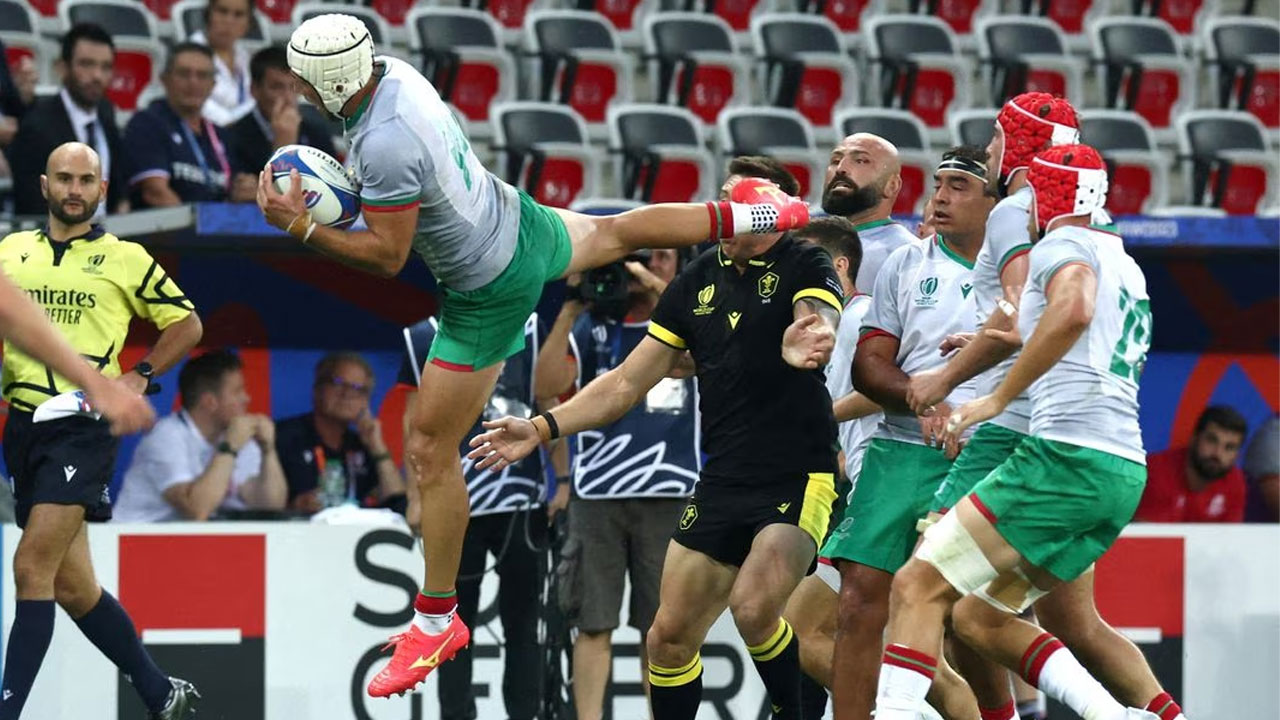 [Source: Reuters]
Portugal coach Patrice Lagisquet has stacked his bench with six forwards to counteract Georgia's power up front late in the game when the familiar foes meet at the World Cup in Toulouse.
The Portuguese have played Georgia more than any other country barring neighbours Spain and Romania but have not managed a win in their last 18 clashes.
Their last meeting was in the Rugby Europe Championship final in March, when Lagisquet also had a 6-2 split on his bench, but the coach warned that forward power was not all he was worried about.
Article continues after advertisement
"We don't usually do that, we have done it just once against Georgia and we do it again as in our last game we lost in the last 20 minutes," he told reporters in Toulouse after announcing his team on Thursday.
"When I see people talk about Georgia they underestimate their level. They not only have a big forward pack, they have very good backs."
Skipper Tomas Appleton said Portugal had learned lessons from the 38-11 loss in the Rugby Europe Championship final.
"It wasn't a good game from us," he said. "We did some good things but we need to correct a lot of areas of the game.
"We need to correct our kick chase, we need to change some areas of our defence (but) we have prepared a lot, like never before."
Lagisquet made four changes, one enforced by the two-match ban handed to winger Vincent Pinto, to his team from the side that lost 28-8 to Wales in their Pool C opener.
Pinto, who was shown a red card for kicking Wales's Josh Adams in the head while jumping to catch a high ball in Nice, was replaced by Raffaele Storti.
Up front, Jose Madeira reclaimed his starting spot in the second row from Martim Belo after being a late withdrawal from the Wales match.
Number eight Rafael Simoes retains his place at the back of the pack after having a citing for a dangerous tackle against the Welsh dismissed by the judiciary during the week.
Team: 15-Nuno Sousa Guedes, 14-Raffaele Storti, 13-Pedro Bettencourt, 12-Tomas Appleton (captain), 11-Rodrigo Marta, 10-Jeronimo Portela, 9-Samuel Marques, 8-Rafael Simoes, 7-Nicolas Martins, 6-Joao Granate, 5-Steevy Cerqueira, 4-Jose Madeira, 3-Diogo Hasse Ferreira, 2-Mike Tadjer, 1-Francisco Fernandes.
Replacements: 16-David Costa, 17-Lionel Campergue, 18-Anthony Alves, 19-Martim Belo, 20-David Wallis, 21-Thibault de Freitas, 22-Pedro Lucas, 23-Manuel Cardoso Pinto.