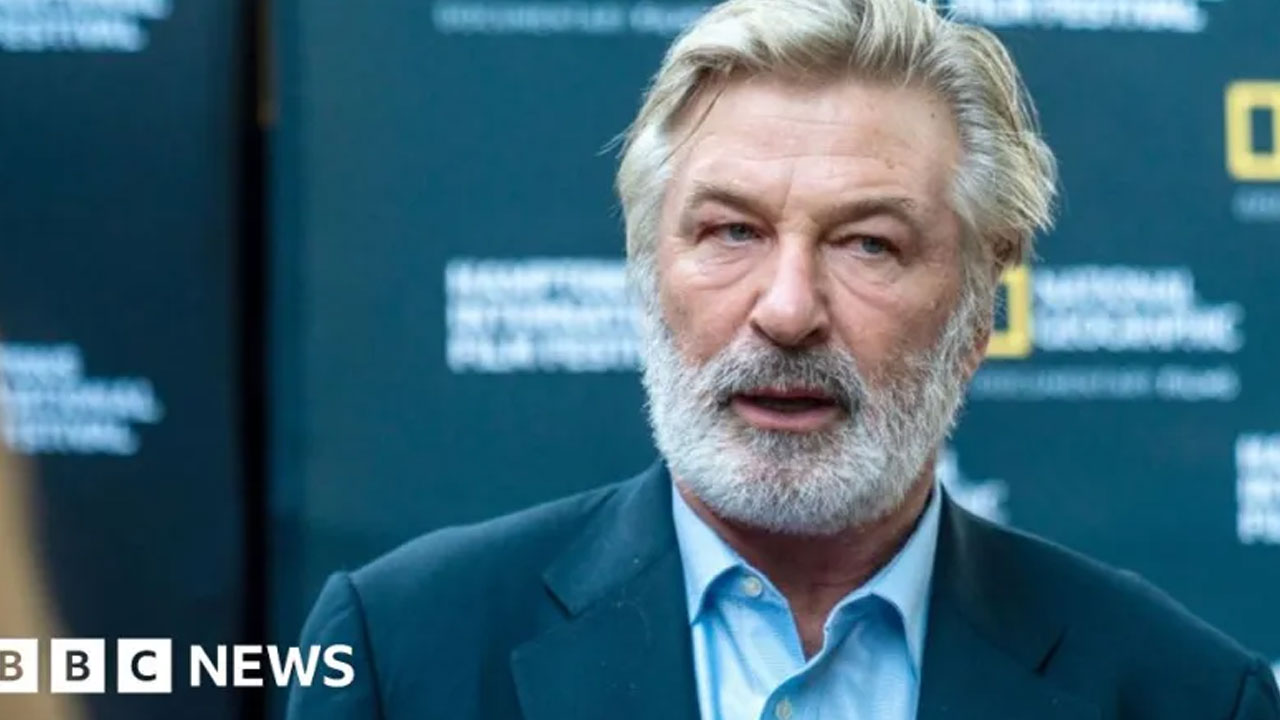 [Source: BBC Entertainment]
The family of a cinematographer who was fatally shot by Alec Baldwin on the set of a movie has filed a new civil suit against the actor and producers involved in the film.
Halyna Hutchins died on the set of Rust in New Mexico after Mr Baldwin allegedly fired a prop gun.
Mr Baldwin, 64, was charged with involuntary manslaughter last month.
Article continues after advertisement
The family has been "devastated by the shocking killing" of Ms Hutchins, their attorney Gloria Allred said.
The suit, which alleges intentional infliction of emotional distress and negligence, is being brought in Los Angeles County Superior Court by Ms Hutchins' mother, father and sister, who are living in Ukraine, Ms Allred said during a news conference on Thursday.
The family "feels strongly that anyone who is responsible for her loss must be held accountable", she said.
Ms Hutchin's husband filed a lawsuit against Mr Baldwin and other members of the film production last February.
The lawsuit – which sought punitive damages, funeral and other expenses, alleging "reckless behaviour and cost-cutting" on set led to her death – was settled for an undisclosed amount last October.
The new lawsuit filed on Thursday is aimed at providing "accountability and justice" not only for Ms Hutchins' husband and son, but her parents and sister as well, Ms Allred said.
Ms Hutchins, who is Ukrainian, died in hospital after she was shot in the chest by a prop gun allegedly fired by Mr Baldwin during a rehearsal at Bonanza Creek Ranch near Santa Fe.
Last month, prosecutors alleged Mr Baldwin had been distracted while speaking to family members on his mobile phone during firearms training. They argued Mr Baldwin failed to perform mandatory safety checks with armourer Hannah Gutierrez-Reed – who was also charged with involuntary manslaughter – and that he should not have pointed the gun at Ms Hutchin's face, according to documents filed by the Santa Fe's District Attorney's Office.
If found guilty in a trial, Mr Baldwin and Ms Gutierrez-Reed could face up to 18 months in prison.
Ms Hutchins' family has had to cope with the loss while living in Ukraine during the war, Ms Allred said. Ms Hutchins' mother, she said, is working as an emergency operating room nurse in a hospital tending to those injured in the war.
Ms Hutchins would have aimed to bring her family to the US to flee the war in Ukraine if she were still alive, Ms Allred said.
Mr Baldwin has denied responsibility for the shooting and has said he did not pull the trigger on the gun and that it misfired, a claim that was disputed by FBI officials in a report sent to the Santa Fe County Sherriff's Office.
The 30 Rock Actor has filed a lawsuit against Ms Gutierrez-Reed and other people involved with the film, alleging they failed to check the gun carefully.
Ms Gutierrez-Reed has said she will fight the charges. She said she had checked to make sure the rounds she loaded in the prop gun were dummies before it was handed to the film's assistant director Dave Halls, who then gave it to Mr Baldwin and told him it was an unloaded gun.
Mr Halls pleaded guilty to a misdemeanour charge of negligent use of a deadly weapon and is serving six months probation.
The New Mexico Environment Department fined Rust, producers, more than $136,000 (£112,000) after an investigation found there was "a degree of neglect" on set.