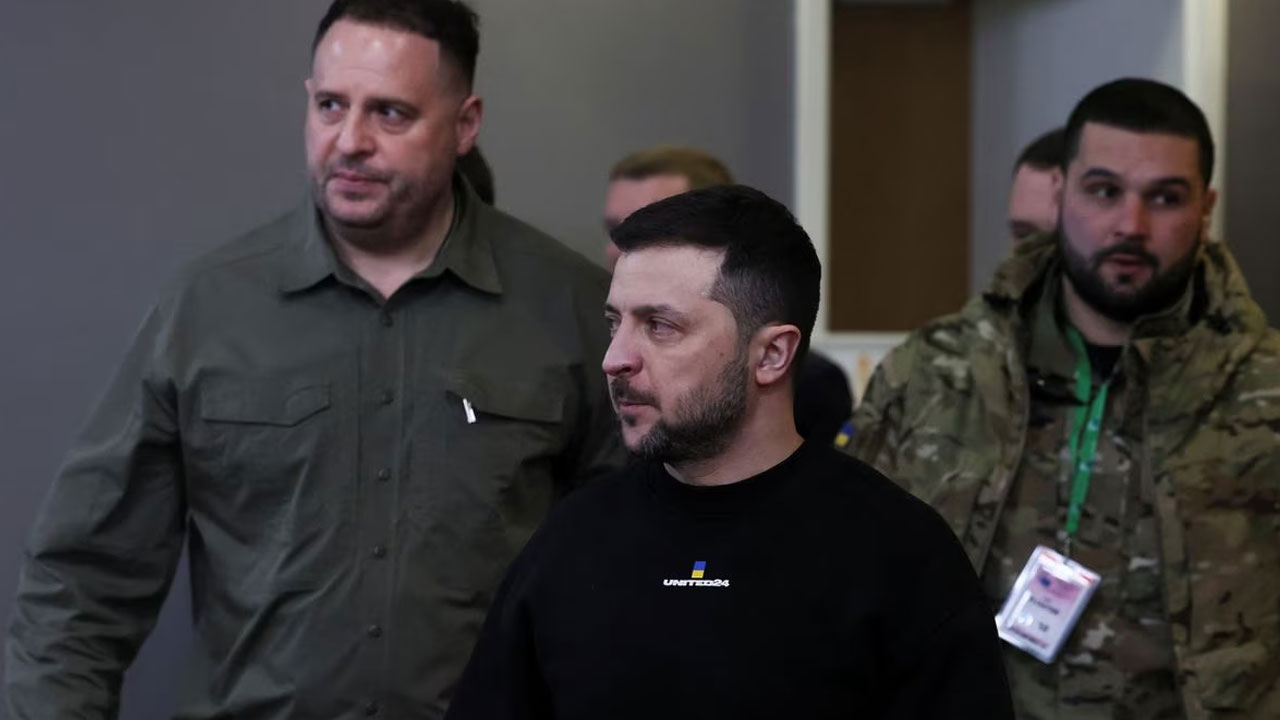 Ukrainian President Volodymyr Zelenskiy walks following a bilateral meeting with EU leaders during the European leaders summit, in Brussels, Belgium February 9, 2023. [Source: Reuters]
>Ukraine urged allies to speed up the pace of military aid as NATO defence ministers prepared to meet for a second day on Wednesday, while Russia bombarded the eastern front line in what appeared to be the early salvoes of a fresh offensive.
Much of Russia's artillery fire was focused on Bakhmut, a bombed-out city in Donetsk province and a principal target for President Vladimir Putin. Ukrainian troops there have fortified positions in anticipation of street fighting.
Bakhmut's capture would provide a stepping stone for Russia to advance on two bigger cities, Kramatorsk and Sloviansk in Donetsk, giving it momentum after months of setbacks ahead of the first anniversary of the invasion on Feb. 24.
Russia is in a hurry to achieve as much as it can with its latest push before Ukraine and its allies gather strength, Zelenskiy said earlier in the day.
Ukraine is using shells faster than the West can make them and says it needs fighter jets and long-range missiles to counter the Russian offensive and recapture lost territory.
The United States and NATO have pledged that Western support will not falter in the face of a looming Russian offensive, as alliance defence chiefs met in Brussels.
German Defence Minister Boris Pistorius said supplying Ukraine with fighter jets would certainly be discussed but that it was not a focus at the moment.
Russia, which calls the invasion a "special military operation" to eliminate security threats, said NATO demonstrated its hostility towards Russia every day and was becoming more involved in the conflict. Kyiv and its allies call Russia's actions an unprovoked land grab.
NATO Chief Jens Stoltenberg said Putin was "preparing for more war, for new offensives and new attacks".
The Kremlin has intensified attacks across a swathe of southern and eastern Ukraine in recent weeks, and a major new offensive has been widely anticipated.
Over the past day, Russian forces shelled more than 25 settlements in the direction of Bakhmut, in Donetsk, the General Staff of the Ukrainian Armed Forces said on Wednesday.
Ukrainian units repelled attacks in the areas of more than 20 settlements, including Bakhmut as well as Vuhledar – a town 150 km (90 miles) southwest of Bakhmut, it added.
Ukrainian officials said Russians had suffered losses around Vuhledar, including tanks, armoured vehicles and personnel.
White House spokesperson John Kirby said Russian forces had made incremental progress around Bakhmut.
Yevgeny Prigozhin, the head of the Wagner mercenary group that has spearheaded the assault on Bakhmut, said Russian forces would not be able to capture the town anytime soon. In a post on the Telegram platform, he said Ukraine was reinforcing with up to 500 new fighters a day.
Reuters was unable to verify battlefield reports.
Russia holds swathes of Ukraine's southern regions of Kherson and Zaporizhzhia, including its nuclear plant, nearly all of Luhansk and over half of Donetsk, including the regional capital.
A U.S.-backed report published on Tuesday said Russia had held at least 6,000 Ukrainian children – likely many more – in camps in Crimea and Russia whose primary purpose appeared to be political re-education.
Russia's embassy in Washington said Russia accepted children who were forced to flee with their families from the shelling in Ukraine.