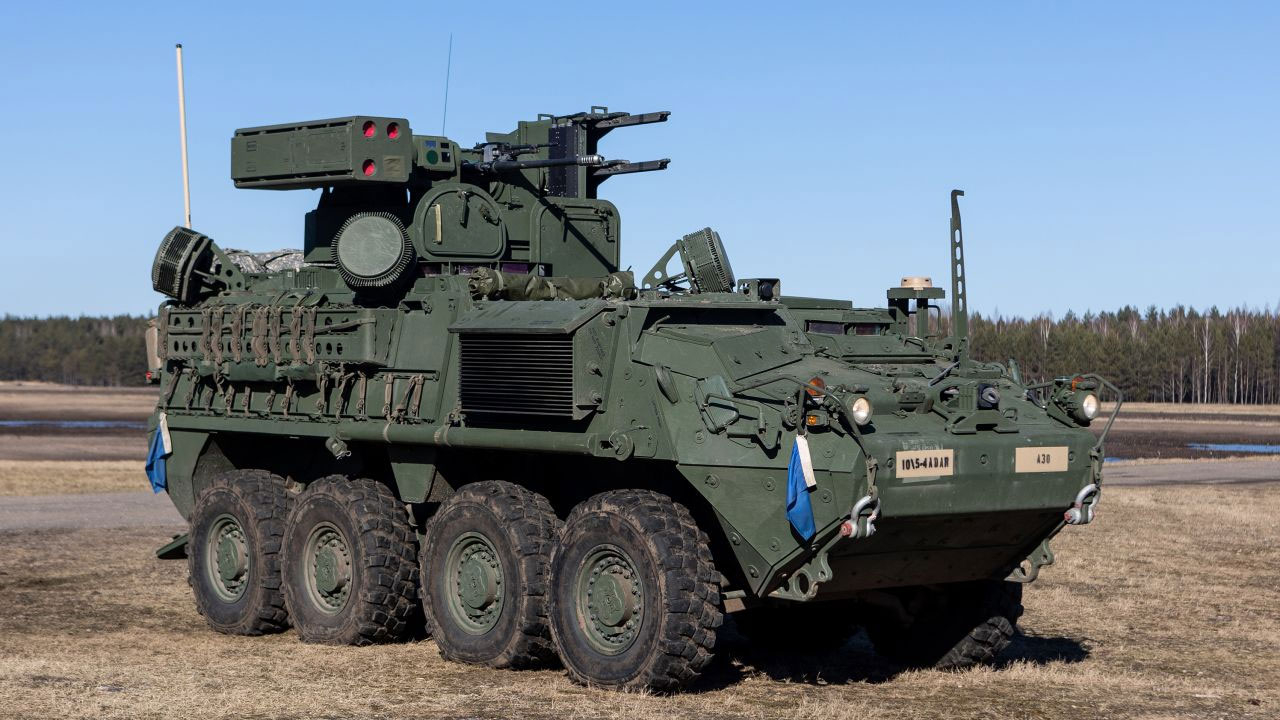 General view of US army M-SHORAD Stryker Air Defence vehicle on March 1, 2022 in Kazlu Ruda, Lithuania. [Source: CNN]
The US is set to finalize a huge military aid package for Ukraine totaling approximately $2.5 billion worth of weaponry, including for the first time Stryker combat vehicles, two sources briefed on the next tranche of aid told CNN.
The package is not yet finalized, one of sources said, but it could come before the end of the week.
The new aid – one of the biggest packages to be announced since the war began last February – would also include more armored Bradley Fighting Vehicles, according to one of the people briefed. Combined with the Strykers, it marks a significant escalation in the armored vehicles the US has committed to Ukraine in its fight against Russia. Mine-resistant ambush protected vehicles, known as MRAPs, are also on the list, the person said. The US has already committed to sending Ukraine nearly 500 MRAPs.
Article continues after advertisement
When asked if the US was preparing to announce another Ukraine security package, State Department spokesman Ned Price told CNN, "Two words: stay tuned."
Stryker vehicles are armored vehicles capable of moving infantry across a battlefield. They are both lighter and faster than Bradley infantry fighting vehicles, which the Pentagon announced it is sending to Ukraine for the first time earlier this month. Together, the two vehicles provide Ukraine a mechanized capability that can bring the fight directly to the front lines, especially combined with promised tanks from the UK and other armored vehicles from France and Germany.
"What we're trying to look at is the mix of armored and mechanized forces that make sense," Colin Kahl, undersecretary of defense for policy, told reporters Wednesday.
The announcement is not expected, however, to include tanks or the long-range missiles Ukraine has repeatedly asked for. The US is expected to send Ukraine more ammunition for its artillery systems and HIMARS rocket systems that have been consistent in recent aid packages.
Ukrainian officials have been fiercely lobbying Washington for longer-range missiles known as ATACMS (Army Tactical Missile Systems) that have a range of around 200 miles (about 300 kilometers). The Biden administration has resisted sending them out of fear of escalating the conflict with Russia.
"On the ATACMS issue, I think we're kind of at the agree to disagree position on that," Kahl said.
Kyiv has pleaded for modern tanks, a request the US is not yet willing to grant, even though the UK and other key allies are preparing to send tanks that could make a crucial difference in the war as Kyiv braces for a possible large-scale Russian counter-offensive.
The administration has also pushed back on sending M1 Abrams tanks because of logistical and maintenance complications. The UK, meanwhile, recently announced it would send a squadron of Challenger 2 main battlefield tanks amid Ukrainian hopes that Germany will allow its popular Leopard 2 tank to be offered to Ukraine – heralding a new phase in the international effort to arm Kyiv and cross what had previously appeared to be a red line for the US and its European allies.
Earlier this month, Polish President Andrzej Duda said his country would provide Ukraine with a company of Leopard tanks, while Finland said tanks are under consideration.
he US, which has led the way on providing military aid to Ukraine to combat's Russia's invasion, now appears more cautious than key allies, even as it has far outpaced other countries in sending aid to Ukraine.
On Friday, a meeting of the Ukraine Contact Group, comprised of around 50 countries and organization, is being convened in Ramstein, Germany, to discuss military aid for Ukraine.
CNN previously reported that US officials are expected to announce one of its largest military aid packages for in the coming days, according to two US officials familiar with the plans.
The largest US security package to date, announced earlier this month, totaled more than $3 billion and included the first shipment of Bradley infantry fighting vehicles. The previous largest package was $1.85 billion and was announced in late December.
Tanks represent the most powerful direct offensive weapon provided to Ukraine so far, a heavily armed and armored system designed to meet the enemy head on instead of firing from a distance. If used properly with the necessary training, they could allow Ukraine to retake territory against Russian forces that have had time to dig defensive lines. The US has begun supplying refurbished Soviet-era T-72 tanks, but modern western tanks are a generation ahead in terms of their ability to target enemy positions.
British Foreign Secretary James Cleverly said on Tuesday that the UK decided to "intensify our support" for the Ukrainians by sending tanks and other heavy equipment because they want to send "a really clear message" to Russian President Vladimir Putin that they will support Ukraine until they are "victorious."
"It's in no one's interest for this to be a long, drawn out, attritional war," Cleverly said at the Center for Strategic and International Studies in Washington. "I mean, we seeing terrible images of civilian infrastructure, residential buildings being hit by missiles, women, children being killed, bodies being taken out of collapsed buildings. We cannot allow that to go on any longer than is absolutely necessary … So the moral imperative is to bring this to a conclusion."