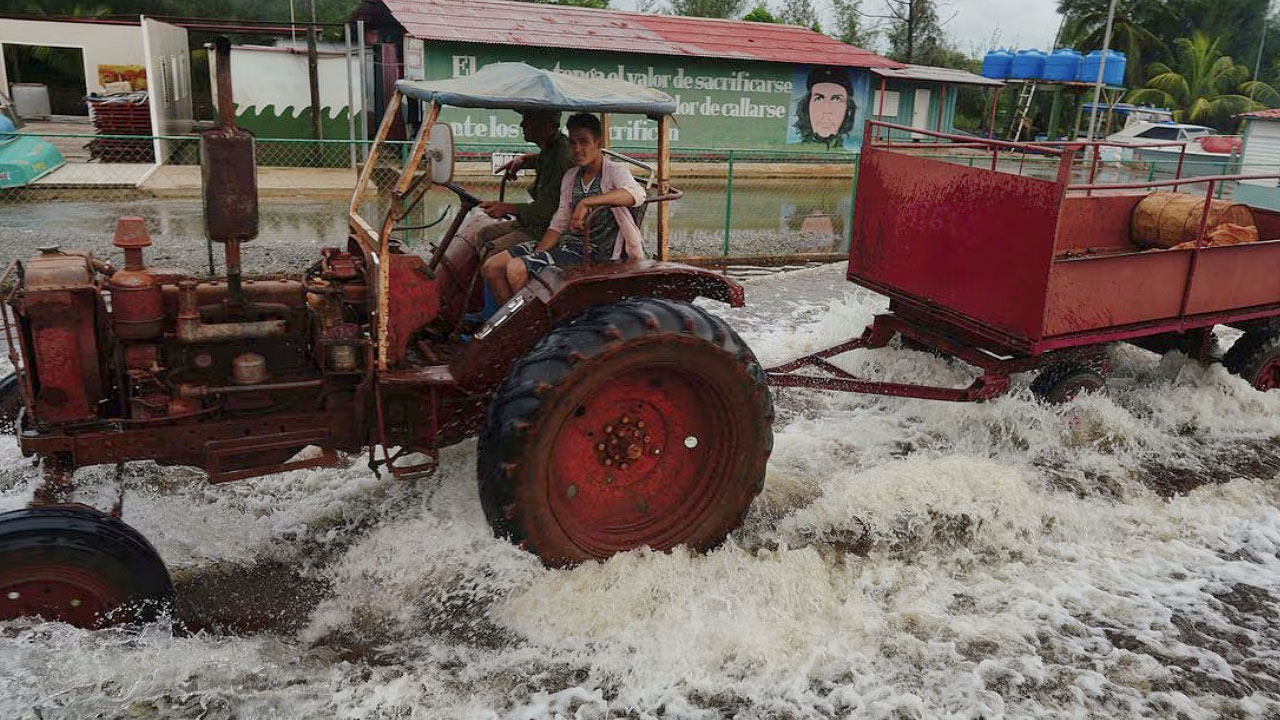 [Source: Reuters]
Tropical Storm Idalia lashed western Cuba and was expected to strengthen into a major hurricane as it crawled toward Florida's Gulf Coast, where officials ordered evacuations and urged residents to prepare for an expected Wednesday landfall.
Idalia was churning about 80 miles (130 km) off the western tip of Cuba as it barreled north, packing maximum sustained winds of 70 mph (112 kph), the Miami-based National Hurricane Center said in its latest advisory.
The storm's growing intensity and its northerly track put some 14 million Floridians under hurricane and tropical storm warnings along the Gulf of Mexico.
Article continues after advertisement
Authorities warned that the chief hazard to human life posed by the storm would be from surging walls of seawater driven inland by high winds, inundating low-lying coastal areas.
Storm surge warnings were posted for hundreds of miles of Gulf Coast shoreline, from the Sarasota area north through Tampa and stretching to the sport-fishing haven of Indian Pass at the western end of Apalachicola Bay.
Cubans rushed to evacuate coastal towns, batten down homes and tie down fishing boats as Idalia bore down near the western end of the island nation on Monday.
Chocolate-brown floodwaters had swamped the small fishing village of Guanimar, south of Havana, by mid-afternoon.
Decades-old buses missing floorboards and windows carried residents to higher ground as winds howled, rattling tin roofs and slamming fishing boats tucked in the mangroves.
Stormwater had already swelled to near knee-height inside her home, she said.
Farther to the west, more intense winds closer to the storm center pounded the tobacco-rich province of Pinar del Rio, home to the raw material for fine Cuban cigars.
Authorities had evacuated tens of thousands of people from that province as well as the neighboring farm province of Artemisa.
Idalia was forecast to reach hurricane strength late Monday and attain Category 3 force – classified as a major hurricane on the five-step Saffir-Simpson wind scale – by the time it makes landfall in Florida on Wednesday. Hurricane center forecasts showed Idalia's center on track to come ashore in Florida's Big Bend area, where the state's Gulf Coast panhandle transitions into its peninsula region.
Shannon Hartsfield, who runs a fishing boat in Apalachicola Bay in Franklin County on the panhandle, was heeding the warnings.
Hartsfield and many of his fellow anglers had pulled most of their boats from the bay and moved them to high ground, he said. Other fishermen who ran out of time and left their crab traps behind must now wait until after the storm to assess the damage.
By Tuesday, Florida's Gulf Coast, southeastern Georgia and eastern portions of North and South Carolina could face torrential rains of 4 to 8 inches (10 to 20 cm) that could unleash scattered flooding. Along with the heavy rain, winds of more than 110 mph (177 kph) could result in life-threatening storm surge, the hurricane center warned.
School districts across the region canceled classes starting on Monday afternoon. Tampa International Airport planned to suspend commercial operations beginning at 12:01 a.m. Tuesday.
Like many beachfront communities along the coast, the city of Bradenton opened sandbag stations on Monday and urged its 55,000 residents to stay vigilant.