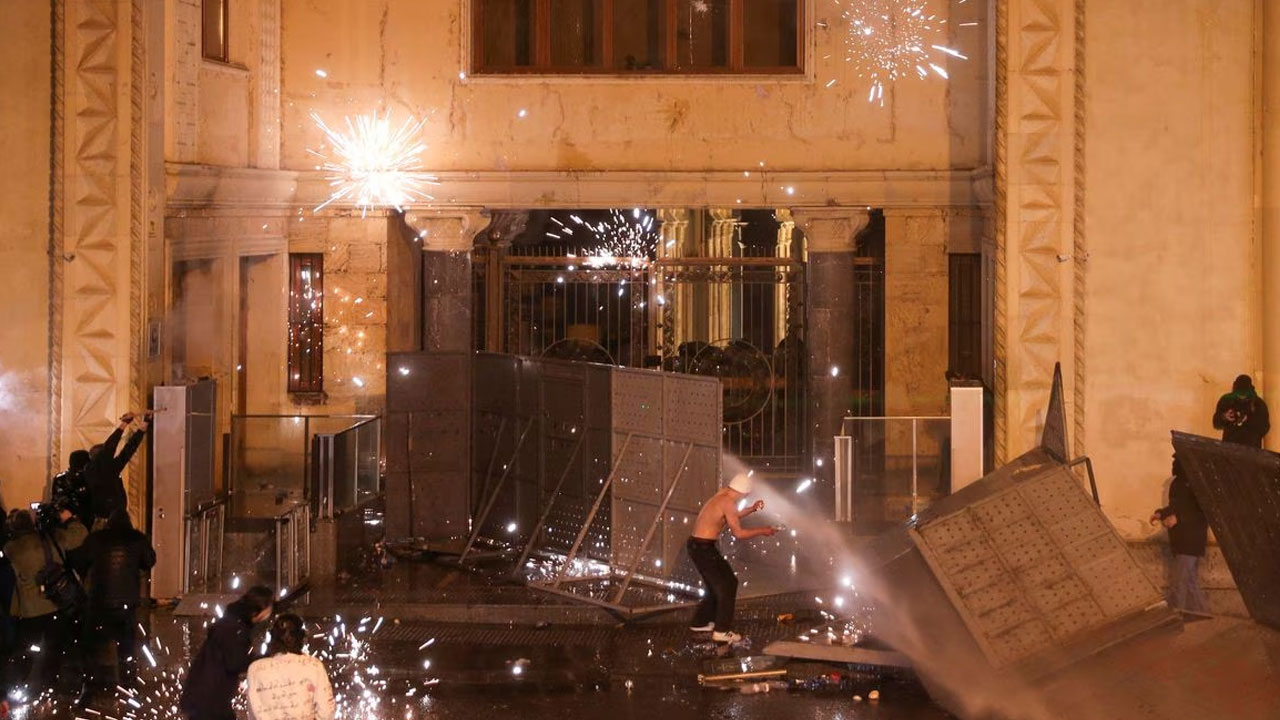 Fireworks explode outside the parliament building, as protesters attempt to break through barrier constructions during a rally against a draft law on "foreign agents", which critics say represents an authoritarian shift and could hurt Georgia's bid to join the European Union, in Tbilisi, Georgia, March 8, 2023. [Source: Reuters]
Police in the Georgian capital Tbilisi used tear gas, water cannon and stun grenades late as they moved to break up the second straight day of protests against a "foreign agents" law which critics say signals an authoritarian shift.
Hundreds of police converged on streets around the parliament building in a bid to disperse the protesters. Unlike clashes on Tuesday night, there were no signs of demonstrators throwing petrol bombs or stones, although at least one police car was overturned.
Tear gas billowed down Tbilisi's central Rustaveli Avenue, where parliament is located, forcing at least some of the thousands of demonstrators to move away.
Article continues after advertisement
The interior ministry said 77 people had been detained after the Tuesday protests which started when lawmakers approved a first reading of the law, which requires any organisations receiving more than 20% of their funding from overseas to register as "foreign agents" or face substantial fines.
The ruling Georgian Dream party say it is modelled on U.S. legislation dating from the 1930s. Critics, including President Salome Zourabichvili, say it is reminiscent of a law Russia has used to crack down on dissent and could harm Georgia's chances of European Union membership.
Zourabichvili, speaking to CNN, urged authorities to refrain from using force and portrayed Georgia as a victim of aggression by a Russia she said was determined to maintain influence in the Caucasus region.
The EU last year rebuffed Tbilisi's attempts to become a candidate for membership, saying it needed to speed up changes in areas such as the rule of law.
Protests restarted on Wednesday afternoon with a march down Rustaveli Avenue to mark International Women's Day, which is a public holiday.
Thousands gathered in front of parliament as evening set in, carrying Georgian and European Union flags as well as the flag of Ukraine and shouting "No to the Russian law" and blocking traffic.
Ukrainian President Volodymyr Zelenskiy thanked Georgians for waving his country's flag, saying it showed respect.
Footage of smaller protests in the Black Sea resort city of Batumi, Georgia's second largest, were also shared online.
The draft law has deepened a rift between Georgian Dream, which has a parliamentary majority, and Zourabichvili, a pro-European who has moved away from the party since being elected with its support in 2018.
She pledges to veto the bill if it reaches her desk, though parliament can override her.
Critics say Georgian Dream is too close to Russia and has taken the country in a more repressive direction. Georgian society is strongly anti-Moscow following years of conflict over the status of two Russian-backed breakaway regions, which flared into war in 2008.
Georgian Dream Chairman Irakli Kobakhidze on Wednesday said the law would help root out those working against the interests of the country and the powerful Georgian Orthodox Church. He criticised Georgia's "radical opposition" for stirring up protesters.