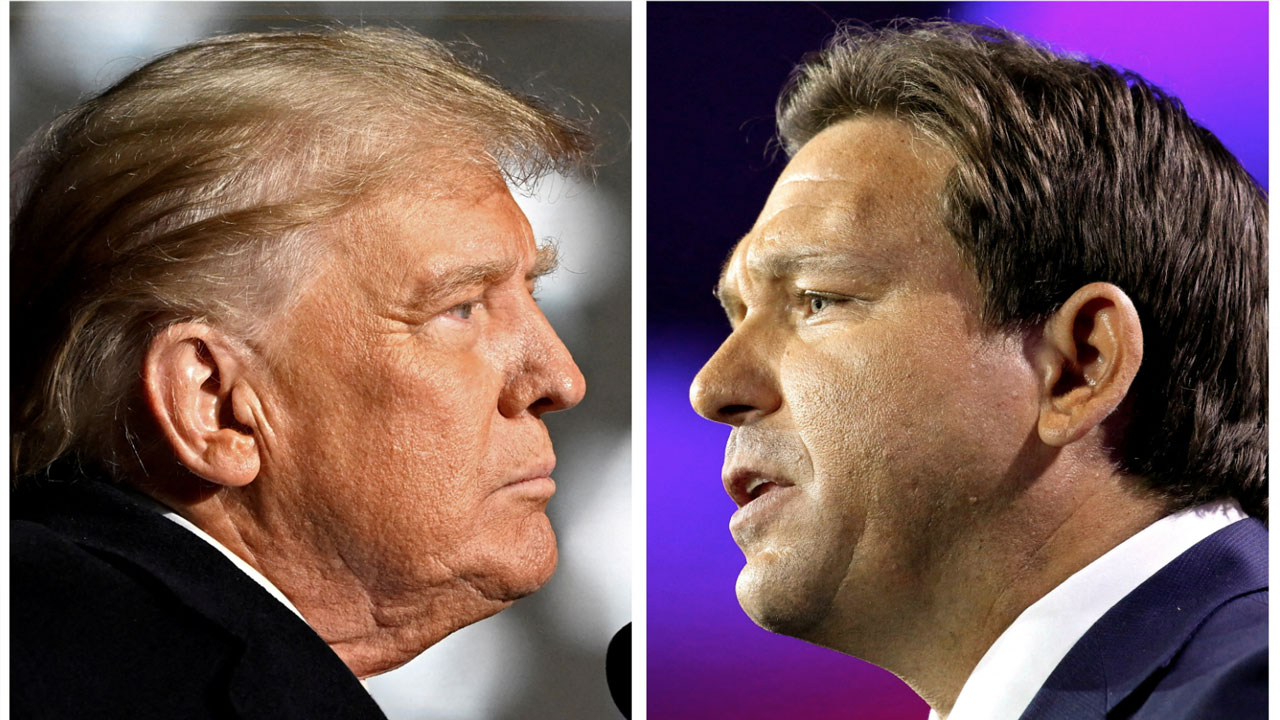 ormer U.S. President Donald Trump and Florida Governor Ron DeSantis speak at midterm election rallies, in Dayton, Ohio, U.S. November 7, 2022 and Tampa, Florida, U.S., November 8, 2022 in a combination of file photos. [Source: Reuters]
A growing number of contenders for the 2024 Republican presidential nomination could clear the way for a Donald Trump victory while throwing up roadblocks for his main rival Florida Governor Ron DeSantis, party members and strategists said.
Republicans who fear Trump is too polarizing a figure to beat Democratic President Joe Biden in 2024 worry that if too many candidates jump into the party's contest, they will splinter the anti-Trump vote. That would allow the former president to clinch the nomination, just as he did in similar circumstances in 2016.
Former Vice President Mike Pence, former New Jersey Governor Chris Christie, and North Dakota Governor Doug Burgum are planning to enter the fray this week, bringing the number of challengers to front-runner Trump into the double digits.
Article continues after advertisement
Political analysts estimate that Trump can count on a diehard core of supporters, who make up at least a third of Republican voters, to help him secure his party's nomination.
DeSantis has been aggressively courting those voters, but few are expected to defect from Trump. If DeSantis has any hope of becoming the Republican nominee, political analysts said, he has to try to win over a significant chunk of the other roughly 70% of voters who are up for grabs.
DeSantis must compete with a raft of Republican rivals for those votes. To be sure, many are long shots who barely register in opinion polls, but they can still hamper DeSantis' efforts to build the coalition he needs to take on Trump.
Hogan seriously considered taking on Trump but decided earlier this year against entering the race because he feared that a large field of contenders would only help the former president to repeat his 2016 victory, when he bested 17 major candidates.
On Monday, New Hampshire Governor Chris Sununu, another moderate who had been considering a White House run, said he decided not to enter the race. He told CNN he wanted to be a more "candid, a little more unleashed voice" outside the confines of a presidential bid, as he seeks to try and move the party beyond Trump.
Right now it's essentially a two-man race.
Trump dominates the field among potential Republican primary voters with 49% support with DeSantis next at 19%. There is a yawning chasm between the front-runners and the rest of the field: Pence has just 5% backing, while former South Carolina Governor Nikki Haley has 4%, according to the latest Reuters/Ipsos opinion poll conducted in May.
Others are barely registering at all. Christie has just 1% backing him, as does U.S. Senator Tim Scott of South Carolina, while former Arkansas Governor Asa Hutchinson, who declared in April, has 0%.