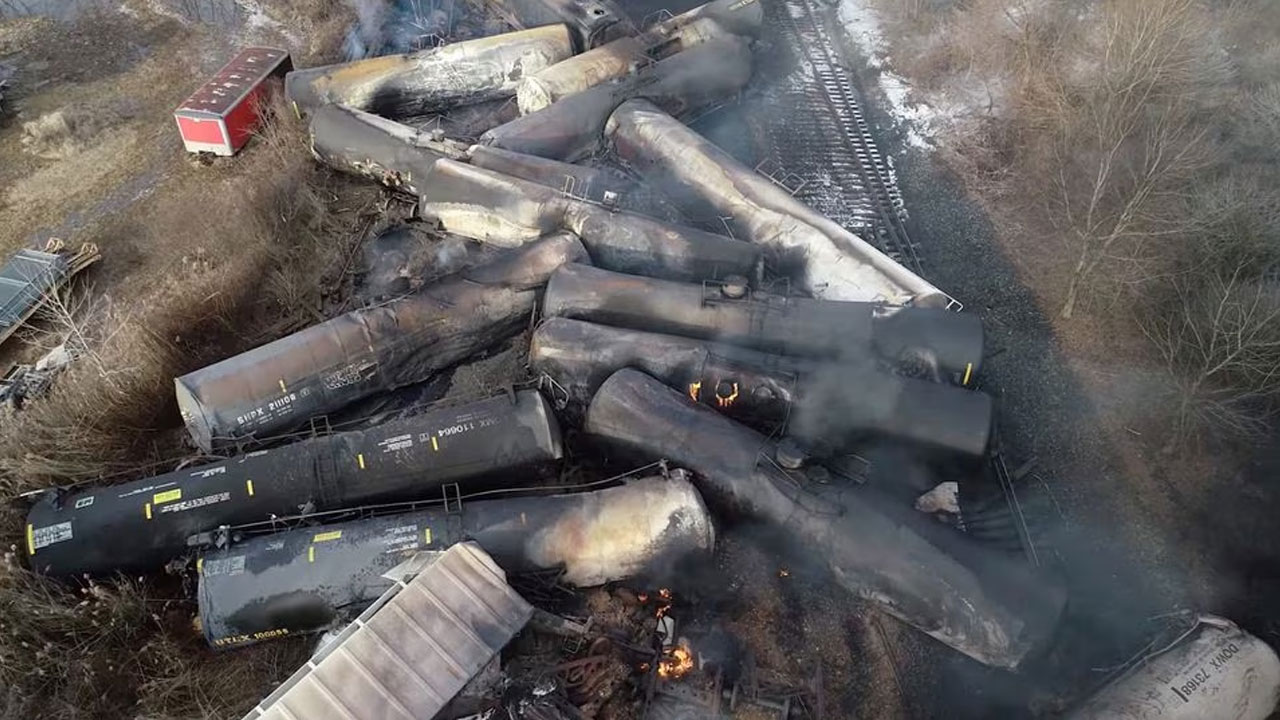 [Source: Reuters]
A Norfolk Southern (NSC.N) train derailed in Ohio on Saturday.
The second such incident involving the railroad in that state in about a month, prompting local officials to order residents living near the accident site to shelter in place.
Norfolk Southern said the train that derailed near Springfield was not carrying hazardous materials and that no one was hurt. Local authorities said first responders on the scene were working to confirm that no toxins were involved.
Article continues after advertisement
The accident follows the Feb. 3 derailment of a Norfolk Southern train in East Palestine, Ohio, about 180 miles (290 km)northeast of Springfield. The East Palestine derailment sent millions of pounds of toxic chemicals into the environment and forced thousands of people to evacuate.
Norfolk Southern said in an emailed statement that Saturday's derailment of about 20 cars of a 212-car train happened as it was traveling southbound near Springfield. The statement did not give any cause for the derailment.
"No hazardous materials are involved and there have been no reported injuries," Norfolk Southern said. "Our teams are en route to the site to begin cleanup operations."
U.S. Transportation Secretary Pete Buttigieg said on Twitter he was briefed by the Federal Railroad Administration on the latest derailment and that they would closely monitor the situation.
Ohio Governor Mike DeWine said President Joe Biden and Buttigieg called him to offer any assistance needed with the latest accident.
"We don't believe hazardous materials were involved," DeWine said.
U.S. Senator Sherrod Brown, a Democrat from Ohio, said on ABC's "This Week" on Sunday morning that he was not satisfied with the company's response to the latest derailment and questioned if communities in Clark County could have been affected by any potential contaminants left in the mostly empty cars. There have been four derailments in the past five months in Ohio, Brown noted.
"The railroads got a lot of questions they've got to answer, and they really haven't done it very well, yet," Brown said.
Clark County officials asked residents living within 1,000 feet (300 meters) of Saturday's derailment to "shelter-in-place out of an abundance of caution," according to a statement on the county's Facebook page.
It said there were power outages in the area due to downed power lines resulting from the accident and that it was not clear how long it would take to restore electricity.
The Federal Aviation Administration said on Sunday it was implementing temporary flight restrictions over the Springfield area until Tuesday to allow for safe relief and law enforcement operations following the derailment.