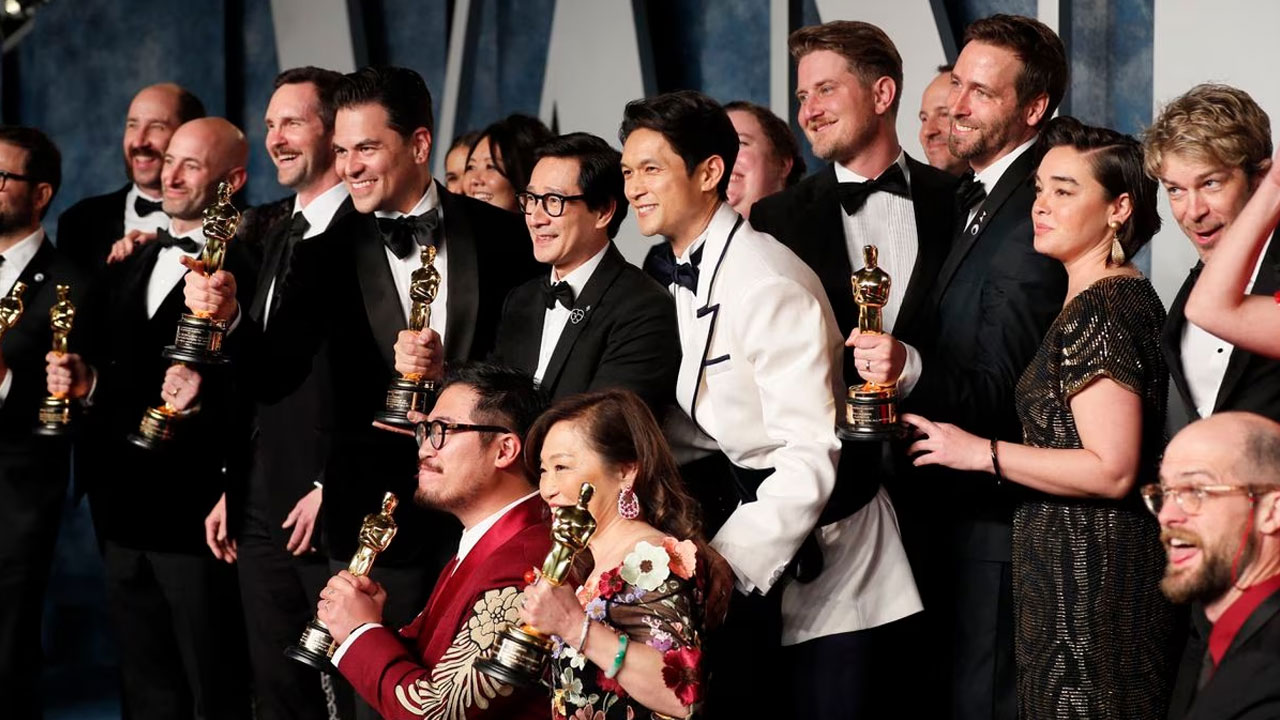 Ke Huy Quan and team from "Everything Everywhere All at Once" arrives at the Vanity Fair Oscar party after the 95th Academy Awards, known as the Oscars, in Beverly Hills, California, U.S., March 12, 2023. [Source: Reuters]
Independent studio A24 was the big winner at Sunday's Academy Awards, taking nine awards out of its 18 nominations, including best picture and all four acting prizes.
The studio's "Everything Everywhere All at Once" won seven Oscars, the most of the evening, including best picture.
The science-fiction film also took three of the four acting awards. Michelle Yeoh was named best actress, while Ke Huy Quan and Jamie Lee Curtis took the supporting awards.
Article continues after advertisement
It was only the third film in Oscar history to win three of the four acting awards, following 1951's "A Streetcar Named Desire" and 1976's "Network." No film has ever won all four acting prizes.
However, Brendan Fraser took the best actor prize for A24's "The Whale," which also won for best makeup and hairstyling.
Not since the heyday of Miramax in the 1990s has an independent studio garnered such attention, talent and box office success, entertainment industry insiders say.
At a time when major Hollywood studios have taken refuge in the familiar, releasing sequels and rehashing old ideas, A24 is cementing a reputation for taking risks on original projects that other studios pass on — including the frenetic, chaotic "Everything Everywhere All at Once," which is its highest-grossing movie at $107.4 million globally.
This year, A24 will build on that momentum and lift its film, television and documentary production by 30%, according to a source familiar with the matter, riding the wave of industry acclaim and its 2022 box office success.
Forthcoming releases this year include the love story "Past Lives," which screened to a rapturous critical reception at the Berlin film festival; the dark comedy series "Beef" for Netflix (NFLX.O), in which Ali Wong and Steven Yeun portray two strangers whose lives collide in a road-rage episode; and the Steph Curry documentary "Underrated" for Apple TV+.
The New York-based company founded by three film executives — Daniel Katz, David Fenkel and John Hodges, who has since departed — got its start in 2012 distributing such films as "Spring Breakers." Some of its box office success has come from the horror genre, with such critically acclaimed films as "Hereditary" and "Midsommar." It earned a reputation as a Hollywood tastemaker with such director-driven projects as "Lady Bird," "Moonlight" and "Uncut Gems."
This year, A24's 18 Academy Award nominations were across six films, ranking second only to the giant Walt Disney Co. (DIS.N). It collected its first nods for best-animated feature, "Marcel the Shell With Shoes On;" best foreign film, "Close;" and outstanding makeup and hairstyling, "The Whale." Eight performers in A24 films received first-time acting nominations including Yeoh, Quan, Curtis and Fraser.
The first film A24 produced and financed, together with Brad Pitt's Plan B Entertainment, was "Moonlight," which won the Oscar for best picture in 2017. The studio has garnered 53 Oscar nominations in less than a decade, including best picture nods for "Lady Bird, "Minari" and "Room."
A24's film slate has grown at the pace of its cash flow – starting with three movies in 2016 to 15 in 2022. Midway through the global lockdown, it resumed movie-making using its in-house production capabilities. This year, it's on track to produce about 15 films for theatrical release, eight documentaries and 10 television shows.
The studio's frugal use of capital — A24's film budgets range from $5 million to $50 million — give it the flexibility to take more creative swings, according to the source close to the studio.
The studio, which now employs 200 people working in New York, Los Angeles and London, eschews traditional movie marketing campaigns in favour of digital promotions, like the rubber "hot dog fingers" and googly eyes from "Everything Everywhere All at Once" that took TikTok by storm.
A24's financial success at the box office has allowed it to expand its creative portfolio.
About nine years ago, it began producing television shows in addition to films, winning critical praise for Hulu's "Ramy," a comedy series centred around a first-generation American Muslim, and HBO's Emmy-winning drama series "Euphoria."
The studio is developing shows for several streaming services and television networks, including a pair of HBO series: "The Sympathizer," a $100 million television adaptation of Viet Thanh Nguyen's Pulitzer Prize-winning novel starring Robert Downey Jr., and "The Idol" from the creators of "Euphoria" and The Weeknd.
It's also developing "Sunny," a thriller for Apple TV+ starring Rashida Jones and Hidetoshi Nishijima.
The global reach of the streaming platforms, together with an infusion of $225 million from investors including Stripes and Neuberger Berman, on behalf of client funds, serve to fan A24's ambitions, as it ramps up production and expands into new genres.