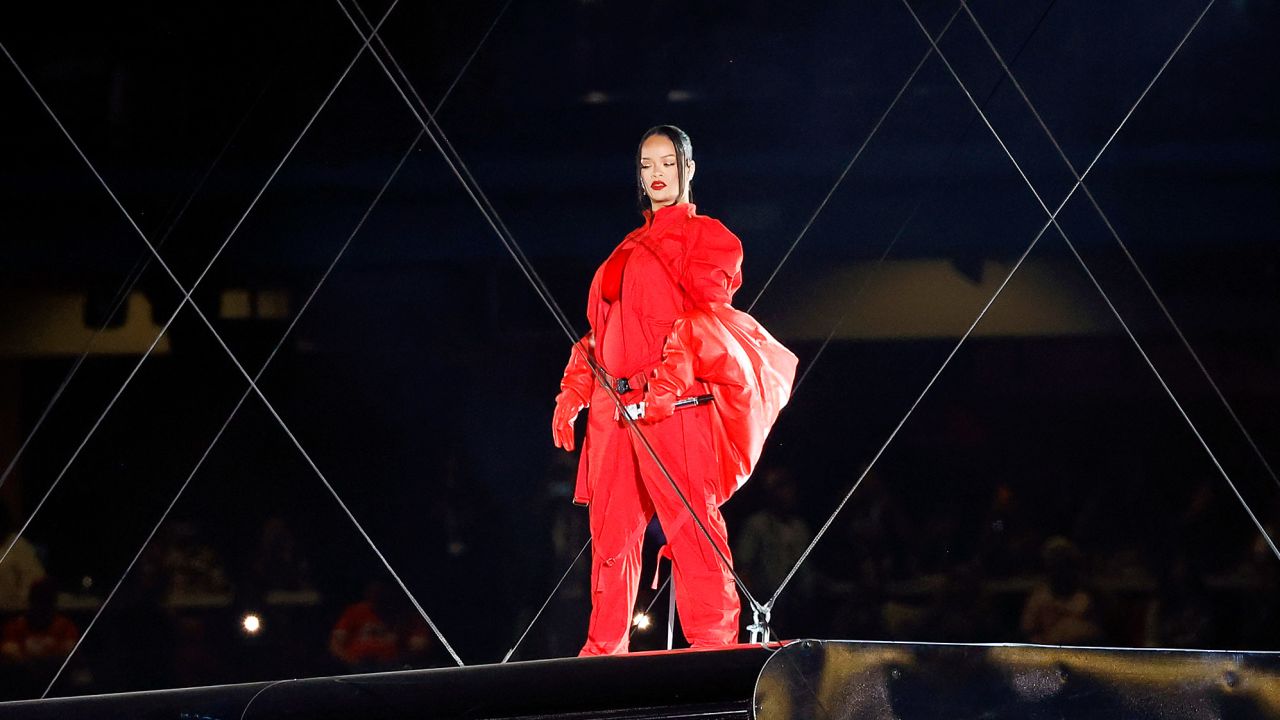 Rihanna performs onstage during the Apple Music Super Bowl LVII Halftime Show at State Farm Stadium on February 12, 2023. [Source: CNN Entertainment]
How about that Rihanna concert sandwiched by a football game?
At least that's what the Apple Music Super Bowl LVII Halftime Show felt like with her as the featured performer.
Dressed all in red, including red lipstick, she kicked off the performance flying high over the field on a floating stage singing "B**ch Better Have My Money."
Article continues after advertisement
What followed was some of her biggest hits, including "We Found Love," "Rude Boy," "Work," "Only Girl (In the World)" and "Umbrella."
She also included her verses on the Kanye West hit "All of the Lights" and "Run This Town," her song with West and Jay-Z.
Rihanna closed it out with "Diamonds" and sparked speculation that she may be expecting as she rubbed her abdomen during the song.
CNN has reached out to Rihanna's publicist for comment.
Following her performance, a representative for the Rihanna confirmed to The Hollywood Reporter that she is pregnant.
In the days leading up to the show, Rihanna shared some thoughts about the challenges in putting together the halftime performance.
She said during a conversation with Apple Music that one of the hardest parts was narrowing down which of her songs to perform.
In an episode of the iHeart/NFL podcast "The Process with Nate Burleson" released on Super Bowl Sunday, Rihanna said Prince's 2007 halftime performance is one of her favourites and she "watched Beyonce's halftime performances a couple of times" to prepare.
The mother of a young son said she's been very picky about the projects she's been taking on since the birth of her first child in May 2022. She said yes to playing the Super Bowl and recording the now Oscar-nominated single "Lift Me Up" from the "Black Panther: Wakanda Forever" soundtrack.
So what does that mean for the new music that fans have been begging her to deliver for years?
"I don't know!" she said. "I want to just put music out and have fun with it but if it has to be an album, that might take some time."