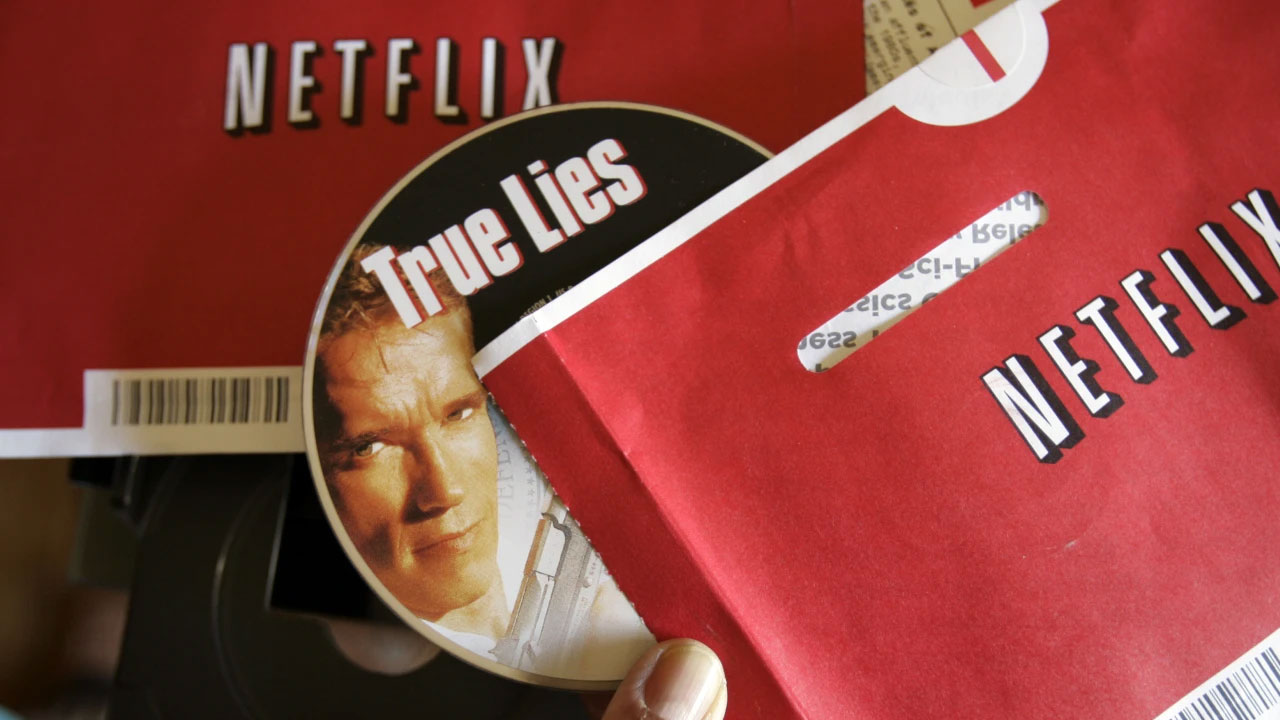 [Source: AP]
The curtain is finally coming down on Netflix's once-iconic DVD-by-mail service.
A quarter century after two Silicon Valley entrepreneurs came up with a concept that obliterated Blockbuster video stores while providing a springboard into video streaming that has transformed entertainment.
The DVD service that has been steadily shrinking in the shadow of Netflix's video streaming service will shut down after its five remaining distribution centers in California, Texas, Georgia and New Jersey mail out their final discs Friday.
Article continues after advertisement
The fewer than 1 million recipients who still subscribe to the DVD service will be able to keep the final discs that land in their mailboxes.
"It's sad," longtime Netflix DVD subscriber Amanda Konkle said Thursday as she waited the arrival for her final disc, "The Nightcomers," a 1971 British horror film featuring Marlon Brando. "It's makes me feel nostalgic. Getting these DVDs has been part of my routine for decades."
Some of the remaining DVD diehards will get up to 10 discs as a going away present to loyal customers such as Konkle, 41, who has watched more than 900 titles since signing up for the service in 2006. In hopes of being picked for the 10 DVD giveaway, Konkle set up her queue to highlight for more movies starring Brando and older films that are difficult to find on streaming.
At its peak, the DVD boasted more than 20 million subscribers who could choose from more than 100,000 titles stocked in the Netflix library. But in 2011, Netflix made the pivotal decision to separate the DVD side business from a streaming business that now boasts 238 million worldwide subscribers and generated $31.5 billion in revenue year.
The DVD service, in contrast, brought in just $146 million in revenue last year, making its eventual closure inevitable against a backdrop of stiffening competition in video streaming that has forced Netflix to whittle expenses to boost its profits.
"It is very bittersweet," said Marc Randolph, Netflix's CEO when the company shipped its first DVD, "Beetlejuice," in April 1998. "We knew this day was coming, but the miraculous thing is that it didn't come 15 years ago."
Although he hasn't been involved in Netflix's day-to-day operations for 20 years, Randolph came up with the idea for a DVD-by-service in 1997 with his friend and fellow entrepreneur, Reed Hastings, who eventually succeeded him as CEO — a job Hastings held until stepping aside earlier this year.
Back when Randolph and Hastings were mulling the concept, the DVD format was such a nascent technology that there were only about 300 titles available at the time.
In 1997, DVDs were so hard to find that when they decided to test whether a disc could make it thorough the U.S. Postal Service that Randolph wound up slipping a CD containing Patsy Cline's greatest hits into a pink envelope and dropping it in the mail to Hastings from the Santa Cruz, California, post office.
Randolph paid just 32 cents for the stamp to mail that CD, less than half the current cost of 66 cents for a first-class stamp.
Netflix quickly built a base of loyal movie fans while relying on a then-novel monthly subscription model that allowed customers to keep discs for as long as they wanted without facing the late fees that Blockbuster imposed for tardy returns. Renting DVDs through the mail became so popular that Netflix once ranked as the U.S. Postal Service's fifth largest customer while mailing millions of discs each week from nearly 60 U.S. distribution centers at its peak.