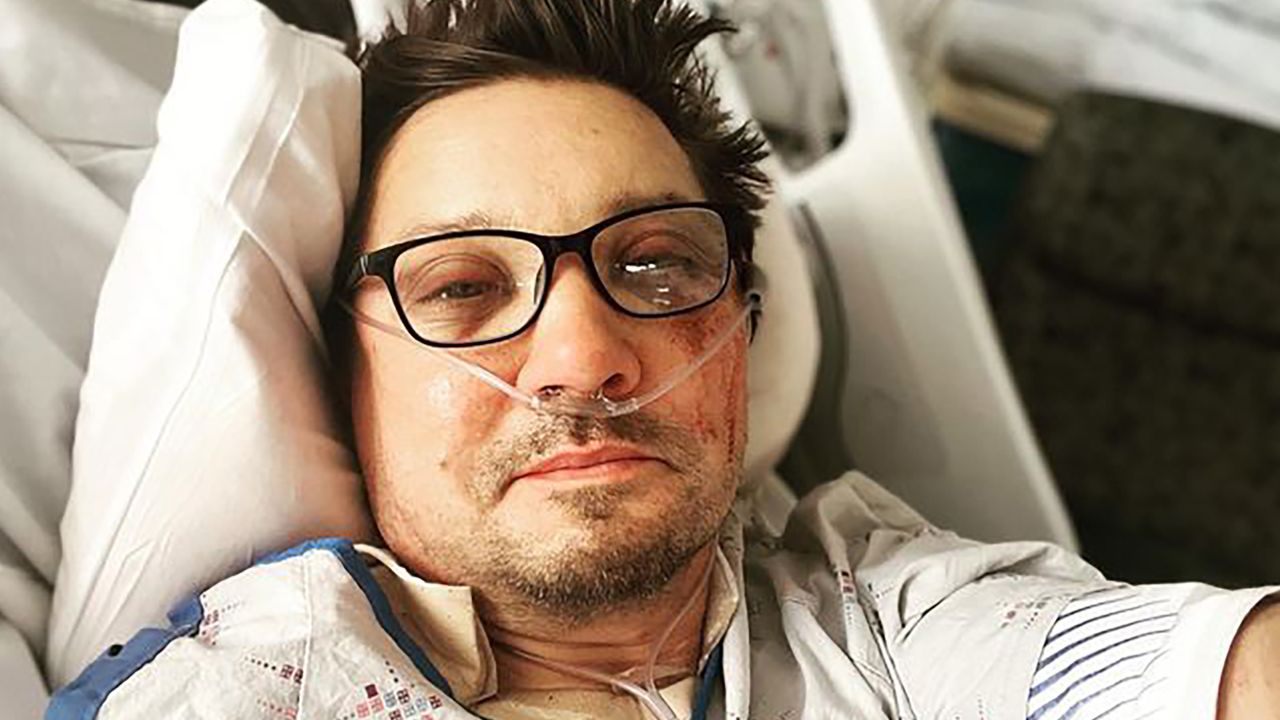 [Source: CNN]
Actor Jeremy Renner thanked fans from his hospital bed Tuesday as he continued to recover from two surgeries following being injured by a snowplow machine in what officials described as "a tragic accident."
"Thank you all for your kind words. Im too messed up now to type. But I send love to you all," Renner wrote in a caption under a selfie photo showing him apparently in a hospital bed.
The "Hawkeye" actor was injured on New Year's Day near his Nevada home while he was clearing snow from a private driveway to help family members leave his house after gathering for the holidays, according to his publicist, Samantha Mast.
Article continues after advertisement
"Jeremy is making positive progress and is awake, talking and in good spirits," Mast said a statement released Tuesday evening. "He remains in ICU in critical but stable condition. He is overwhelmed by the showing of love and support. The family asks for your continued thoughts while he heals with his close loved ones."
Renner, 51, was run over by his snowcat, an engine-powered machine used to clear snow, Washoe County Sheriff Darin Balaam said on Tuesday during a news conference.
At some point, the machine started to roll away while Renner was not in the driver's seat, Balaam said. He was injured as he tried to get back into the machine, Balaam explained. Renner's family members were with him when he was injured.
A Renner spokesperson previously told CNN that he sustained "blunt chest trauma and orthopedic injuries." So far, the actor has undergone two surgeries related to the injuries, a source close to the actor told CNN.
Minutes before 9 a.m. on Sunday, authorities received word of the accident through a 911 call reporting a crash involving a snowcat and a pedestrian on Mount Rose Highway, Balaam said Tuesday.
Even though it was not snowing at that time, that highway was closed and at least a dozen cars were stranded due to the severe winter weather that was hitting the area, Balaam said.
Due to these conditions, a helicopter landed in the vicinity of the highway at 9:37 a.m., and Renner was taken to a Reno-area hospital at 9:56 a.m., Balaam said.
At the time of the injury, parts of western Nevada were blanketed with snow. The Reno area received between 6 and 12 inches of snow at elevations below 5,000 feet between New Year's Eve and New Year's Day, and up to 18 inches at higher elevations, according to the National Weather Service in Reno.
"He was being a great neighbor and he was plowing those roads for his neighbor," Balaam said of Renner.
Authorities do not believe Renner was intoxicated during the incident, with Balaam calling it "a tragic accident."
The Washoe County Sheriff's Office has Renner's taken the snowcat to analyze it to "rule out any potential mechanical failure," which is a normal part of the investigation with this severity of injuries, Balaam said.
During an appearance on "CNN This Morning" Wednesday, Balaam said the actor is very active in the Reno community.
"He's one of our honorary deputies here at the Sheriff's Office," Balaam said. "That's one of the nonprofits [for] members in our community. And they help us do 'Shop For The Sheriff,' where they spend $50,000 and donate it and he's one of those members. He does a lot for our community."
"When I took office in 2019 he showed up for 'Shop For The Sheriff' and you should see the kids and the parents," Balaam added. "He took the time out of his busy days to give autographs and shop with kids. He does a lot in the community and what I truly enjoy about Mr. Renner is a lot of times he does it and no one knows. He does it out of the kindness of his heart."
A day after the accident, Renner's family released a statement thanking hospital staff and first responders while the actor remained hospitalized.
"Jeremy's family would like to express their gratitude to the incredible doctors and nurses looking after him, Truckee Meadows Fire and Rescue, Washoe County Sheriff, Reno City Mayor Hillary Schieve and the Carano and Murdock families," a statement from his spokesperson read. "They are also tremendously overwhelmed and appreciative of the outpouring of love and support from his fans."