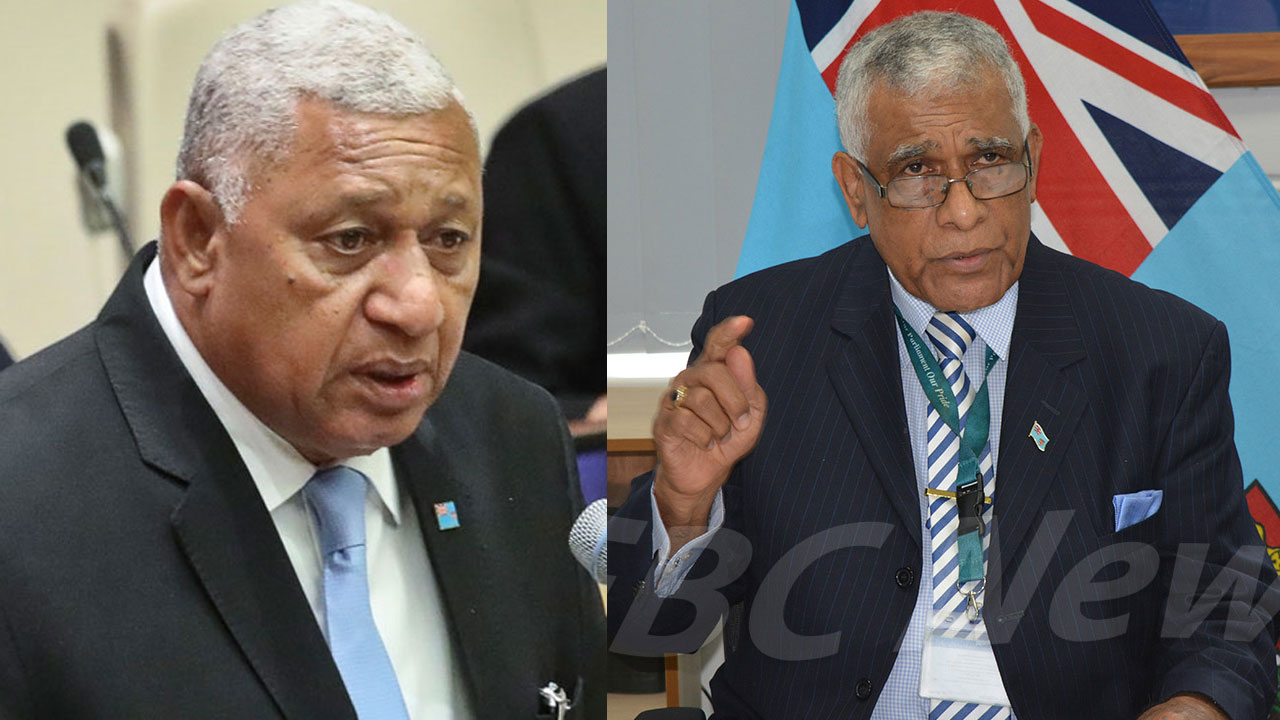 Speaker of Parliament Ratu Naiqama Lalabalavu has ruled that Opposition Leader Voreqe Bainimarama breached the Standing Orders when he delivered his statement on Monday.
In his response to the President's speech, Bainimarama stated he had to inform the rank and file of the Republic of Fiji Military Forces that all philosophical commitment and their years of hard work were now undermined and disregarded by this government.
Ratu Naiqama says the Home Affairs Minister Pio Tikoduadua raised the privilege matter and stated that Bainimarama's statement was seditious and disrespectful, and it dishonored the dignity of Parliament.
Article continues after advertisement
"The words used by the Honorable Leader of Opposition are matters which are out of order in this Parliament and constitute the prima-facia breach of privilege."
Section 62 of the Parliamentary Standing Orders states that an MP must not impute improper motives to any other member.
It further states that President's name may not be introduced to influence Parliament or any committee, the conduct of members, the President, the Chief Justice, or the offices that is performing the functions of the office of the President including members of the judiciary or other persons acting in a judicial capacity must not be raised, except on a motion with notice introduced with the Speaker's permission.
In any other situation, reference to the conduct of any of these individuals is out of order.
In addition, it is also out of order for an MP to speak or use offensive words against Parliament or another member; treasonable words; seditious words; or words that are likely to promote or provoke feelings of ill-will or hostility between communities or ethnic groups within Fiji.
The committee members include Lenora Qereqeretabua as the chair, Lynda Tabuya, Eseroma Immanuel, FijiFirst MP's Faiyaz Koya, and Jone Usamate.
Meanwhile, Bainimarama was not present in Parliament this morning.
The former Prime Minister is scheduled to be at the Criminal Investigations Department in Toorak, Suva for further questioning today for allegations of abuse of office.
Pursuant to Standing Order 127(2) the mandate of the Privileges Committee is to –
(a) bring to the attention of Parliament any breach of the privileges of Parliament committed by any person;
(b) consider any questions of privilege as may be referred to it by Parliament or the Speaker whether under Standing Order 134 or otherwise;
(c) inquire into any complaint that may be referred to it by Parliament or Speaker concerning any breach of privilege on the part of any person or persons; and
(d) provide reports and recommendations to Parliament as a result of any matter referred to it.