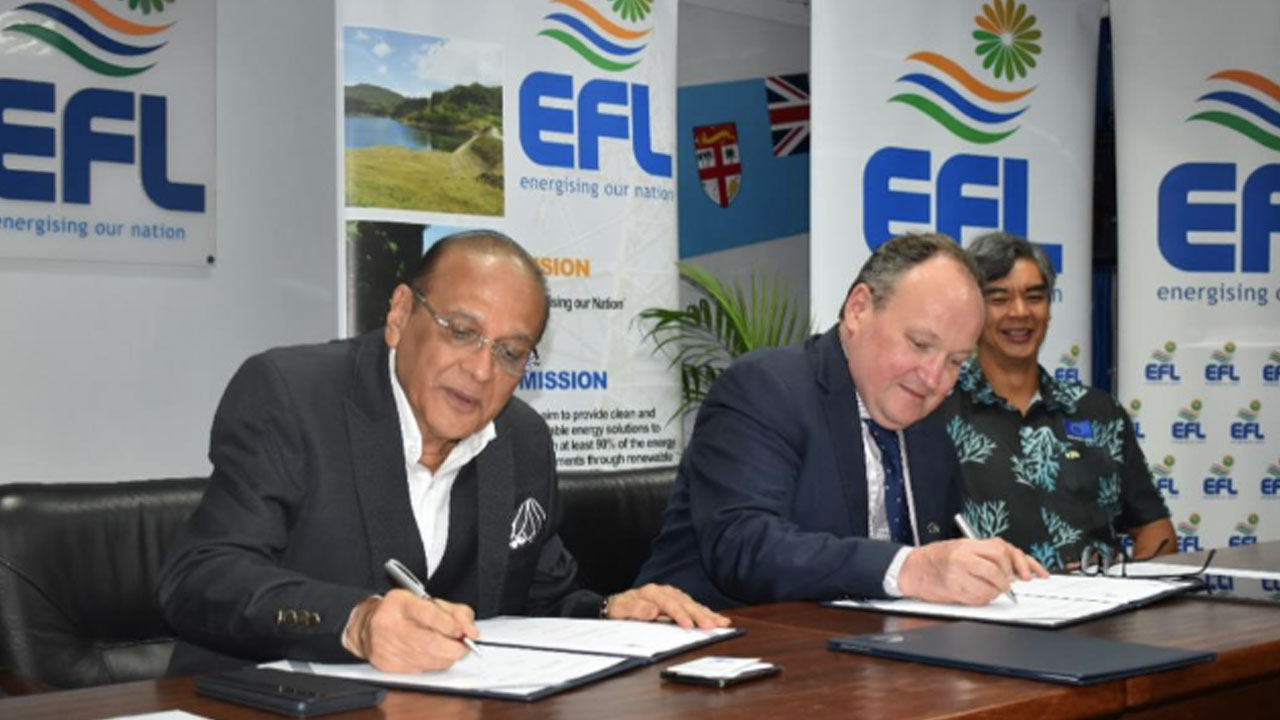 [Source: Supplied]
The European Investment Bank has signed a Letter of Intent with Energy Fiji Limited to further support EFL with renewable energy development.
In recent years, the European Union has provided financial support to the European Investment Bank to carry out feasibility studies on the Qaliwana and the Upper Wailoa Diversion.
In this context, the EIB entered into an agreement with the then Fiji Electricity Authority (FEA), now Energy Fiji Limited, in 2015 to undertake a technical and economic feasibility study for hydro-power scheme development in Viti Levu.
Article continues after advertisement
EFL is currently in the process of appointing an independent agency to conduct a peer review of the hydro-electric scheme feasibility study reports before the EFL Board makes a decision on the development of the hydro-electric scheme projects.
EFL CEO and Director, Hasmukh Patel, thanked the EIB and the EU for their kind consideration to provide support towards renewable energy development in Fiji and stated that EFL is keen to embark upon the development of these projects.
Following the completion of the feasibility study, the EIB has expressed interest in further supporting EFL with the development of the hydro-electric schemes, and this support will be formalized through the signing of a Letter of Intent between EFL and the EIB.
The Ambassador and Head of the Delegation of the European Union for the Pacific, Sujiro Seam, says because climate change remains the most existential threat for the Pacific, the European Union and Fiji agree to direct the European Union Budget Support to the implementation of the climate act in Fiji.
He says the letter of intent between the European Investment Bank and Energy Fiji Limited complements the European Union Budget Support, with a commitment to assist with infrastructure investment, optimize synergies, and reflect a Team Europe approach."
On 8 March, @EIBGlobal , the bank of the European Union (EU) signed a Letter of Intent with @EnergyFijiLTD to support two major renewable energy projects, namely the Qaliwana and Vatutokotoko hydropower plants in Fiji. 🇪🇺🤝🇫🇯

Read more ➡️ https://t.co/zUaGnZW4vS pic.twitter.com/8axuVTMkDh

— EU Pacific 🇪🇺 (@EUPasifika) March 8, 2023