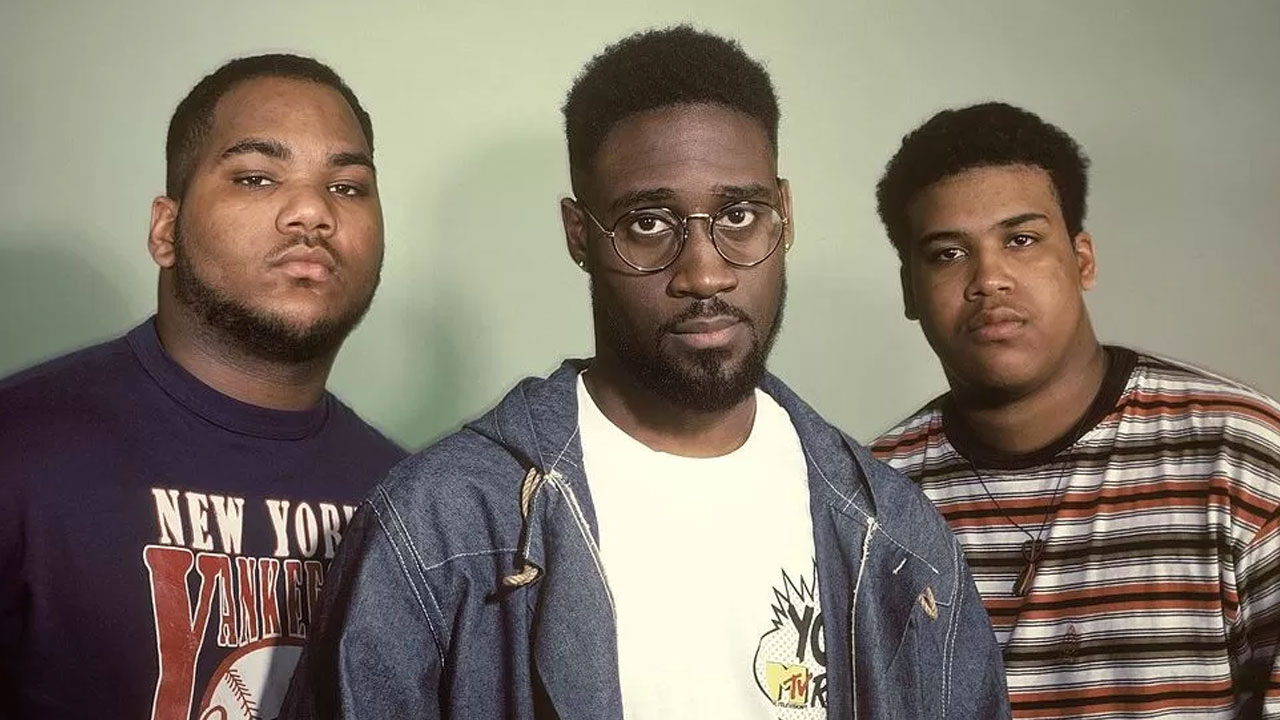 The group got together in high school in the 1980s. [Source: BBC Entertainment]
At long last, De La Soul's back catalogue, including classic albums like 1989's 3 Feet High and Rising, is to be made available for streaming.
The hip-hop trio's first six records will be released on digital streaming services for the first time on 3 March.
The landmark shift has been in the works since Reservoir Media bought the group's master recordings in 2021.
Article continues after advertisement
Complex licensing issues around De La Soul's use of hundreds of samples have held back the move until now.
"We can't believe this day is finally here," the band said in a statement, "and we are excited to be able to share our music with fans, old and new".
Speaking to the BBC in 2016, De La Soul's Kelvin Mercer, aka Posdnuos, described the unavailability of their back catalogue as "heart-wrenching".
He explained that the band's samples – more than 70 on 3 Feet High and Rising alone – had (mostly) been cleared for release in 1989; but their contracts failed to predict the rise of digital music.
"Our contracts on those early albums said specifically 'vinyl and cassette,'" he said. "The wording wasn't vague enough to lend itself to [new] music technology.
"So once the whole age of digital music came into play, new deals needed to be cut for those entire albums.
Their record label at the time, Warner Bros, "just don't want to deal with it", he added.
"They're like, 'Is it worth it?' They've got to go through almost every song with a fine comb to make sure this sample or that sample was cleared.
"It's been a very lengthy, draining process."
Now, however, the process in complete and one of the last remaining classic acts to be missing from streaming services has joined the party.
Posdnuos (Kelvin Mercer), Trugoy (David Jude Jolicoeur), and Maseo (Vincent Lamont Mason Jr.), aka De La Soul, formed in Long Island, New York in high school, and they soon caught the attention of producer Prince Paul.
3 Feet High and Rising, which was their debut album, reached number one on Billboard's top R&B/hip-hop album chart and often appears on lists of the greatest albums of all time.
Humorous and eclectic, it preached the power of peace and positivity – and featured famous tracks such as Me Myself and I, The Magic Number, Buddy and Eye Know.
In 2010, the album was inducted into the Library of Congress' National Recording Registry, a list of sound recordings deemed "culturally, historically, or aesthetically significant".
"De La Soul didn't just open the door to the possibility of being different. They kicked it in," wrote journalist Vikki Tobak in an essay commissioned to mark the occasion.
But the record's heavy use of samples also caused headaches for their record label. An interlude called Transmitting Live from Mars used elements of The Turtles' 1969 song You Showed Me without permission, resulting in a lawsuit that cost the band more than $100,000 in damages.
In 2021, The Magic Number gained a new audience when it featured in the closing credits of Marvel's blockbuster film Spiderman: No Way Home.
But when Spidey fans flocked to streaming services to hear the track, they were left disappointed.
Three of De La Soul's later albums are already available for streaming – 2004's The Grind Date, 2016's And the Anonymous Nobody… and 2012's First Serve.