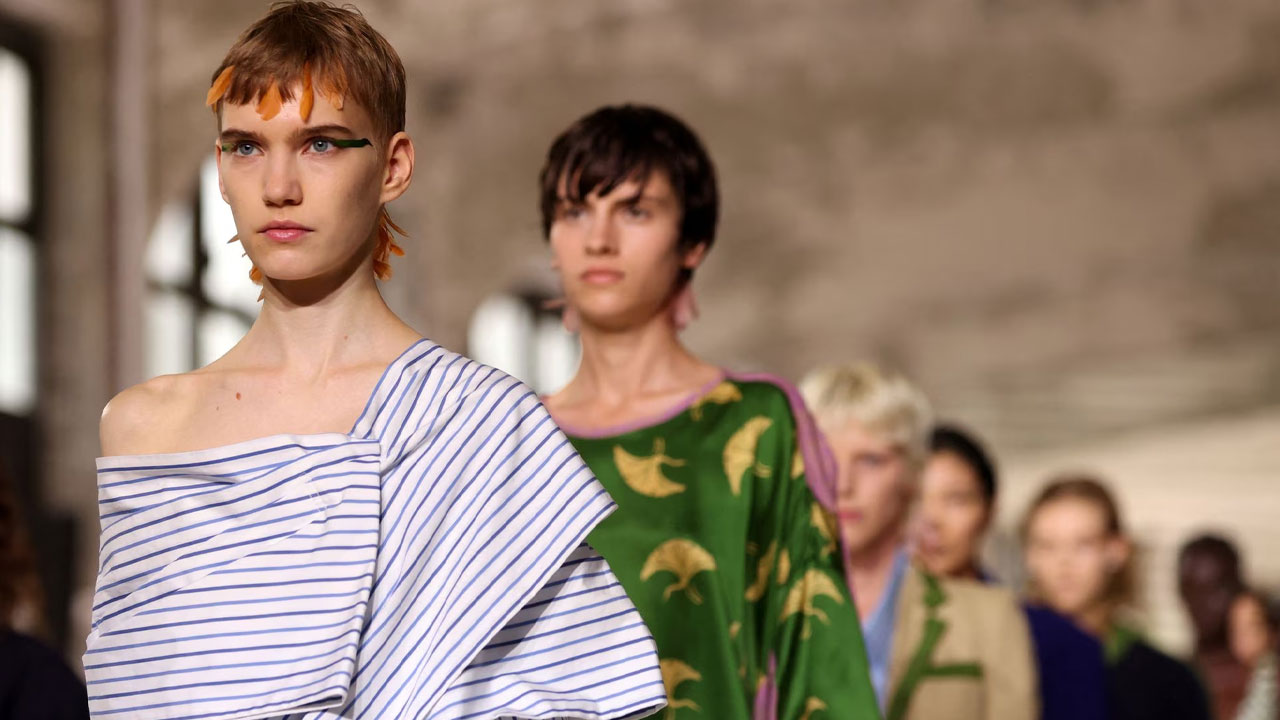 [Source: Reuters]
Dries Van Noten unveiled a layered collection for spring, mixing patterns and sparkles into a line-up of tailored coats and loosely worn dress shirts at Paris Fashion Week.
Models strode down the concrete runway of a hollowed-out building in central Paris, parading long trench coats and suit jackets thrown over transparent skirts, Bermuda shorts and trousers with short hems.
The colour palette was muted, mostly tones of beige, green and prune, with fresh accents from shimmery tops, sheer fabrics embellished with embroidery, and the occasional long, pheasant feather, fixed atop the heads of some models.
Article continues after advertisement
The collection served to explore contrasting ideas, adding feminine touches to masculine tailoring by changing proportions, while mixing formal and casual looks, to create something "spontaneous and free-thinking", according to the show notes.
Front row guests included Japanese influencers twins Ami Suzuki and Aya Suzuki, known as Amiaya, who wore matching silver metallic coats and boots, and French "War of the Worlds" actress Lea Drucker.
After the show, Van Noten trotted out for his bow, waving at the crowd, who erupted into applause.
One of an influential group of designers known as the Antwerp Six, who graduated from the Royal Academy of Fine Arts in the early 1980s, Van Noten has a loyal fan base, and is known for his unique approach to mixing lavish prints and patterns.
The label is part of the Spanish perfumes and fashion company Puig (PUIG.L), which also owns labels including Paco Rabanne, Jean Paul Gaultier, Nina Ricci, Carolina Herrera and Charlotte Tilbury.
Paris Fashion Week runs until Oct. 3, featuring some of the world's biggest brands including Hermes, Chanel, Louis Vuitton and Dior.