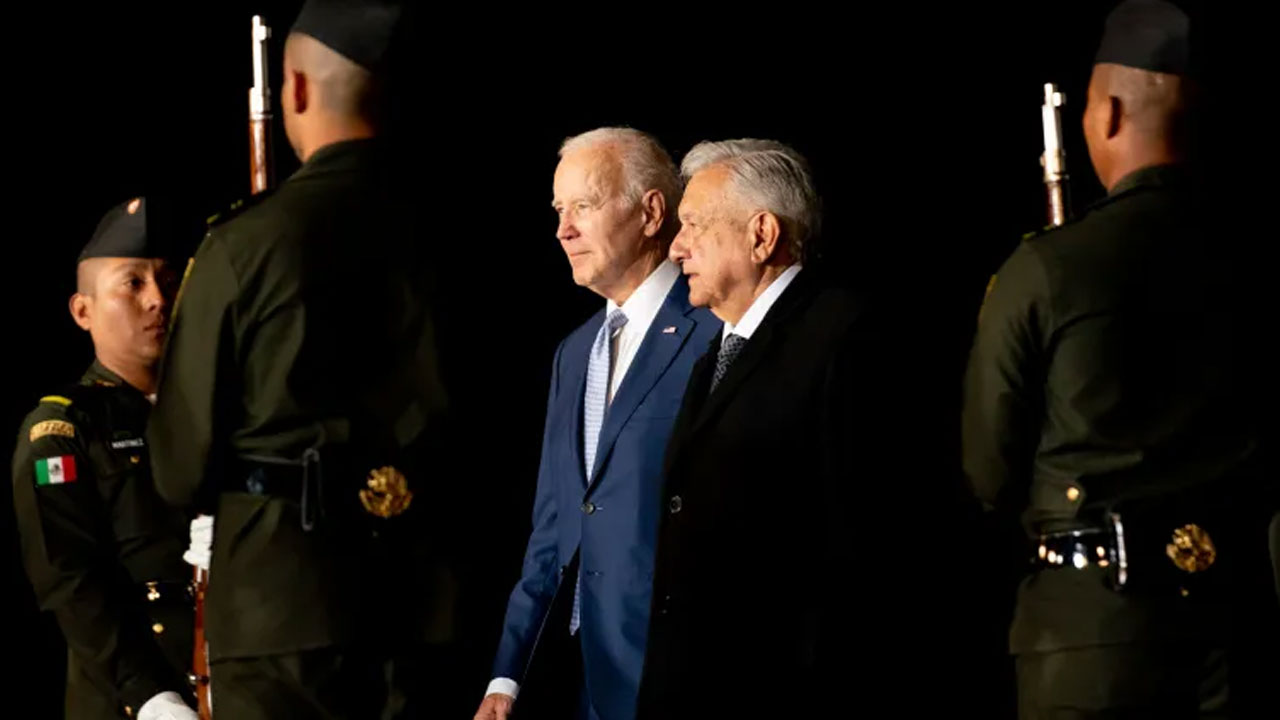 US President Joe Biden is greeted by Mexican President Andres Manuel Lopez Obrador as he arrives at the Felipe Angeles International Airport in Zumpango, Mexico. [Source: Aljazeera]
United States President Joe Biden has arrived in Mexico ahead of bilateral meetings with Mexican President Andres Manuel Lopez Obrador and Canadian Prime Minister Justin Trudeau, as well as a joint gathering of the three North American leaders, dubbed the "Three Amigos" summit.
Issues of migration, illegal drugs, climate change, manufacturing and trade were set to dominate the two days of meetings between the longtime allies, who have weathered some chafing in relations in recent years. Meanwhile, the rights group Amnesty International called on the leaders to make "the rights of refugees and migrants" a top priority.
In a tweet upon landing in Mexico, Biden said the gathering "will deepen our coordination and advance our shared priorities for North America".
Article continues after advertisement
Lopez Obrador, meanwhile, told reporters: "Integration needs to be strengthened."
The visit began with the US president's arrival late Sunday at Felipe Angeles International Airport, a prized $4.1bn project spearheaded by Lopez Obrador and inaugurated last year that has yet to be realised as an envisioned high-traffic travel hub. Biden was greeted at the airport by the Mexican leader, with the pair shaking hands on the tarmac and walking together down a red carpet flanked by soldiers. They then drove an hour together into Mexico City's centre.
Biden and Lopez Obrador were set to meet face-to-face again on Monday afternoon at the National Palace, before having dinner with Trudeau. On Tuesday, the trio planned to hold the 10th North American Leaders' Summit.
US priorities include addressing the politically fraught issue of the rising number of US-Mexico border crossings by undocumented migrants and asylum seekers, as well as an increase in cross-border fentanyl smuggling that has fuelled a deadly addiction epidemic in the US. On Sunday, Biden made his first visit to the southern border as president.
Mexico, meanwhile, is expected to focus on economic integration for North America and programmes to address regional poverty and the root causes of migration, while Canada is expected to seek to expand on green initiatives.
In November 2021, the three leaders hailed their reinvigorated partnership during the North American Leaders' Summit in Washington, DC, the first of its kind since former President Donald Trump discontinued the gatherings upon taking office in 2017. However, the trio failed to announce any major breakthroughs.
Biden's arrival on Sunday, meanwhile, represented the first time a US president had touched down on Mexico soil since former President Barack Obama made the journey in 2014.
The Mexican leader has also roiled Washington and Ottawa over his decision to give control of the country's energy market to his cash-strapped state energy companies. The northern neighbours have said the policy undermines the United States-Mexico-Canada Agreement (USMCA) trade deal and have launched dispute-resolution proceedings against Mexico.
Trudeau told Reuters news agency on Friday he would make the case that resolving the energy dispute would help bring more foreign investment to Mexico, and he was confident progress would be made.
Mexican authorities last week also announced the arrest of Ovidio Guzman, the son of notorious drug kingpin Joaquin "El Chapo" Guzman, who the US has said is a key player in the Sinaloa cartel founded by his father and major fentanyl trafficker. News of the arrest sparked violence that killed at least 29.
The Biden administration has said that during the visit, it will address a surge in cross-border smuggling of the highly addictive and often deadly narcotic, which has become an increasingly politically fraught issue for the president.
Climate change and cooperation in clean energy technologies will also be on the summit agenda, with Mexico hoping to benefit from Washington's efforts to reduce its reliance on Asia-based manufacturers. But while Biden's push towards electric vehicles is considered a boon to both nations because of the tax credits for North American-made batteries, concerns remain that Mexico and Canada could be left behind in the initiative.
The leaders of Canada and Mexico have also voiced concerns over Biden's "Buy American" plan, which pushes US states to use more US-made materials in new infrastructure projects, potentially diverting trade from US allies.