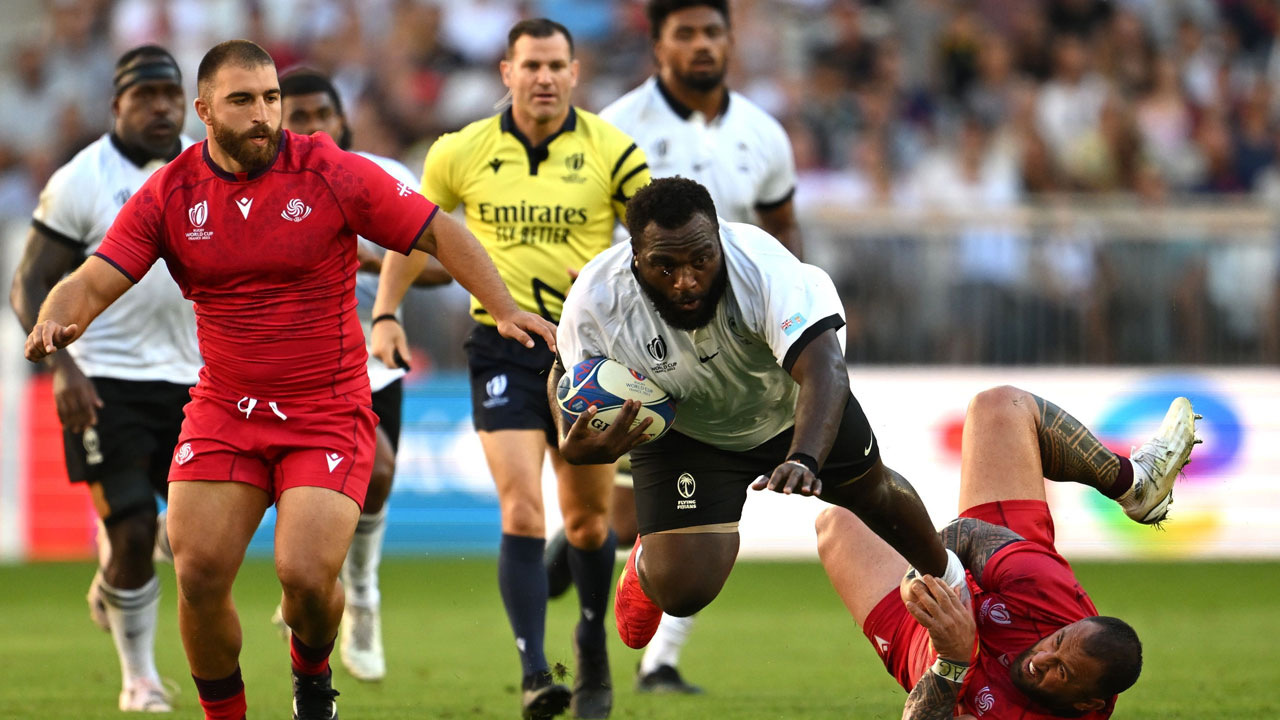 Luke Tagi of Fiji is tackled by Beka Gigashvili of Georgia during their Rugby World Cup clash this morning. [Rugby World Cup]
Fiji Water Flying Fijians coach Simon Raiwalui acknowledges the team's mistakes on the field and recognizes a lack of momentum in the first half of the game.
Despite the 17-12 victory over Georgia this morning, Raiwalui feels the players had room for improvement but is content with the result.
He attributes the win in the second half to a late line-up correction.
Article continues after advertisement
"We piggybacked our way into the first half with mistakes and they put pressure, they are a very good team, we respected them. We know Georgia well and we have played them a number of times, they are a very good team and we knew they would be up for it so we needed to match them better in the first half."
"That is amazing!"

What a moment for @fijirugby! 🇫🇯#RWC2023 | #FIJvGEO pic.twitter.com/BDSAM5xfYW

— Rugby World Cup (@rugbyworldcup) September 30, 2023
Raiwalui further explains that, despite Georgia's strong initial performance, they managed to apply pressure and eventually scored more points.
The Flying Fijians will face Portugal next Monday at 7 am.
What a finish to the Battle of Bordeaux 🇫🇯🤝🇬🇪#RWC2023 | #FIJvGEO pic.twitter.com/UGUoFJXx4J

— Rugby World Cup (@rugbyworldcup) September 30, 2023
An invitation to battle 🇫🇯#RWC2023 | #FIJvGEO | @fijirugby pic.twitter.com/YnAnORgH6h

— Rugby World Cup (@rugbyworldcup) September 30, 2023