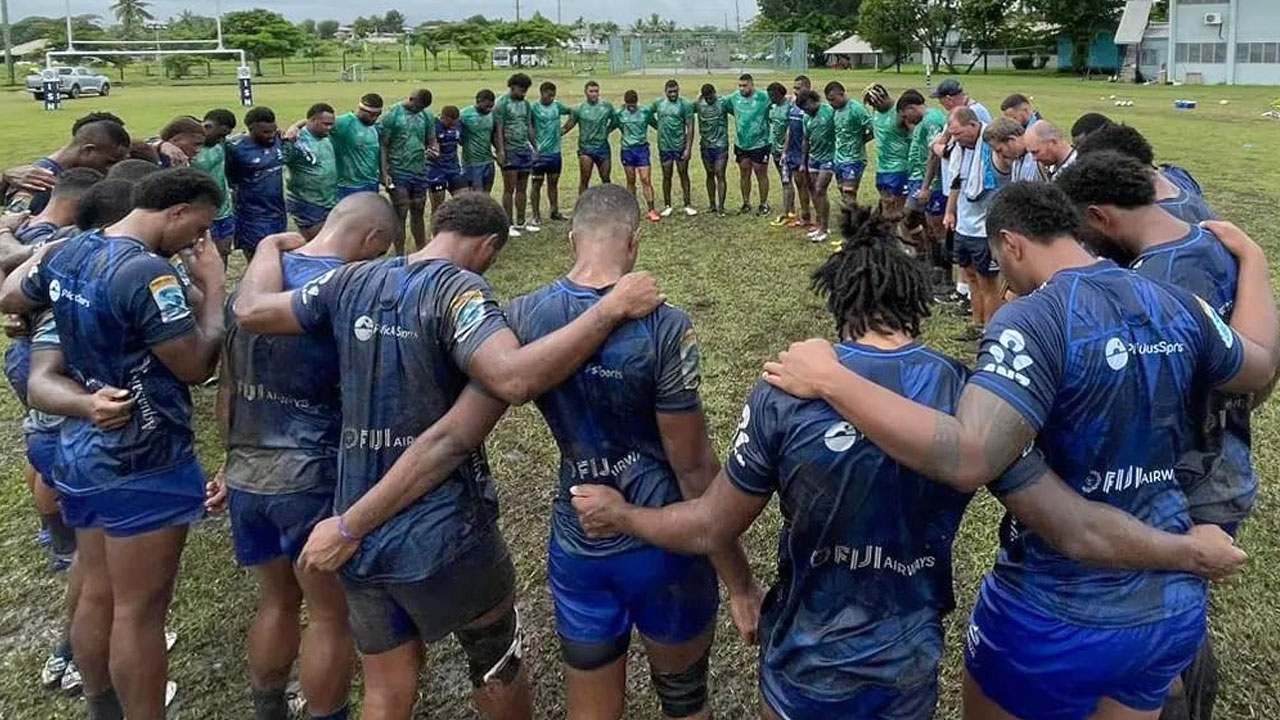 [Source: Fijian Drua/ Facebook]
Four development players will run out for the Swire Shipping Fijian Drua side in its Shop N Save Super Rugby pre-season clash with the Melbourne Rebels in Nadi tomorrow.
Flanker Motikai Murray and Nadroga winger Taniela Rakuro are in the starting fifteen for Team 1.
Suva lock Sailosi Vukalokalo is in Team 2 while Joji Kunavula is one of the six reserves.
Article continues after advertisement
Meanwhile, members of the Drua who have links to Nadi are excited about the opportunity to feature in front of their family and friends.
Players from Nadi include Captain Ratu Meli Derenalagi, Tuidraki Samusamuvodre, Kitione Salawa, Kitione Taliga, Livai Natave, and Vilive Miramira.
Samusamuvodre says it'll be a proud moment for him to don the Drua jersey for the first time in Nadi.
He says the feeling will be like no other and they're looking forward to seeing a packed Prince Charles Park tomorrow when the side takes on the Rebels at 3 pm.
Team 1
1. Emosi Tuqiri
2. Zurial Togiatama
3. Jone Tiko
4. Isoa Nasilasila
5. Sorovakatini Tuifagalele
6. Raikabula Momoedonu
7. Motikai Murray (development player)
8. Elia Canakaivata
9. Peni Matawalu
10. Caleb Muntz
11. Vinaya Habosi
12. Michael Naitokani
13. Apisalome Vota
14. Taniela Rakuro (development player)
15. Ilaisa Droasese
Team 2
1. Livai Natave
2. Tevita Ikanivere
3. Jone Koroiduadua
4. Sailosi Vakalokalo (development player)
5. Chris Minimbi
6. Rusiate Nasove
7. Kitione Salawa
8. Joseva Tamani
9. Frank Lomani
10. Teti Tela
11. Tuidraki Samusamuvodre
12. Kalaveti Ravouvou
13. Iosefo Masi
14. Selestino Ravutaumada
15. Kitione Taliga
Reserves
1. Timoci Sauvoli
2. Mesulame Dolokoto
3. Joji Kunavula (development player)
4. Philip Baselala
5. Kemu Valetini
6. Kalione Nasoko