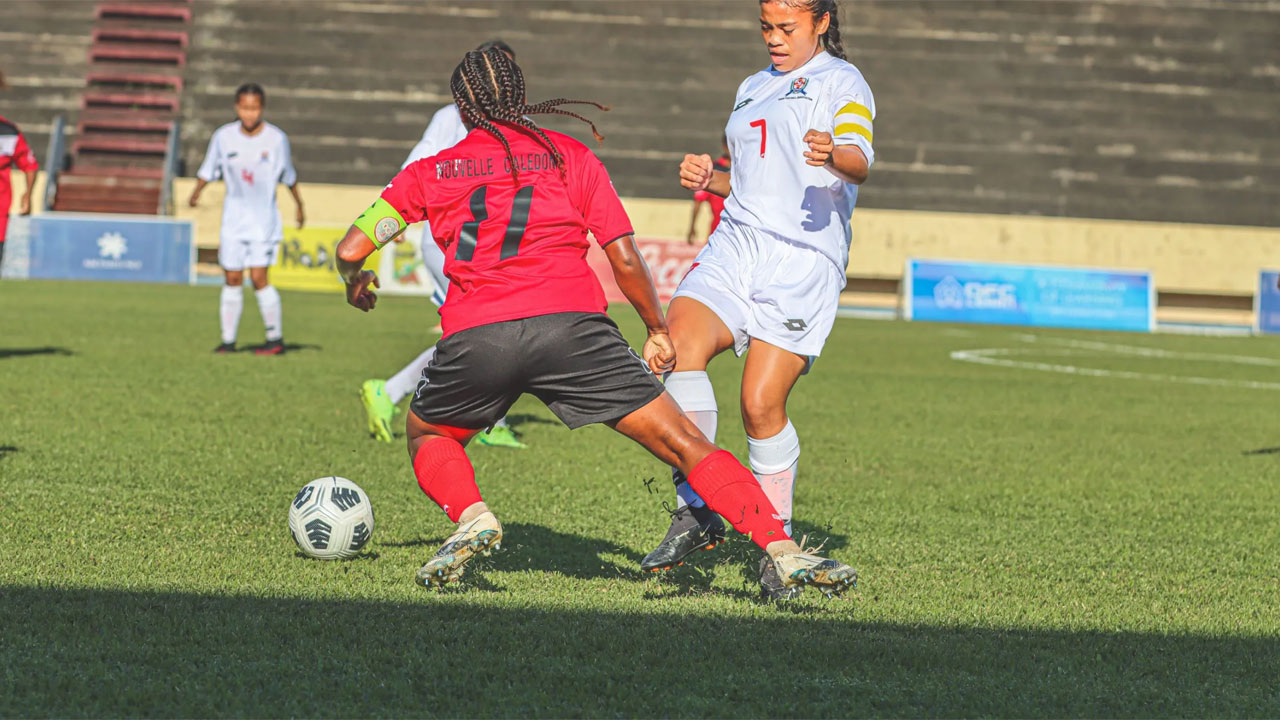 [Source: Oceania Football Confederation]
Tonga and New Caledonia have played out an entertaining 2-2 draw in their Group A encounter at the OFC U-16 Women's Championship in Tahiti leaving both sides still in the running for the semi-finals.
Whatever Tongan coach Lafaele Moala delivered to his players at half-time worked because after being outplayed in the opening spell, the Tongans dominated the second spell but were undone 13 minutes from time with a New Caledonian equalisier.
Played in glorious sunshine at Stade Pater in Papeete, the New Caledonians were full value for their first half lead creating more chances and dominating the possession stats.
Article continues after advertisement
New Caledonia were effective getting the ball in behind the Tongan defence in the first spell without ever really testing Ana Kafoa in the Tongan goal.
Henako Wahnawe and Cecilia Waheo were dangerous while Julia Honakoko was a controlling influence in midfield.
But it took Léon Waitronyie's side until the 38th minute to hit the front.
From a corner Honakoko drifted the ball to the back post and amid confusion in the Tongan defence, Cina Kourevi prodded home.
Player of the match in Tonga's win over the Solomon Islands Tama'a Faletau was largely starved of possession in the first spell, but whenever she touched the ball, she looked dangerous.
However, the best chance of the opening half fell to winger Leeann Taufa'ao after a surging run fired a powerful left foot shot that forced a strong save from New Caledonia's goalkeeper Alesié Adjou.
The Tongans were a different team in the second half and were a step quicker to the 50/50 balls.
They were aggressive in their search for an equalisier, and it took a moment of brilliance from Faletau who latched onto a through ball, spotted Adjou off her line and expertly lobbed the ball into the back of the net 15 minutes into the half.
Growing in confidence the Tongans went in front 12 minutes later after a scramble in the penalty box substitute Anna Pongi put the ball into the net.
Tonga were on the cusp of the semi-finals, but New Caledonia's desperation shone through.
They were rewarded for their efforts 13 minutes from time when captain Julia Honokoko drilled the ball into the back of the net to secure a point for New Caledonia.
Honokoko then had a glorious chance to secure the three points three minutes from full time, but she blasted over the bar.
The result leaves Tonga with 4 points from two matches and New Caledonia 2.
Regardless of the result between Tahiti and the Solomon Islands, the Group A semi-finalists will be decided on the final round of matches on Tuesday.