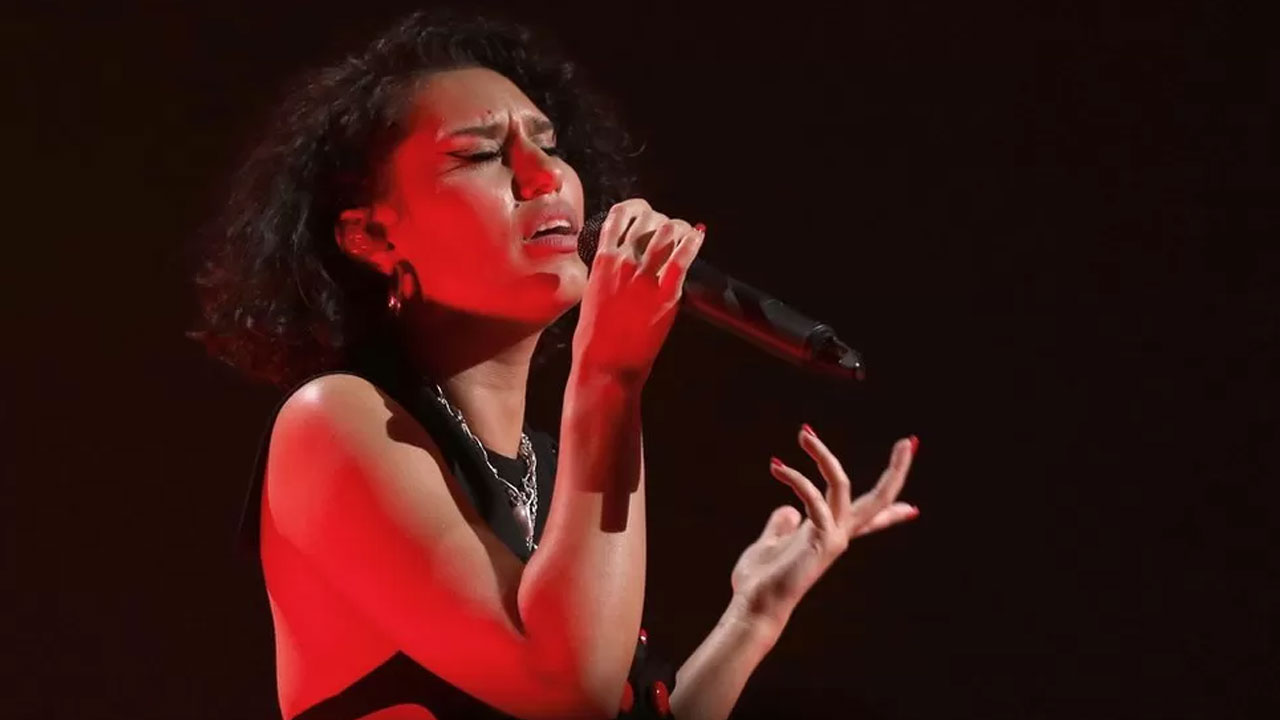 As a featured artist, Raye has three Brit Award nominations for best single. Now she's ready for her solo moment. [Source: BBC]
Raye has one of the most triumphant 'told-you-so' stories of recent chart history.
Signed to Polydor Records as a teenager, she spent years on pop's periphery, writing songs for Beyoncé and Little Mix, and lending her vocals to top 10 hits by David Guetta and Jax Jones.
But her solo material never scaled those heights and, in 2021, she told fans her label was refusing to release her debut album.
Article continues after advertisement
Dozens of potential hits were "sat in folders collecting dust", she said, while others were being given away to bigger stars "because I am still awaiting confirmation that I am good enough".
"I'm done," she concluded, "being a polite pop star."
Sadly, her story is not unique. The music industry is littered with stories of artists (usually female ones) who've been sidelined by their label, from Muna to Nina Nesbitt and even Missy Elliot, whose first album, with the R&B band Sista, remains unreleased.
But Raye (whose real name is Rachel Keen) got the last laugh.
After her Instagram post went viral, the singer extricated herself from Polydor and struck out as an independent artist. Within 18 months, she had the biggest-selling single in the UK.
Called Escapism, it's a beast of a song: A hard-hitting account of abusing drink, drugs and meaningless sex to get over a break-up. Gritty and unglamorous, it's exactly the sort of thing a major label would recoil from releasing.
When it went to number one in January, it vindicated every belief Raye ever had about her music.
"It's just brilliant when you get to prove people wrong," she tells the BBC, barely holding back tears, on the afternoon her chart victory is announced.
"It just shows that you should back yourself, no matter what people tell you."
Escapism has now sold half a million copies in the UK, priming fans for her long-awaited debut album, 21st Century Blues, which finally arrives this Friday.
A celebration of artistic freedom, it hops nimbly between big band ballads (Oscar Winning Tears) and stripped-back blues (Mary Jane) without sacrificing Raye's strident pop personality.
Several of the songs pre-date her escape from major label purgatory, but nothing remains in its original form.
"All of them have entirely new vocals and we combed through the songs, chipping away at lyrics and playing a bit of Tetris with how I expressed the stories," says the singer.
Thematically, her goal was to explore the highs and lows of her last decade. And if you've been paying attention you'll already know: They're mostly lows.
Black Mascara is a real-life account of having her drink spiked "by someone I really trusted". On Body Dysmorphia, she sings about being so unhappy with her appearance that she wanted "to cut pieces off" her face. Hard Out Here is a scathing takedown of music industry misogyny.
"All the white men CEOs… get your pink chubby hands off my mouth," Raye spits over a rock-hard hip-hop beat.
Did those lyrics upset her former bosses?
"Yeah, they did. They did. And I was sure they would," she says. But she was compelled to tell her side of the story, no matter how uncomfortable it made people.
Similarly, the harrowing Ice Cream Man describes her sexual assault at the hands of an A-list record producer.
It's been part of her live set for several years – but the recorded version adds new lyrics, exposing a pattern of male predatory behaviour that's followed her throughout her life.
"I was seven, was 21, was 17 and was 11," she sings. "If I was ruthless they'd be in a penitentiary."
"Sadly, since I wrote, it, there's been other stories to add," she says.
She finds the song "ridiculously challenging" to play "because it opens all of those details back up and I'm not 100% over it", but she wanted to share her experiences, to provide an outlet for fellow victims.
"When it happened to me, I didn't tell anyone. I didn't know what to do with it.
"So I hope the song finds its way to whoever needs it, so they can confront those feelings and cry it out, you know?"