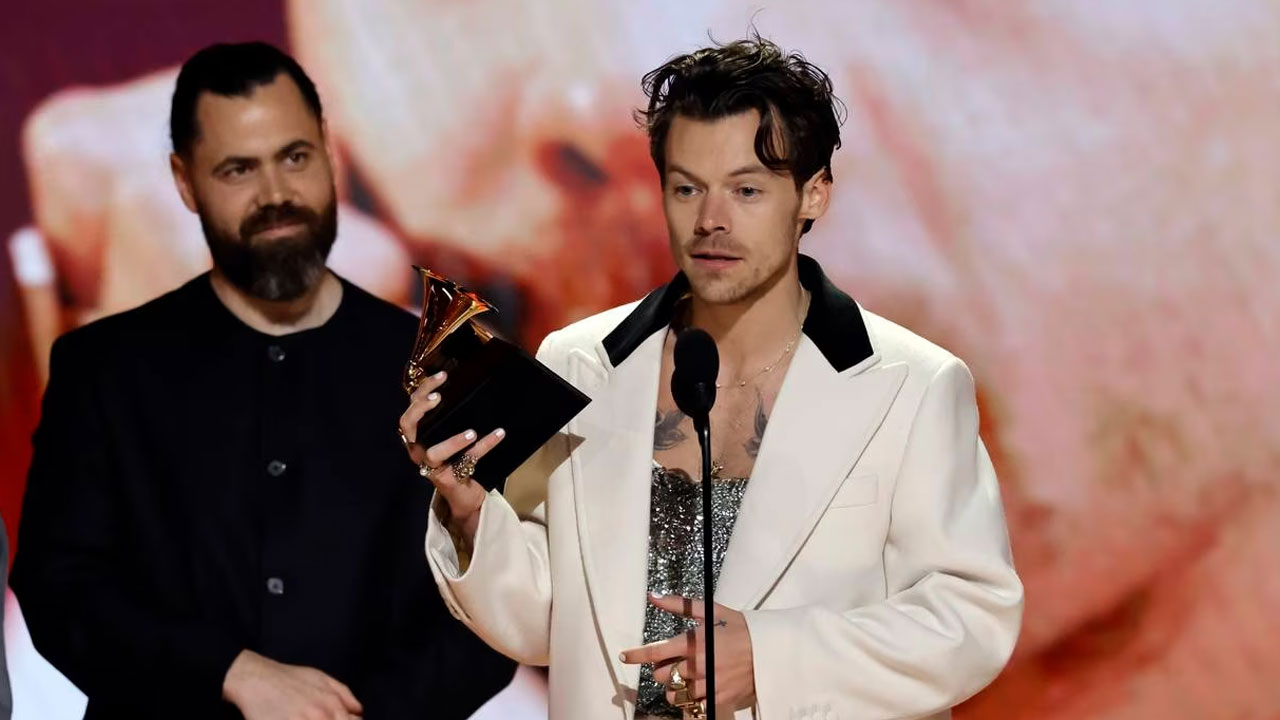 The star might have won big at the Grammys but he is not winning the hearts of fans. [Source: NZ Herald]
Harry Styles has left fans baffled after making a seemingly innocent comment during his Grammys acceptance speech.
The As It Was singer took out one of the biggest wins of the night after being announced as the Album of the Year winner for Harry's House but some fans are upset by comments made during his acceptance speech.
Visibly shocked by the win, the former One Direction member took to the stage and proceeded to thank fans for their support saying, "I think on nights like tonight it's important for us to remember there is no such thing as 'best' in music," he said, adding, "I don't think any of us sit in the studio making decisions on what is going to get us one of these."
Article continues after advertisement
But it was the way he ended his acceptance speech that had people doing a double take, "I'm just so – This doesn't happen to people like me very often and this is so, so nice."
While it's not clear what the singer meant by "people like me", many interpreted it as a reference to him being a white, cisgender male and took offence to the statement pointing out that said type of person has dominated award ceremonies for decades.
Having beaten Beyonce, Lizzo, Kendrick Lamar and Bad Bunny – all musicians of colour – Twitter was full of outraged fans who pointed out that the overwhelming majority of Album of the Year winners since 1959 have been "people like him".
One person said, "'this doesn't happen to people like me often' who, white British men?" while another tweeted, "Harry Styles said 'this doesn't happen to people like me very often' and I gotta be honest I can't think of a type of people this happens for more."
A third person said, "'This doesn't happen to people like me often' – "We beg to differ, Harry. Mediocre white men get glamourised, rewarded and awarded over exceptionally talented, amazing Black women like Beyonce all day, every day. Case in point is this AOTY win. Grammys."
While Styles is yet to clarify what he meant in his speech, other fans have taken to Twitter with a diplomatic view.
One person said, "Two things are true at once for me, Harry's House is Styles' best project to date that 100 per cent showcases his craft and ability as an artist and it deserves to be recognized as such. Renaissance was once again a testament to Beyoncé's…everything and the academy loves to mess with her."
It comes after Beyonce made Grammy history by becoming the most-awarded artist in Grammy history, as well as the first black woman to win the Best Dance/Electronic Music Album award.