World
US shutdown bites as federal workers miss payday
January 12, 2019 12:00 pm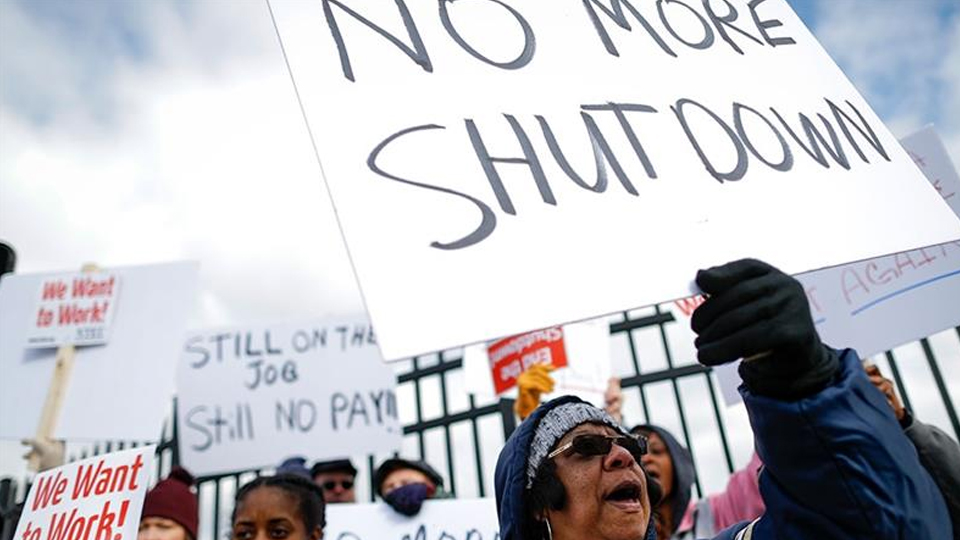 Union members and Internal Revenue Service workers rally outside an IRS service centre to call for an end to the partial government shutdown in Covington, Kentucky [Source: AP]
Hundreds of thousands of US government workers have missed their first payday of the year as the partial shutdown of federal agencies bites deeper.
Employees such as prison guards, airport staff and FBI agents have been working without pay.
The government shutdown, which began last month, will become the longest in history on Saturday on its 22nd day.
Article continues after advertisement
President Donald Trump is refusing to approve a federal budget unless it includes funding for a border wall.
But Democrats have rejected his request for $5.7bn (£4.5bn).
About a quarter of the federal government is out of operation until a spending plan is agreed, leaving 800,000 employees unpaid.
How much has shutdown hit US economy?
On Friday, those workers missed their first payday of this shutdown. Some shared their blank payslips on social media.
Oscar Murillo, an aerospace engineer at Nasa, posted his $0 cheque on Twitter and said he had actually lost money because of mandatory deductions.
Another Twitter user, Cat Heifner, shared what she said was her brother's payslip, showing he had been paid one cent for his work as an air traffic controller.
Meanwhile, the classified advertising website Craigslist has been flooded with listings from federal workers trying to sell their possessions.
Items ranging from beds to old toys have been listed as "government shutdown specials".
"Sells for $93.88 at Walmart. Asking $10," one advert for a child's rocking chair reads. "We need money to pay bills."
A food bank in Washington, DC reported an influx of federal workers.
Radha Muthiah, head of Capital Area Food Bank, said that dozens of volunteers are working to pack bags of food for affected staff.
Of the 800,000 federal employees going unpaid, about 350,000 are furloughed – a kind of temporary lay-off – while the rest are continuing to work.
Thousands have reportedly applied for unemployment benefits amid the financial uncertainty.
One major airport, Miami International, will close an entire terminal this weekend because so many security staff have called in sick.
What is Washington doing to resolve the stalemate?
The House and Senate overwhelmingly passed a bill on Friday to ensure all government workers receive retroactive pay after the shutdown ends. The president is expected to sign the legislation.
But that may be small consolation to those federal employees currently in dire straits, with no end in sight to the impasse.
At a roundtable discussion about border security on Friday with state and local leaders, Mr Trump again demanded that Democrats approve funding for a wall or steel barrier.
"Name it 'peaches'," the Republican president said. "I don't care what they name it, but we need money for that barrier."
However, the Democratic leader of the US House of Representatives said the ball was in Mr Trump's court.
Speaker Nancy Pelosi told reporters: "When the president acts, we will respond to whatever he does."
What about the president's plan to declare an emergency?
Mr Trump has been threatening to declare a national emergency, which would allow him to bypass Congress and build the wall by raiding military budgets.
But on Friday he stepped back from such a move, which would provoke constitutional uproar and legal challenges.
He maintained he had a right to declare the emergency, but added: "I'm not going to do it so fast."
According to the Associated Press, senior White House aide Jared Kushner is among those who have urged caution to Mr Trump on the issue.
US media report the White House is considering diverting some of the $13.9bn allocated last year by Congress for disaster relief in such areas as Puerto Rico, Texas and California to pay for the wall.
But Republican congressman Mark Meadows, who is close to the president, said that option was not under serious consideration.
Related Story:
President Donald Trump has said that the immigration flow along the southern border amounts to an "invasion," calling the situation "far worse" than people understand after returning from a visit to the front-lines in Texas.
He went on to say past administrations should have built a steel barrier or wall.
He says without it, America cannot be safe.
Criminals, Gangs, Human Traffickers, Drugs & so many other big troubles can easily pour in.
Unclear, however, is how far Trump is willing to go to construct his long-promised border wall.
The demand for funding — refused by congressional Democrats — triggered a partial government shutdown last month.
Since then, hundreds of thousands of federal workers have been furloughed or forced to work without pay.
Keep Connected With The Latest News, Weather, And Sports on Fiji's Best Radio stations.