Pacific Islands
PNG region votes overwhelmingly for independence
December 12, 2019 10:51 am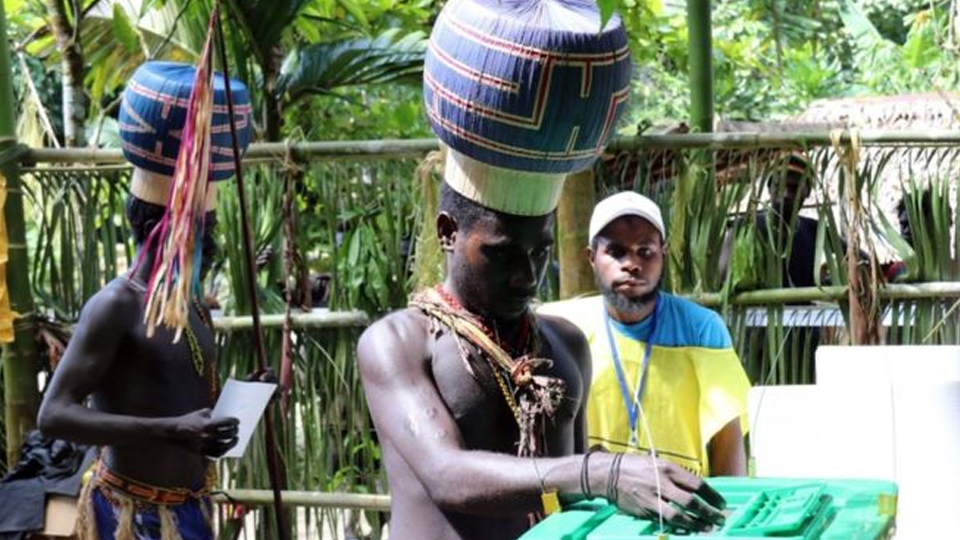 Upe men casting their votes during the referendum [Source: BBC]
The people of Bougainville, an island group in Papua New Guinea, have voted overwhelmingly for independence.
Voters had two options – more autonomy, or full independence. Of the 181,000 ballots, almost 98% were in favour of independence.
The referendum was approved by the Papua New Guinea government, but the result is non-binding.
Article continues after advertisement
Nevertheless, the landslide victory will put pressure on PNG to grant Bougainville independence.
The islands have a population of around 300,000, and 206,731 people enrolled to vote in the referendum.
In total, 181,067 ballots were cast. Of those:
176,928 voted for independence
3,043 voted for greater autonomy
1,096 were classed as informal, or void.
The results were announced in the town of Buka by former Irish Prime Minister Bertie Ahern, the chairman of the Bougainville Referendum Commission.
"Now, at least psychologically, we feel liberated," said John Momis, president of the regional autonomous government.
One Bougainvillian, nursing graduate Alexia Baria, told news agency AFP that "happiness was an understatement".
"You see my tears – this is the moment we have been waiting for," she said.
Why was there a referendum?
Bougainville had a nine-year separatist war that began in 1988, fuelled by economic grievance.
The end of the fighting led to the Bougainville Peace Agreement, the creation of the Autonomous Bougainville Government, and the promise of a non-binding referendum on independence.
Even in colonial times, Bougainville was an outpost. The islands attempted to declare independence during the formation of Papua New Guinea in 1975 – but they were ignored.
Keep Connected With The Latest News, Weather, And Sports on Fiji's Best Radio stations.