New Zealand
SkyCity fire still burning, PM to visit today
RNZI
October 23, 2019 8:21 am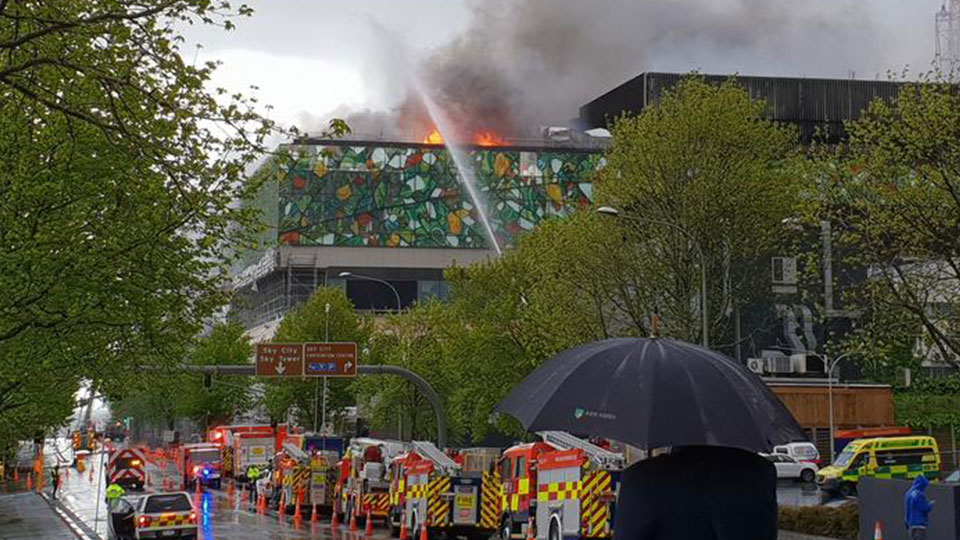 Flames and smoke coming from the roof of the convention centre this morning Photo: RNZ / Liu Chen
Flames and billows of black smoke are still coming out from the roof of the SkyCity International Convention centre in Auckland.
Firefighters say they're trying their best to get the fire under control after it broke out around 1pm yesterday. Twenty-six appliances are on the scene with laddered hoses trying to reach to the top.
But fears are no longer held that a large crane might topple over as the huge fire continues to burn.
Article continues after advertisement
Fire and Emergency Auckland regional manager Ron Devlin said there was some worry last night that if the crane overheated it could fall, but he was now confident it was safe.
He said a firefighter who was taken to hospital yesterday for tests and monitoring has been released.
Mr Devlin said the blaze has done what firefighters have expected overnight, a large part of the roof has been sacrificed as planned to safeguard the lower reaches of the seven-story-building and planning teams were putting in place their strategy for the day.
[Video Source: Nilesh Chand] 
"The strategy is… how we now contain it in that space and everything is looking reasonably positive towards that."
Mr Devlin said the complex material of the roof – made of straw, plywood and bitumen – was making it harder to get the fire under control.
Firefighters had access to the building – to the floor below where fire is burning. "That causes some safety issues for us. Obviously, as it's burning … debris will fall. We don't want that on top of the firefighters while they're in there so we want to get that down and then we can go in."
That might take two or three hours, he said.
High winds were also testing firefighters and would have to be factored into the day's plans.
He could not predict when it might be brought under control. "We're going to be here all day and probably into the evening. It's a big fire in a very, very large building." It was over 30 metres tall which added difficulty to fighting it externally also.
Specialist investigators would start work on the cause once it was brought under control.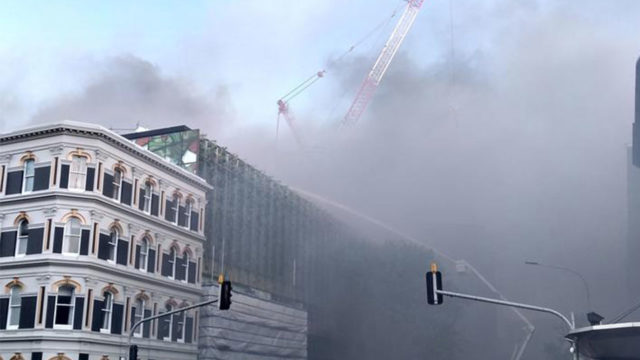 It was the largest and most complex fire the city had experienced in recent times, Mr Devlin said.
Asked if the building might be a write-off, he replied: "I'm not an engineer but I don't believe it is."
Flames engulfed the top of the building yesterday afternoon, starting on the seventh floor – the roof – before spreading to the sixth. The cause of the fire is not yet known.
Keep Connected With The Latest News, Weather, And Sports on Fiji's Best Radio stations.