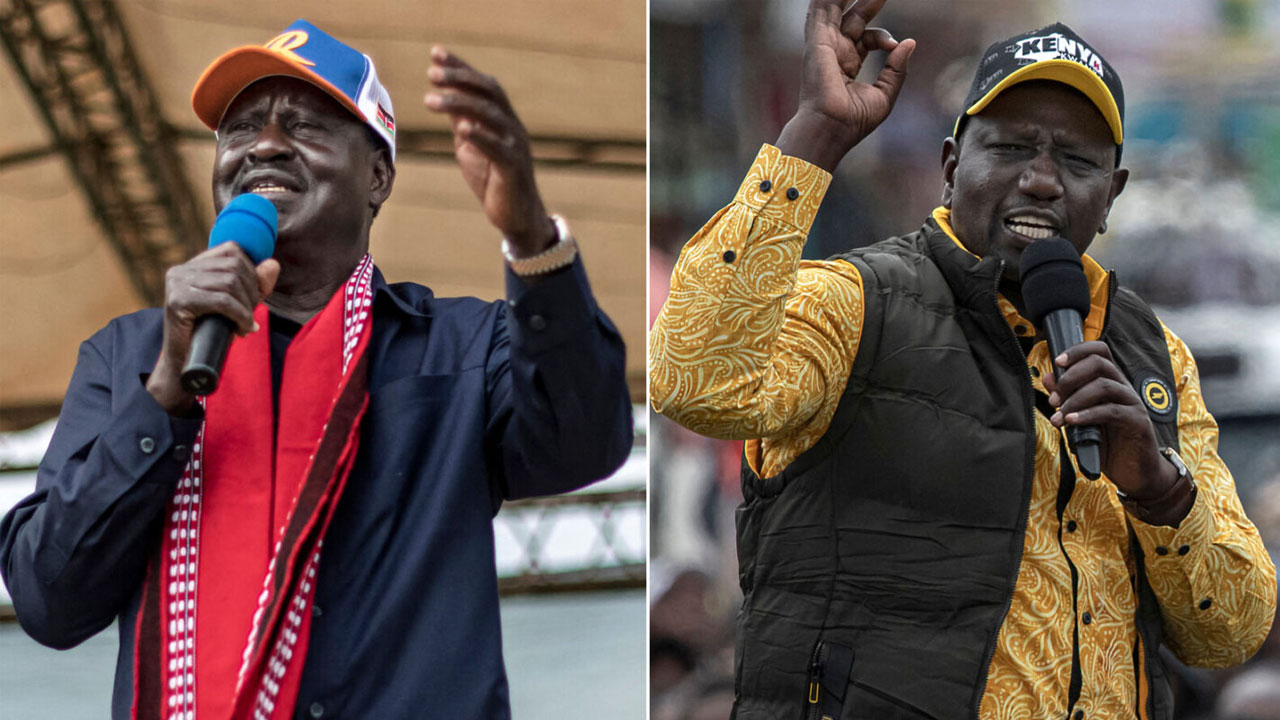 About 22 million Kenyans registered to vote, the country's electoral body (IEBC) said, and polls opened from 6 a.m. to 5 p.m. local time (11 p.m. ET Monday to 10 a.m. ET Tuesday). [Source: CNN News]
Polling has officially closed in Kenya's crucial general elections as outgoing President Uhuru Kenyatta prepares to hand over power to a new leader.
About 22 million Kenyans registered to vote, the country's electoral body (IEBC) said, and polls opened from 6 a.m. to 5 p.m. local time (11 p.m. ET Monday to 10 a.m. ET Tuesday).
Voters in line to vote by closing time will still be permitted to cast their ballots, the electoral commission also promised a time extension for areas where voting started late.
Article continues after advertisement
Many polling stations in Eldoret city, a stronghold of presidential candidate and current deputy president William Ruto, closed ballot boxes on the dot at 5 p.m. local time (10aET), as there were no voters still in line to cast their ballots.
Ballots will first be counted at polling stations immediately after voting ends, before then being sent to the constituency-wide tallying center which tracks the results from all reporting polling stations.
If no candidate wins more than 50% of the vote, the election will go into a run-off for the first time in Kenyan history.
Tuesday's presidential election, according to opinion polls, is considered a two-horse race between Deputy President Ruto, 55, and veteran opposition leader Odinga, 77.
Odinga is a businessman and politician who served as prime minister of Kenya for five years following the disputed presidential election of December 2007 that resulted in widespread protests and violence, leaving more than 1,000 people dead.
Odinga is part of Kenya's political dynasty; his father Jaramogi Oginga Odinga was the first vice president of independent Kenya.
He earned a master's degree in mechanical engineering in East Germany in 1970 and was a one-time lecturer at the University of Nairobi after his studies abroad.
He is participating in the poll for the fifth and final time, he says after failing at his four previous attempts.
Odinga has received the backing of former rival President Kenyatta, who overlooked his deputy Ruto for the top job.
Ruto, a former teacher who holds a doctorate in Plant Ecology from the University of Nairobi, has adopted a populist "man-of-the-people" approach, designed to capture Kenya's largest voting bloc — the youth.
And he appears to be succeeding, veteran political analyst Herman Manyora told CNN: "Ruto has excited the youths … almost in a euphoric sense. That might help to make them turn out and vote."
Ruto has pledged to prioritize Kenya's economy and "uplift ordinary citizens" if elected president.
"There is a world of difference between me and my competitor. I have a plan, he doesn't," Ruto says of Odinga.
Ruto was also tried alongside Kenyatta in 2013 at the International Criminal Court in the Netherlands for alleged crimes against humanity following the 2007 election violence. However, the charges were later thrown out.
Although the election would bring about a change of administration, Ruto and Odinga's affiliation with the present government does not necessarily provide a new political phenomenon, argues analyst Odhiambo.
"Among the front runners, people are keen to balance between what is perceived as continuity and freshness within a continuity," Odhiambo said.
"Ruto is the deputy president and part of the current government. There's a perception that Odinga could be an extension of the current president because of the support the president has given him."