Sevens
Cakaubalavu dropped from the final 12-member squad
January 25, 2019 9:55 am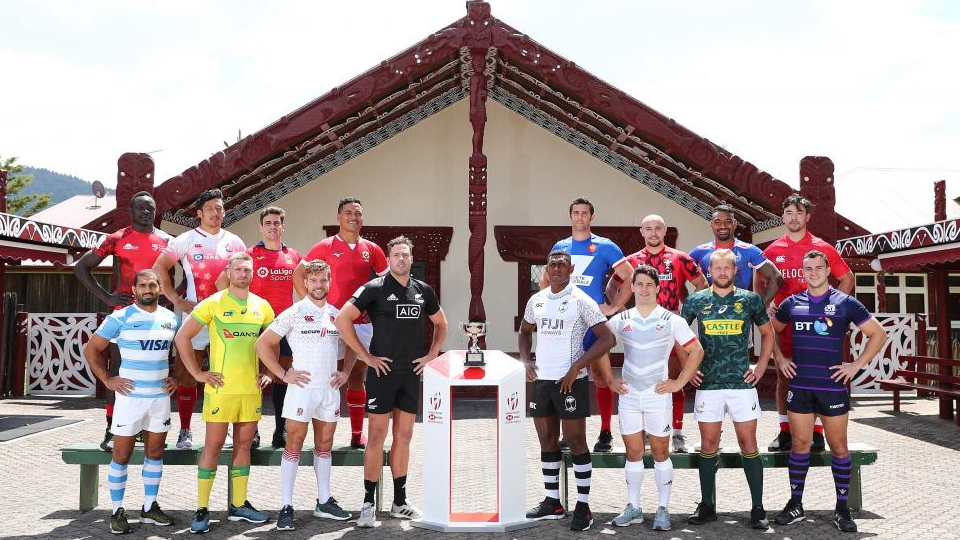 [Source: World Rugby]
Fiji Airways men's 7s coach Gareth Baber has named a strong 12-member squad for the Hamilton tournament this weekend.
In the list released by World Rugby, Baber has dropped Apenisa Cakaubalavu from the squad.
Robust forwards Josua Vakurunabili and Paula Dranisinukula return to the team after missing the Dubai and Cape Town 7s last month.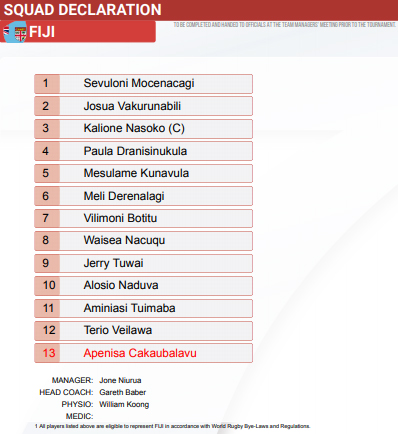 Baber has maintained his core players such as skipper Kalione Nasoko, Jerry Tuwai, Alosio Naduva and Waisea Nacuqu.
The Fiji 7s team begins its campaign against Wales at 10.52am tomorrow, then faces Argentina at 2.42pm and plays Australia in its last pool match at 6.52pm.
The Cup quarter-final begins at 10.36am on Sunday, Cup semifinal starts at 3.16pm and the final is scheduled for 7.10pm.
You can watch the entire tournament live on FBC TV.
The HSBC New Zealand Sevens is the third round of the HSBC World Rugby Sevens Series 2019 with the first two tournaments both having different winners: New Zealand winning in Dubai and Fiji winning in Cape Town.
The USA were runners-up at both tournaments and actually lie first in the Series Standings ahead of New Zealand and Fiji, their highest ever position.
All three teams are in different Pools in Hamilton.
Series leaders USA are in Pool B with England, Samoa, and Tonga, while hosts New Zealand are in Pool D with Spain, Canada and Japan.
Pool C comprises South Africa, Scotland, France and Kenya.
| MATCH | TIME | TEAM 1 | SCORE | TEAM 2 | POOL |
| --- | --- | --- | --- | --- | --- |
| M1 | 9:00AM | Scotland | 26 - 21 | France | Pool C |
| M2 | 9:22AM | South AFrica | 29 - 10 | Kenya | Pool C |
| M3 | 9:44AM | England | 10 - 12 | Samoa | Pool D |
| M4 | 10:06AM | USA | 29 - 7 | Tonga | Pool B |
| M5 | 10:30AM | Australia | 17 - 12 | Argentina | Pool A |
| M6 | 10:52AM | Fiji | 54 - 7 | Wales | Pool A |
| M7 | 11:14AM | Spain | 12 - 12 | Canada | Pool D |
| M8 | 11:36AM | New Zealand | 52 - 0 | Japan | Pool D |
| M9 | 12:48PM | Scotland | 19 - 10 | Kenya | Pool C |
| M10 | 13:10PM | South Africa | 17 - 5 | France | Pool C |
| M11 | 13:32PM | England | 36 - 7 | Tonga | Pool B |
| M12 | 13:54PM | USA | 34 - 14 | Samoa | Pool B |
| M13 | 14:20PM | Australia | 26 - 5 | Wales | Pool A |
| M14 | 14:42PM | Fiji | 33 - 24 | Argentina | Pool A |
| M15 | 15:04PM | Spain | 22 - 19 | Japan | Pool D |
| M16 | 15:26PM | New Zealand | 42 - 10 | Canada | Pool D |
| M17 | 17:00PM | France | 15 - 19 | Kenya | Pool B |
| M18 | 17:22PM | South Africa | 26 - 7 | Scotland | Pool B |
| M19 | 17:44PM | Samoa | 28 - 12 | Tonga | Pool C |
| M20 | 18:06PM | USA | 19 - 7 | England | Pool C |
| M21 | 18:13PM | Argentina | 36 - 7 | Wales | Pool A |
| M22 | 18:52PM | Fiji | 26 - 19 | Australia | Pool A |
| M23 | 19:14PM | Canada | 26 - 0 | Japan | Pool D |
| M24 | 19:36PM | New Zealand | 17 - 0 | Spain | Pool D |
| MATCH | TIME | TEAM 1 | SCORE | TEAM 2 | STAGE |
| --- | --- | --- | --- | --- | --- |
| M25 | 9:00AM | Argentina | 35 - 0 | Japan | CTQF |
| M26 | 9:22AM | Kenya | 19 - 12 | Tonga | CTQF |
| M27 | 9:44AM | Spain | 19 - 10 | Wales | CTQF |
| M28 | 10:06AM | England | 21 - 5 | France | CTQF |
| M29 | 10:36AM | Fiji | 33 - 7 | Canada | Cup QF 1 |
| M30 | 10:58AM | South Africa | 28 - 19 | Samoa | Cup QF 2 |
| M31 | 11:20AM | New Zealand | 24 - 17 | Australia | Cup QF 3 |
| M32 | 11:42AM | USA | 19 - 14 | Scotland | Cup QF 4 |
| M33 | 12:10PM | Japan | 7 - 31 | Tonga | 13th Place SF |
| M34 | 12:32PM | Wales | 19 - 35 | France | 13th Place SF |
| M35 | 12:54PM | Argentina | 7 - 24 | Kenya | CTSF |
| M36 | 13:16PM | Spain | 7 - 38 | England | CTSF |
| M37 | 14:26PM | Canada | 19 - 28 | Samoa | 5th Place SF |
| M38 | 14:48PM | Australia | 14 - 24 | Scotland | 5th Place SF |
| M39 | 15:16PM | Fiji | VS | South Africa | Cup SF |
| M40 | 15:38PM | New Zealand | VS | USA | Cup SF |
| M41 | 16:00PM | Tonga | VS | France | 13th Place Final |
| M42 | 17:00PM | Kenya | VS | England | CT Final |
| M43 | 17:26PM | Samoa | VS | Scotland | 5th Place Playoff |
| M44 | 18:10PM | Loser M39 | VS | Loser M40 | Bronze Final |
| M45 | 19:10PM | Winner M39 | VS | Winner M40 | Cup Final |