Sevens
England vs USA - Sydney 7s second Cup semi-final
February 3, 2019 3:45 pm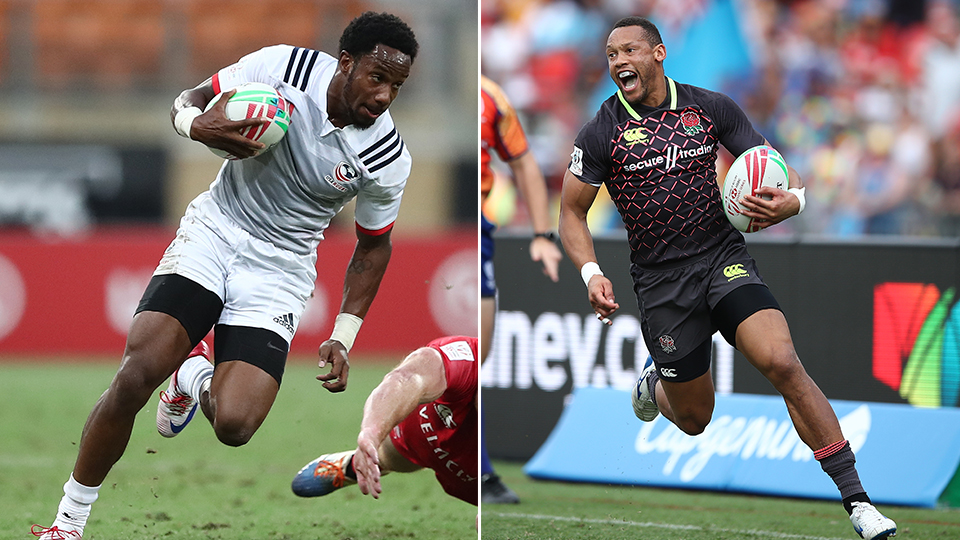 Carlin Isles of USA [left] and Dan Norton of England [Source: World Rugby Sevens]
The England 7s side will face USA in the second Cup semi-final at the Sydney tournament today.
England defeated World Rugby series title holders South Africa 26-5 in the quarterfinal.
Interview: @EnglandRugby's captain @TBobbyMitchell spoke after his cup quarter-Final win against South Africa #Sydney7s pic.twitter.com/1pZH7lTpD6

— World Rugby Sevens (@WorldRugby7s) February 3, 2019
Charlton Kerr, Tom Mitchell, Phil Burgess and Tom Bowen scored the tries for the side.
Meanwhile, it was an easy go for the USA side in the quarterfinal as they defeated Spain 38-10.
"Danny Barrett -he's got game"

Barrett shows his strength & skill with big bump and delicate offload as USA Rugby take their place in the #Sydney7s Cup Final #DHLRugby pic.twitter.com/9QJq8X4Sgt

— World Rugby Sevens (@WorldRugby7s) February 3, 2019
Madison Hughes and Stephen Tomasin scored two tries while Carlin Isles and Brett Thompson managed to get a try for the USA side.
In the first semi-final at 5.16pm Fiji plays New Zealand after which England takes on USA at 5.38pm.
The final is scheduled for 9.56pm and you can watch the tournament live on FBC TV.
| MATCH | TIME | TEAM 1 | SCORE | TEAM 2 | STAGE |
| --- | --- | --- | --- | --- | --- |
| M25 | 11:38AM | Japan | 31 - 19 | Tonga | CTQF |
| M26 | 12:00PM | Wales | 19 - 14 | Kenya | CTQF |
| M27 | 12:22PM | Argentina | 36 - 12 | Samoa | CTQF |
| M28 | 12:44PM | Canada | 35 - 21 | Scotland | CTQF |
| M29 | 13:16PM | Fiji | 22 - 17 | Australia | Cup QF 1 |
| M30 | 13:38PM | New Zealand | 28 - 5 | France | Cup QF 2 |
| M31 | 14:00PM | South Africa | 5 - 26 | England | Cup QF 3 |
| M32 | 14:22PM | USA | 38 - 10 | Spain | Cup QF 4 |
| M33 | 15:04PM | Tonga | 20 - 17 | Kenya | 13th Place SF |
| M34 | 15:26PM | Samoa | 26 - 12 | Scotland | 13th Place SF |
| M35 | 15:48PM | Japan | 19 - 17 | Wales | CTSF |
| M36 | 16:10PM | Argentina | 24 - 19 | Canada | CTSF |
| M37 | 16:32PM | Australia | 17 - 14 | France | 5th Place SF |
| M38 | 16:54PM | South Africa | 33 - 0 | Spain | 5th Place SF |
| M39 | 17:16PM | Fiji | 14 - 36 | New Zealand | Cup SF |
| M40 | 17:38PM | England | 7 - 14 | USA | Cup SF |
| M41 | 20:08PM | Tonga | 5 - 25 | Samoa | 13th Place Final |
| M42 | 20:30PM | Japan | 7 - 10 | Argentina | CT Final |
| M43 | 21:07PM | Australia | 10 - 12 | South Africa | 5th Place Playoff |
| M44 | 21:29PM | Fiji | 17 - 19 | England | Bronze Final |
| M45 | 21:56PM | New Zealand | 21 - 5 | USA | Cup Final |