Sevens
Alosio Naduva receives UL Mark of Excellence award
February 3, 2019 10:54 pm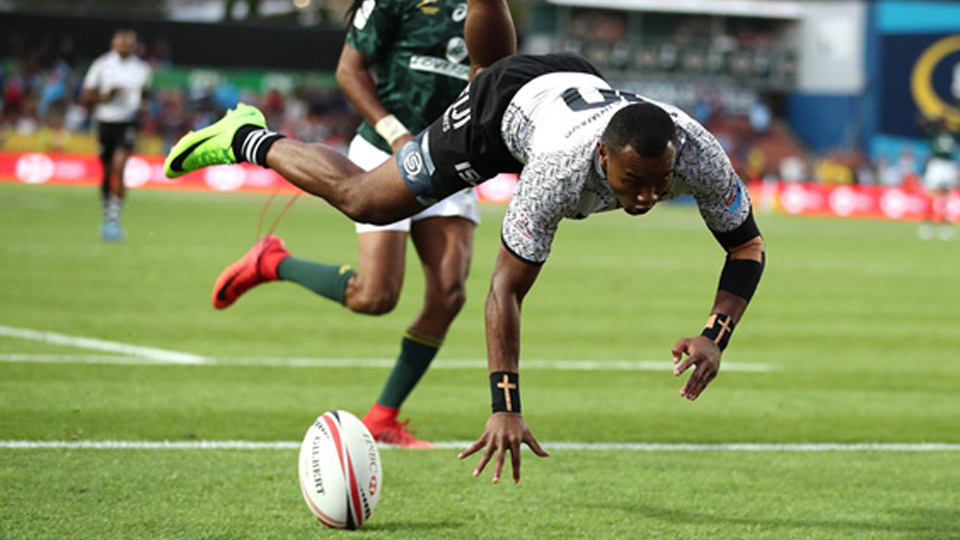 Alasio Naduva [Source: World Rugby Sevens]
Fiji Airways men's 7s speedster Alosio Naduva has received the UL Mark of Excellence award.
The UL Mark of Excellence award goes to Fiji's Alosio Naduva for one of the finishes of the world series so far against Japan! #EmpoweringTrust @ULdialogue pic.twitter.com/ITHc4cJ3kM

— World Rugby Sevens (@WorldRugby7s) February 3, 2019
Naduva was in supersonic form for the Fijians as he used his speed to score tries against Japan, England and Australia in the Cup-quarterfinal.
RE:LIVE: How did he finish that? @fijirugby's Alosio Naduva goes supersonic from the restart and scores UNBELIEVABLE try with ridiculous finish #Sydney7s#DHLRugby pic.twitter.com/p3D7adsmdM

— World Rugby Sevens (@WorldRugby7s) February 2, 2019
The 28-year-old explained how he managed to score the try from kick-off against Japan which has been regarded as one of the best in the season so far.
"When Terio Tamani kicked that ball, I thought it's going out but I kept on working hard until I scored the try."
Naduva has scored 44 tries for the Fiji 7s side so far, played 62 matches and contributed 226 points.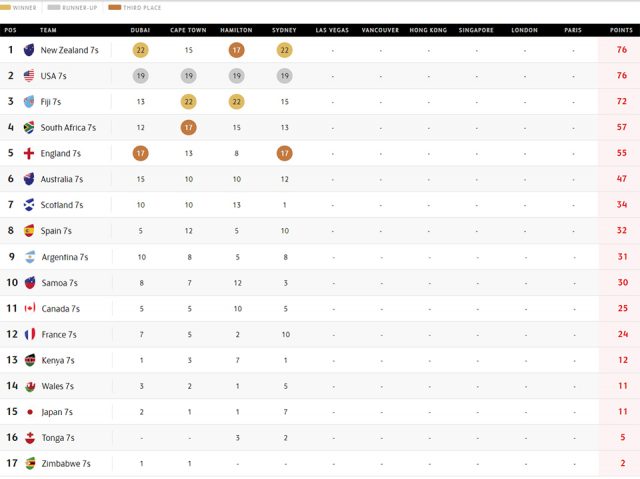 | MATCH | TIME | TEAM 1 | SCORE | TEAM 2 | STAGE |
| --- | --- | --- | --- | --- | --- |
| M25 | 11:38AM | Japan | 31 - 19 | Tonga | CTQF |
| M26 | 12:00PM | Wales | 19 - 14 | Kenya | CTQF |
| M27 | 12:22PM | Argentina | 36 - 12 | Samoa | CTQF |
| M28 | 12:44PM | Canada | 35 - 21 | Scotland | CTQF |
| M29 | 13:16PM | Fiji | 22 - 17 | Australia | Cup QF 1 |
| M30 | 13:38PM | New Zealand | 28 - 5 | France | Cup QF 2 |
| M31 | 14:00PM | South Africa | 5 - 26 | England | Cup QF 3 |
| M32 | 14:22PM | USA | 38 - 10 | Spain | Cup QF 4 |
| M33 | 15:04PM | Tonga | 20 - 17 | Kenya | 13th Place SF |
| M34 | 15:26PM | Samoa | 26 - 12 | Scotland | 13th Place SF |
| M35 | 15:48PM | Japan | 19 - 17 | Wales | CTSF |
| M36 | 16:10PM | Argentina | 24 - 19 | Canada | CTSF |
| M37 | 16:32PM | Australia | 17 - 14 | France | 5th Place SF |
| M38 | 16:54PM | South Africa | 33 - 0 | Spain | 5th Place SF |
| M39 | 17:16PM | Fiji | 14 - 36 | New Zealand | Cup SF |
| M40 | 17:38PM | England | 7 - 14 | USA | Cup SF |
| M41 | 20:08PM | Tonga | 5 - 25 | Samoa | 13th Place Final |
| M42 | 20:30PM | Japan | 7 - 10 | Argentina | CT Final |
| M43 | 21:07PM | Australia | 10 - 12 | South Africa | 5th Place Playoff |
| M44 | 21:29PM | Fiji | 17 - 19 | England | Bronze Final |
| M45 | 21:56PM | New Zealand | 21 - 5 | USA | Cup Final |