Rugby
Mataele scores twice as Crusaders beat Hurricanes
February 2, 2019 4:11 pm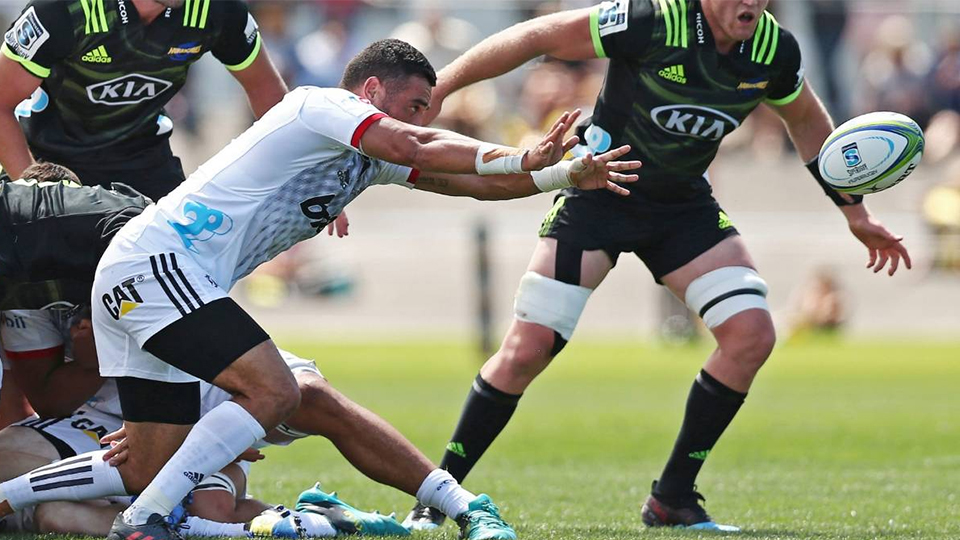 Crusaders halfback Bryn Hal against Hurricanes [Source: stuff.co.nz]
Fiji-born Manasa Mataele scored two tries for Crusaders as they defeated Hurricanes 34-19 in the pre-season match today.
Crusader's high-pressure game was too much for the Hurricanes to deal with as they held the upper hand in most areas, particularly at set pieces and the breakdown.
In the other match, Caleb Clark's scored a hat-trick of tries as Blues thumped Chiefs 43-10.
Former Fiji Under-20 rep Alex Hodgman featured for the Blues and the Chiefs had the services of Pita Sowakula.
Meanwhile, in a pre-season match in Australia, Melbourne Rebels thumped Queensland Reds 29-26.
The Super Rugby campaign kicks off on the 15th of this month and you can watch the selected matches live on FBC Sports.
| DATE | TIME | TEAM 1 | SCORE | TEAM 2 | VENUE |
| --- | --- | --- | --- | --- | --- |
| WEEK 1 | | | | | |
| 15 Feb - Friday | 6:35PM | Chiefs | 27 - 30 | Highlanders | FMG Stadium, Waikato |
| 15 Feb - Friday | 8:45PM | Brumbies | 27 - 34 | Rebels | GIO Stadium |
| 16 Feb - Saturday | 6:35PM | Blues | 22 - 24 | Crusaders | Eden Park |
| 16 Feb - Saturday | 8:45PM | Waratahs | 19 - 20 | Hurricanes | Brookvale Oval |
| 16 Feb - Saturday | 10:55PM | Sunwolves | 10 - 45 | Sharks | Singapore National Stadium |
| 17 Feb - Sunday | 3:15AM | Bulls | 40 - 3 | Stormers | Loftus Versfeld |
| | | | | | |
| WEEK 2 | | | | | |
| 22 Feb - Friday | 6:35PM | Highlanders | VS | Reds | Forsyth Barr Stadium |
| 23 Feb - Saturday | 4:15PM | Sunwolves | VS | Waratahs | Chichibunomiya Rugby Stadium |
| 23 Feb - Saturday | 6:35PM | Crusaders | VS | Hurricanes | Rugby League Park |
| 23 Feb - Saturday | 8:45PM | Brumbies | VS | Chiefs | GIO Stadium |
| 24 Feb - Sunday | 1:05AM | Sharks | VS | Blues | Kings Park Stadium |
| 24 Feb - Sunday | 3:15AM | Stormers | VS | Lions | Newlands Stadium |
| | | | | | |
| WEEK 3 | | | | | |
| 01 Mar - Friday | 6:35PM | Hurricanes | VS | Brumbies | Central Energy Trust Arena |
| 01 Mar - Friday | 8:45PM | Rebels | VS | Highlanders | Melbourne Rectangular Stadium |
| 02 Mar - Saturday | 6:35PM | Chiefs | VS | Sunwolves | FMG Stadium Waikato |
| 02 Mar - Saturday | 8:45PM | Reds | VS | Crusaders | Suncorp Stadium |
| 03 Mar - Sunday | 1:05AM | Lions | VS | Bulls | Ellis Park Stadium |
| 03 Mar - Sunday | 03:15AM | Sharks | VS | Stormers | Kings Park Stadium |
| | | | | | |
| WEEK 4 | | | | | |
| 08 Mar - Friday | 6:35PM | Hurricanes | VS | Highlanders | Wellington Regional Stadium |
| 08 Mar - Friday | 8:45PM | Rebels | VS | Brumbies | Melbourne Rectangular Stadium |
| 09 Mar - Saturday | 4:15PM | Crusaders | VS | Chiefs | Rugby League Park |
| 09 Mar - Saturday | 6:35PM | Blues | VS | Sunwolves | North Harbour Stadium |
| 10 Mar - Sunday | 8:45PM | Waratahs | VS | Reds | SCG |
| 10 Mar - Sunday | 1:05AM | Lions | VS | Jaguares | Ellis Park Stadium |