Football
Roy Krishna walks away with the Johnny Warren medal
May 14, 2019 11:05 am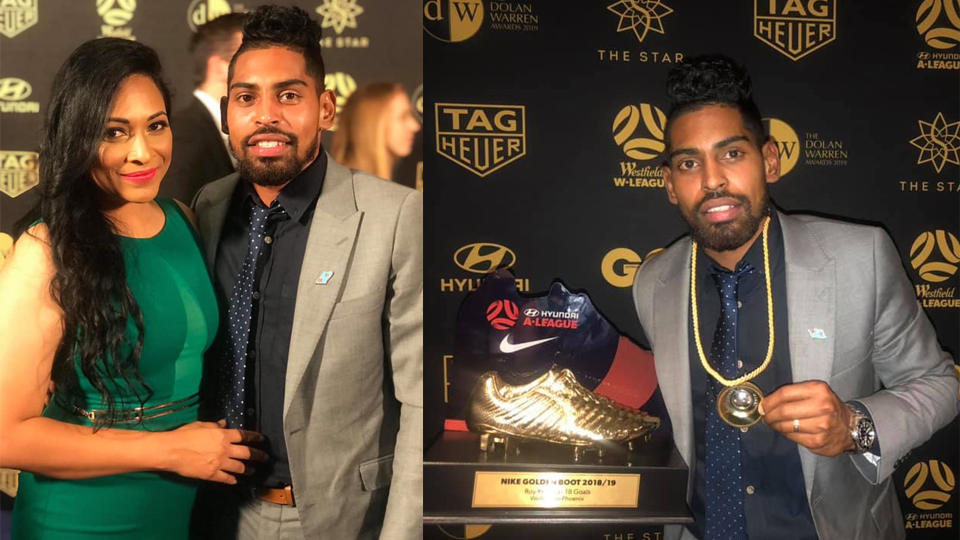 Fiji football team skipper Roy Krishna after being named the best player in Australia with wife
Fiji football team skipper Roy Krishna has been named the best player in Australia after a stellar A-League season.
Last night, Krishna walked away with the Johnny Warren medal and also the Golden Boot.
The win was an icing on the cake for the Siberia, Labasa lad who earlier this year wasn't recognized at the annual Fiji Sports Awards.
Article continues after advertisement
"Growing up in a village, I never dreamt of this… If you work hard dreams do come true"

Hear from @RoyKrishna21 after winning the Johnny Warren Medal ?#DolanWarren #ALeague pic.twitter.com/1xdsWOMCsL

— Hyundai A-League (@ALeague) May 13, 2019
"Wow, there's a lot of people to thank. Growing up in a village, I never dreamt of getting this. First of all I want to thank my boss for believing in me, for getting the best out of me and Captain and my brothers for believing in me and making me work harder every week to achieve this and also to my wife and my family for always being there for me even though when things don't go your way, they always encourage you to love the sport that you love. Only one message you know if you work hard, dreams do come true, so thank you."
'Growing up in a village I never could have dreamed of this.'
Roy Krishna, the 2019 Johnny Warren Medallist ?⚽️?? pic.twitter.com/LRPDAU1otC

— Daniel Garb (@DanielGarb) May 13, 2019
The Fiji Airways brand ambassador will be back home later this month.
Congratulations to my hubby for the double awards. I'm so proud of you. Golden Boot award and Johnny Warren medal for player of the year award @RoyKrishna21 @WgtnPhoenixFC @FijiAirways #DolanWarren pic.twitter.com/k7Xi01X5I6

— Lisi Naziah Tora Ali-Krishna (@Alinaziah) May 13, 2019
Johnny Warren Medal winner @RoyKrishna21 with his @TAGHeuer Aquaracer 300M #DolanWarren pic.twitter.com/piclIKxQXY

— Hyundai A-League (@ALeague) May 13, 2019
Wonderful stuff from Roy Krishna last night. A truly inspirational role model for young Pacific Island players. That region will owe so much to him in years to come for the trail he blazed into professional football @RoyKrishna21 @Alinaziah @IndraFBC @WgtnPhoenixFC https://t.co/eyzLmAm9y4

— Jason Pine (@pineyzb) May 13, 2019
Krishna also picked up the Golden Boot for scoring 18 goals this season and with him being off contract, a number of clubs are circling for his signature.
The Johnny Warren Medal is awarded to the best player of the Australian national soccer club competition. It was first awarded in the National Soccer League in 1990, and upon the NSL's demise in November 2004, was carried forward into the new national club competition, the A-League. It is named after former Australia national soccer team captain and tireless promoter of soccer in Australia, Johnny Warren.
Keep Connected With The Latest News, Weather, And Sports on Fiji's Best Radio stations.