Football
Solomon Island import to boost Suva football
January 27, 2019 11:59 am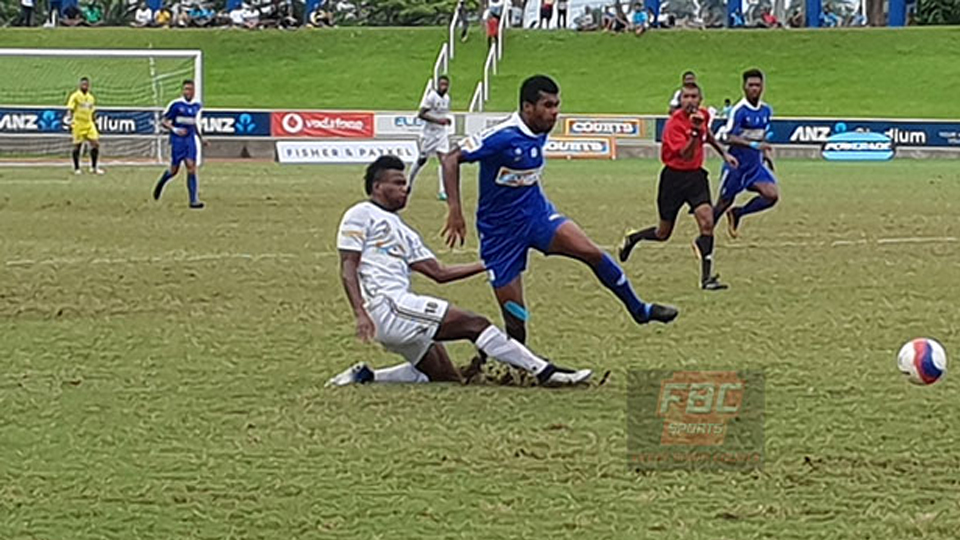 The Suva football side has a mammoth task ahead in its Vodafone Premier League campaign this afternoon.
This is as they prepare to battle top leader Lautoka.
The Capital side will be boosted by Solomon Island import player Michael Bosso.
Lautoka who is leading the points table with three points will not give in easily to Suva as they are playing on home soil.
Lautoka will hosts Suva at 3pm at Churchill Park today.
Meanwhile, in other matches, Nasinu will play Rewa at Ratu Cakobau Park, while Tavua will host Nadi at Garvey Park.
You can catch the live commentary of the Lautoka vs Suva match on Radio Fiji Two.
| TEAM | P | W | D | L | GF | GA | GD | POINTS |
| --- | --- | --- | --- | --- | --- | --- | --- | --- |
| BA | 3 | 2 | 1 | 0 | 3 | 1 | +2 | 7 |
| TAVUA | 4 | 2 | 0 | 2 | 4 | 8 | -4 | 6 |
| NADI | 3 | 2 | 0 | 1 | 8 | 3 | 5 | 6 |
| SUVA | 4 | 2 | 0 | 2 | 4 | 4 | 0 | 6 |
| LABASA | 3 | 1 | 1 | 1 | 2 | 3 | -1 | 4 |
| LAUTOKA | 2 | 1 | 0 | 1 | 6 | 1 | +5 | 3 |
| NASINU | 3 | 1 | 0 | 2 | 4 | 4 | 0 | 3 |
| REWA | 4 | 1 | 0 | 3 | 2 | 9 | -7 | 3 |
| DATE & DAY | TIME | HOST | SCORE | VISITOR | VENUE |
| --- | --- | --- | --- | --- | --- |
| WEEK 1 | | | | | |
| 20 Jan - Sunday | 3:00PM | Lautoka | 6 - 0 | Tavua | Churchill Park |
| | | | | | |
| WEEK 2 | | | | | |
| 26 Jan - Saturday | 1:15PM | Labasa | 1 - 1 | Ba | Subrail Park |
| 27 Jan - Sunday | 3:00PM | Nasinu | 0 - 1 | Rewa | Ratu Cakobau Park |
| 27 Jan - Sunday | 3:00PM | Lautoka | 0 - 1 | Suva | Churchill Park |
| 27 Jan - Sunday | 3:00PM | Tavua | 1 - 2 | Nadi | Garvey Park |
| | | | | | |
| WEEK 3 | | | | | |
| 03 Feb - Sunday | 3:00PM | Rewa | 0 - 1 | Labasa | Ratu Cakobau Park |
| 03 Feb - Sunday | 3:00PM | Nadi | 0 - 1 | Ba | Prince Charles Park |
| 03 Feb - Sunday | 3:00PM | Tavua | 1 - 0 | Suva | Garvey Park |
| | | | | | |
| WEEK 4 | | | | | |
| 10 Feb - Sunday | 1:00PM | Nasinu | 2 - 0 | Labasa | ANZ Stadium |
| 10 Feb - Sunday | 3:00PM | Suva | 0 - 1 | Ba | ANZ Stadium |
| 10 Feb - Sunday | 3:00PM | Tavua | 2 - 0 | Rewa | Garvey Park |
| | | | | | |
| WEEK 5 | | | | | |
| 17 Feb - Sunday | 3:00PM | Nadi | 6 - 1 | Rewa | Prince Charles Park |
| 17 Feb - Sunday | 3:00PM | Nasinu | 2 - 3 | Suva | TBC |
| | | | | | |
| WEEK 6 | | | | | |
| 23 Feb - Saturday | 1:30PM | Labasa | VS | Nadi | Subrail Park |
| 24 Feb - Sunday | 3:00PM | Lautoka | VS | Rewa | Churchill Park |
| 24 Feb - Sunday | 3:00PM | Tavua | VS | Nasinu | Garvey Park |
| | | | | | |
| WEEK 7 | | | | | |
| 02 Mar - Saturday | 1:30PM | Labasa | VS | Tavua | Subrail Park |
| 03 Mar - Sunday | 3:00PM | Nasinu | VS | Lautoka | Ratu Cakobau Park |
| 03 Mar - Sunday | 3:00PM | Suva | VS | Nadi | TBC |
| | | | | | |
| WEEK 8 | | | | | |
| 10 Mar -Sunday | 3:00PM | Rewa | VS | Ba | Ratu Cakobau Park |
| 10 Mar -Sunday | 3:00PM | Nadi | VS | Lautoka | Churchill Park |
| | | | | | |
| WEEK 9 | | | | | |
| 15 Mar - Friday | 7:30PM | Suva | VS | Labasa | TBC |
| 15 Mar - Friday | 7:30PM | Lautoka | VS | Ba | Churchill Park |
| 17 Mar - Sunday | 3:00PM | Lautoka | VS | Labasa | Churchill Park |
| 17 Mar - Sunday | 3:00PM | Nadi | VS | Nasinu | Prince Charles Park |
| 17 Mar - Sunday | 3:00PM | Rewa | VS | Suva | Ratu Cakobau Park |
| 17 Mar - Sunday | 3:00PM | Tavua | VS | Ba | Garvey Park |