Football
VPL: Labasa wins, Tavua shocks Suva
February 3, 2019 5:05 pm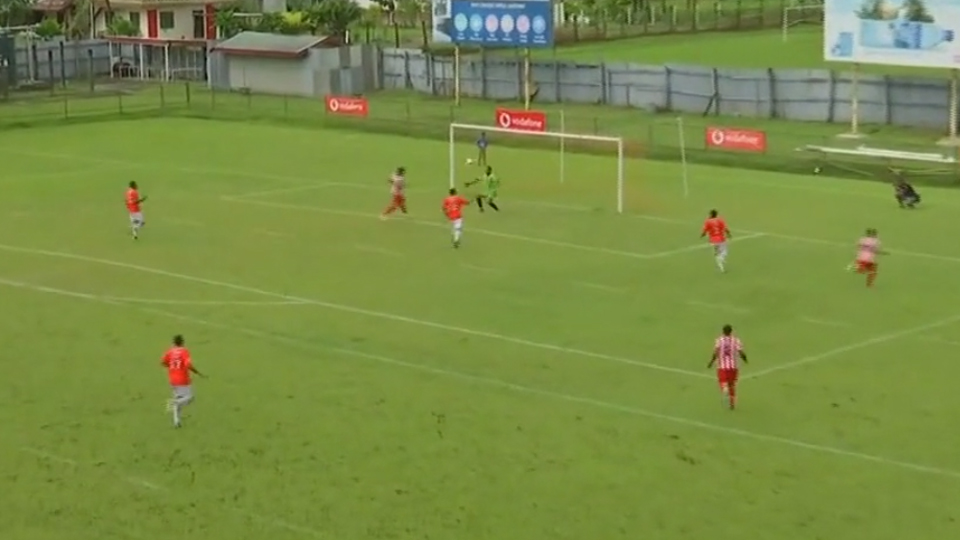 Napolioni Qasevakatini scores for Labasa against Rewa
Tavua import Semisi Tuwai was the hero for the side as he scored the goal in their one-nil win against Suva in the Vodafone Premier League match at Garvey Park.
Tuwai scored on his debut after joining the side from Nadi in the transfer window this month.
The Tavua side was later cut down to ten men after defender Sairusi Nalewadonu was shown a red card in the second spell.
In other match, the Labasa football side beat Rewa 1-nil at Ratu Cakobau Park in Nausori.
Labasa's goal was scored by Napolioni Qasevakatini.
Babasiga Lions goalkeeper Akuila Mataisuva was shown a red card for a hand ball outside the box.
Coach Anand Sami says his players need to work on their finishing if they are to win more games in future.
"We created a lot of chances and only towards attacking our last decision making bit poor and that's why we could not score more goals. That's the area the players should start thinking about it."
Rewa football coach Nigel Khan says they need to work on the fitness.
"All in all fitness level we have to work on but as far as the performance of the players are concern it was good and I know we will do better and become better in the near future."
At Prince Charles Park, Ba defeated Nadi one-nil.
Malakai Rakula scored the goal for the Men in Black.
Former Ba forward Shalen Lal was the coach as Ronil Kumar is away overseas.
Ba manager Arvin Singh says they are on track as far as the OFC Champions League is concern.
"I must say it was a tough game not an easy game plus we came to win to get three points and we have three points in our bag. It is also a build for Champions League."
Nadi president Javed Ahmed says it was just not their day.
"It was a good game and I'm proud of the boys they played their hearts out. Ba is good side they have been preparing from last year for the Champions League so fitness wise the boys did very well. We played to the last minute and we had some good goal scoring opportunities but it wasn't our day."
Meanwhile, Labasa and Ba sit on top of the VPL points table with four points, Lautoka, Nadi, Suva, Rewa and Tavua all have three points each.
| TEAM | P | W | D | L | GF | GA | GD | POINTS |
| --- | --- | --- | --- | --- | --- | --- | --- | --- |
| BA | 3 | 2 | 1 | 0 | 3 | 1 | +2 | 7 |
| TAVUA | 4 | 2 | 0 | 2 | 4 | 8 | -4 | 6 |
| NADI | 3 | 2 | 0 | 1 | 8 | 3 | 5 | 6 |
| SUVA | 4 | 2 | 0 | 2 | 4 | 4 | 0 | 6 |
| LABASA | 3 | 1 | 1 | 1 | 2 | 3 | -1 | 4 |
| LAUTOKA | 2 | 1 | 0 | 1 | 6 | 1 | +5 | 3 |
| NASINU | 3 | 1 | 0 | 2 | 4 | 4 | 0 | 3 |
| REWA | 4 | 1 | 0 | 3 | 2 | 9 | -7 | 3 |