Football
Labasa out to win its first VPL match of the season
February 3, 2019 12:42 pm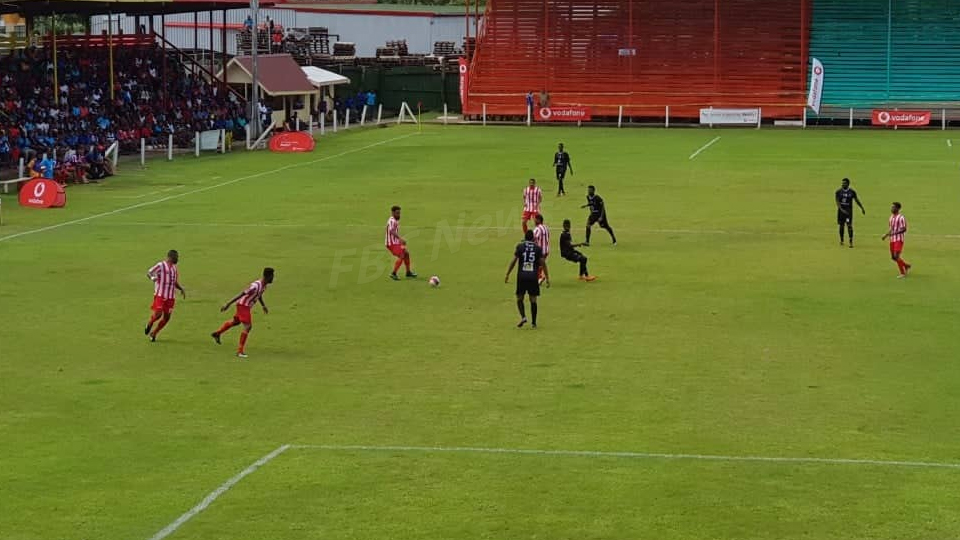 Labasa was held 1-1 by Ba in its opening match
The Labasa football side will hope to grab its first win when they take on Rewa in the Vodafone Premier League match at Ratu Cakobau Park today.
The star studded Babasiga Lions were held one-all by Ba in its opening match at Subrail Park last weekend.
Players like Napolioni Qasevakatini, Ravinesh Singh, Ashnil Raju and Vilitati Kautoga are expected to guide the side against Delta Tigers.
Meanwhile, Rewa will be boosted with the inclusion of Jovilisi Borisi, Bruce Hughes and Jale Dreloa in the side.
Rewa plays Labasa at 3pm at Ratu Cakobau Park in Nausori.
In other matches at the same time, Tavua host Suva at Garvey Park and Nadi plays Ba at Prince Charles Park.
You can catch the live commentary of the Labasa-Rewa match on Radio Fiji TWO.
| TEAM | P | W | D | L | GF | GA | GD | POINTS |
| --- | --- | --- | --- | --- | --- | --- | --- | --- |
| BA | 3 | 2 | 1 | 0 | 3 | 1 | +2 | 7 |
| NADI | 3 | 2 | 0 | 1 | 8 | 3 | 5 | 6 |
| SUVA | 4 | 2 | 0 | 2 | 4 | 4 | 0 | 6 |
| TAVUA | 4 | 2 | 0 | 2 | 4 | 8 | -4 | 6 |
| LABASA | 3 | 1 | 1 | 1 | 2 | 3 | -1 | 4 |
| LAUTOKA | 2 | 1 | 0 | 1 | 6 | 1 | +5 | 3 |
| NASINU | 3 | 1 | 0 | 2 | 4 | 4 | 0 | 3 |
| REWA | 4 | 1 | 0 | 3 | 2 | 9 | -7 | 3 |
| DATE & DAY | TIME | HOST | SCORE | VISITOR | VENUE |
| --- | --- | --- | --- | --- | --- |
| WEEK 1 | | | | | |
| 20 Jan - Sunday | 3:00PM | Lautoka | 6 - 0 | Tavua | Churchill Park |
| | | | | | |
| WEEK 2 | | | | | |
| 26 Jan - Saturday | 1:15PM | Labasa | 1 - 1 | Ba | Subrail Park |
| 27 Jan - Sunday | 3:00PM | Nasinu | 0 - 1 | Rewa | Ratu Cakobau Park |
| 27 Jan - Sunday | 3:00PM | Lautoka | 0 - 1 | Suva | Churchill Park |
| 27 Jan - Sunday | 3:00PM | Tavua | 1 - 2 | Nadi | Garvey Park |
| | | | | | |
| WEEK 3 | | | | | |
| 03 Feb - Sunday | 3:00PM | Rewa | 0 - 1 | Labasa | Ratu Cakobau Park |
| 03 Feb - Sunday | 3:00PM | Nadi | 0 - 1 | Ba | Prince Charles Park |
| 03 Feb - Sunday | 3:00PM | Tavua | 1 - 0 | Suva | Garvey Park |
| | | | | | |
| WEEK 4 | | | | | |
| 10 Feb - Sunday | 1:00PM | Nasinu | 2 - 0 | Labasa | ANZ Stadium |
| 10 Feb - Sunday | 3:00PM | Suva | 0 - 1 | Ba | ANZ Stadium |
| 10 Feb - Sunday | 3:00PM | Tavua | 2 - 0 | Rewa | Garvey Park |
| | | | | | |
| WEEK 5 | | | | | |
| 17 Feb - Sunday | 3:00PM | Nadi | 6 - 1 | Rewa | Prince Charles Park |
| 17 Feb - Sunday | 3:00PM | Nasinu | 2 - 3 | Suva | TBC |
| | | | | | |
| WEEK 6 | | | | | |
| 23 Feb - Saturday | 1:30PM | Labasa | VS | Nadi | Subrail Park |
| 24 Feb - Sunday | 3:00PM | Lautoka | VS | Rewa | Churchill Park |
| 24 Feb - Sunday | 3:00PM | Tavua | VS | Nasinu | Garvey Park |
| | | | | | |
| WEEK 7 | | | | | |
| 02 Mar - Saturday | 1:30PM | Labasa | VS | Tavua | Subrail Park |
| 03 Mar - Sunday | 3:00PM | Nasinu | VS | Lautoka | Ratu Cakobau Park |
| 03 Mar - Sunday | 3:00PM | Suva | VS | Nadi | TBC |
| | | | | | |
| WEEK 8 | | | | | |
| 10 Mar -Sunday | 3:00PM | Rewa | VS | Ba | Ratu Cakobau Park |
| 10 Mar -Sunday | 3:00PM | Nadi | VS | Lautoka | Churchill Park |
| | | | | | |
| WEEK 9 | | | | | |
| 15 Mar - Friday | 7:30PM | Suva | VS | Labasa | TBC |
| 15 Mar - Friday | 7:30PM | Lautoka | VS | Ba | Churchill Park |
| 17 Mar - Sunday | 3:00PM | Lautoka | VS | Labasa | Churchill Park |
| 17 Mar - Sunday | 3:00PM | Nadi | VS | Nasinu | Prince Charles Park |
| 17 Mar - Sunday | 3:00PM | Rewa | VS | Suva | Ratu Cakobau Park |
| 17 Mar - Sunday | 3:00PM | Tavua | VS | Ba | Garvey Park |