Football
9-man Suva beats Lautoka in VPL
January 27, 2019 4:23 pm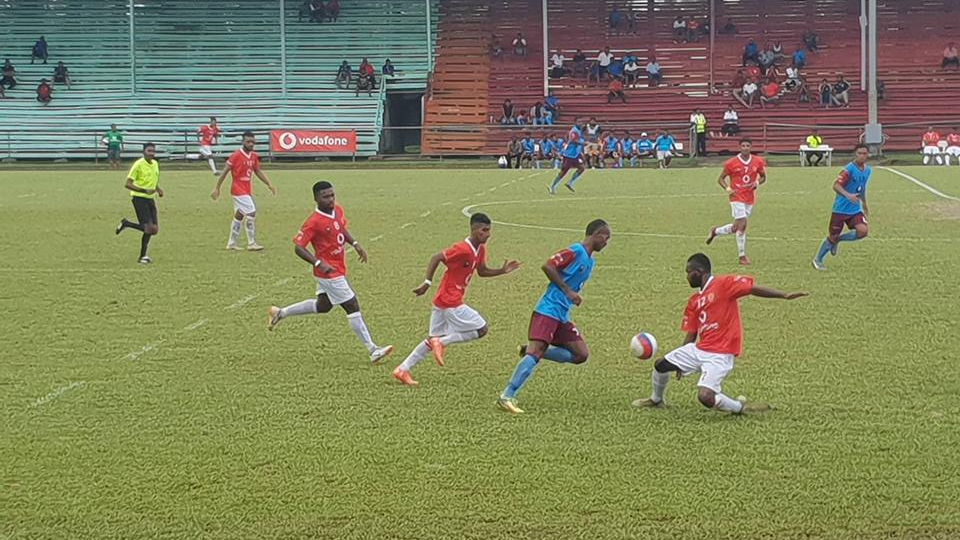 Action from the Rewa vs Nasinu match.
Nine men Suva football side defeated title holders Lautoka by 1-nil in its Vodafone Premier League clash at Churchill Park this afternoon.
Suva midfielder Meli Codro was the hero of the side as he scored the goal in the 41st minute of the second spell.
Codro was then shown the red card because of his celebration while defender Remueru Takiate was earlier given the marching orders in the first half.
Players such as Ratu Anare, Gagame Feni and Michael Boso featured for the capital city side.
Suva coach Intiaz Khan thanked his players for the wonderful effort.
"To be honest, I have no words to say but the only credit goes to the players. They have done wonders and we were sure we will be able to beat Lautoka."
Lautoka had the services of Bong Kalo and Daniel Allan.
Blues coach Kamal Swamy says it was just not their day.
"We were unlucky and then on top of that I think our decision making was wrong, in the field players need to make right decision."

In the match played at Ratu Cakobau Park in Nausori, Rewa secured its first win beating Nasinu 1-nil.
Gabby Matanasiga scored the goal for the Delta Tigers in the first half.
At Gavey Park, Nadi defeated host Tavua by 2-1.
Rahul Krishna and Nadroga import Jaishal Kumar scored the goals for the Jetsetters while Tazul Khan scored for Tavua.
Meanwhile, in the match played yesterday, Ba held Labasa 1-all at Subrail Park.
Ashnil Raju scored the goal for the Babasiga Lions while Manasa Nawakula got the equalizer for the Ba side.
| TEAM | P | W | D | L | GF | GA | GD | POINTS |
| --- | --- | --- | --- | --- | --- | --- | --- | --- |
| BA | 3 | 2 | 1 | 0 | 3 | 1 | +2 | 7 |
| NADI | 3 | 2 | 0 | 1 | 8 | 3 | 5 | 6 |
| SUVA | 4 | 2 | 0 | 2 | 4 | 4 | 0 | 6 |
| TAVUA | 4 | 2 | 0 | 2 | 4 | 8 | -4 | 6 |
| LABASA | 3 | 1 | 1 | 1 | 2 | 3 | -1 | 4 |
| LAUTOKA | 2 | 1 | 0 | 1 | 6 | 1 | +5 | 3 |
| NASINU | 3 | 1 | 0 | 2 | 4 | 4 | 0 | 3 |
| REWA | 4 | 1 | 0 | 3 | 2 | 9 | -7 | 3 |
| DATE & DAY | TIME | HOST | SCORE | VISITOR | VENUE |
| --- | --- | --- | --- | --- | --- |
| WEEK 1 | | | | | |
| 20 Jan - Sunday | 3:00PM | Lautoka | 6 - 0 | Tavua | Churchill Park |
| | | | | | |
| WEEK 2 | | | | | |
| 26 Jan - Saturday | 1:15PM | Labasa | 1 - 1 | Ba | Subrail Park |
| 27 Jan - Sunday | 3:00PM | Nasinu | 0 - 1 | Rewa | Ratu Cakobau Park |
| 27 Jan - Sunday | 3:00PM | Lautoka | 0 - 1 | Suva | Churchill Park |
| 27 Jan - Sunday | 3:00PM | Tavua | 1 - 2 | Nadi | Garvey Park |
| | | | | | |
| WEEK 3 | | | | | |
| 03 Feb - Sunday | 3:00PM | Rewa | 0 - 1 | Labasa | Ratu Cakobau Park |
| 03 Feb - Sunday | 3:00PM | Nadi | 0 - 1 | Ba | Prince Charles Park |
| 03 Feb - Sunday | 3:00PM | Tavua | 1 - 0 | Suva | Garvey Park |
| | | | | | |
| WEEK 4 | | | | | |
| 10 Feb - Sunday | 1:00PM | Nasinu | 2 - 0 | Labasa | ANZ Stadium |
| 10 Feb - Sunday | 3:00PM | Suva | 0 - 1 | Ba | ANZ Stadium |
| 10 Feb - Sunday | 3:00PM | Tavua | 2 - 0 | Rewa | Garvey Park |
| | | | | | |
| WEEK 5 | | | | | |
| 17 Feb - Sunday | 3:00PM | Nadi | 6 - 1 | Rewa | Prince Charles Park |
| 17 Feb - Sunday | 3:00PM | Nasinu | 2 - 3 | Suva | TBC |
| | | | | | |
| WEEK 6 | | | | | |
| 23 Feb - Saturday | 1:30PM | Labasa | VS | Nadi | Subrail Park |
| 24 Feb - Sunday | 3:00PM | Lautoka | VS | Rewa | Churchill Park |
| 24 Feb - Sunday | 3:00PM | Tavua | VS | Nasinu | Garvey Park |
| | | | | | |
| WEEK 7 | | | | | |
| 02 Mar - Saturday | 1:30PM | Labasa | VS | Tavua | Subrail Park |
| 03 Mar - Sunday | 3:00PM | Nasinu | VS | Lautoka | Ratu Cakobau Park |
| 03 Mar - Sunday | 3:00PM | Suva | VS | Nadi | TBC |
| | | | | | |
| WEEK 8 | | | | | |
| 10 Mar -Sunday | 3:00PM | Rewa | VS | Ba | Ratu Cakobau Park |
| 10 Mar -Sunday | 3:00PM | Nadi | VS | Lautoka | Churchill Park |
| | | | | | |
| WEEK 9 | | | | | |
| 15 Mar - Friday | 7:30PM | Suva | VS | Labasa | TBC |
| 15 Mar - Friday | 7:30PM | Lautoka | VS | Ba | Churchill Park |
| 17 Mar - Sunday | 3:00PM | Lautoka | VS | Labasa | Churchill Park |
| 17 Mar - Sunday | 3:00PM | Nadi | VS | Nasinu | Prince Charles Park |
| 17 Mar - Sunday | 3:00PM | Rewa | VS | Suva | Ratu Cakobau Park |
| 17 Mar - Sunday | 3:00PM | Tavua | VS | Ba | Garvey Park |