Roads
Over 50 roads closed nationwide due to flooding
April 22, 2019 12:32 pm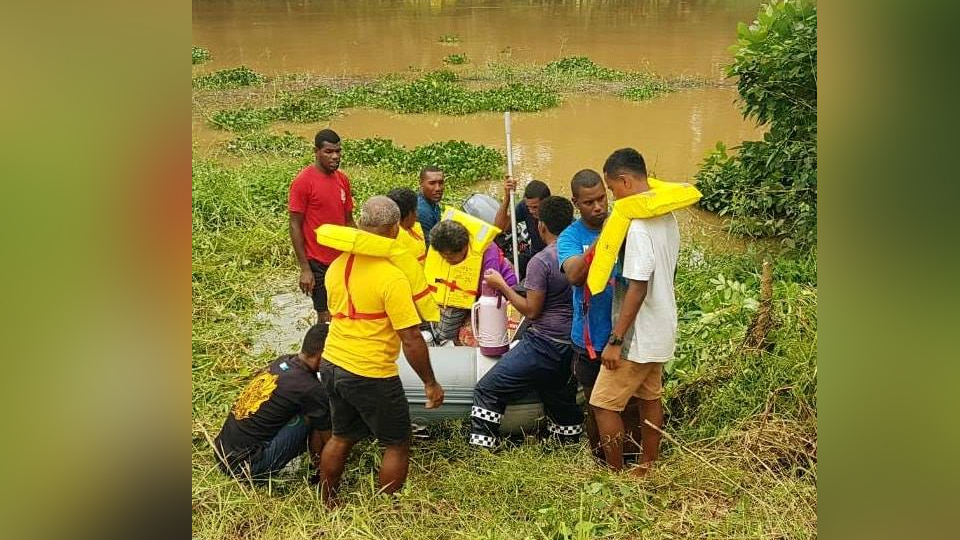 Officers from the Police Special Response Unit assisting members of the public cross safely as the Toga Crossing was flooded. [Source: Fiji Police]
The Fiji Roads Authority continues to close more roads across the country due to the heavy downpour causing flooding.
Currently, there are 26 roads in the central, 11 in the Eastern, eight in the Northern and five roads in the Western division that are closed.
Chief Executive, Jonathan Moore says their maintenance teams are working to rectify the issues.
Article continues after advertisement
Moore says road users are advised to find alternative routes where possible and take extra caution.
FRA is advising members of the public to exercise extreme caution and avoid crossing flooded areas.
Roads closed in Rakiraki
 Vitiri Crossing on Vitiri Road
 Dreketi Crossing on Dreketi Road
 Banisoqosoqo Crossing on Banisoqosoqo Road
 Vunikavikaloa Crossing on Vunikavikaloa Road
 Savusavu crossing on Lawaki Rd (Dawa Or Nasau)
 Burenitu Crossing on Burenitu Road
 Barotu Crossing on Barotu Road
 Rakiraki Access on FSC Road
 Narara Crossing on Narara Road
 Katudrau Road
 Drana Crossing on Korotale Valley Road
 Galau Flat on WaimariRoad
 Vatukaceva crossing on Vatukacevaceva Road
Roads closed in the Northern Division
Roads open to 4×4 Traffic
 Namuavoivoi on Namuavoivoi Road, Bua -Open to 4x4Traffic
 Navukuru Crossing – JNC Suweni/Nakorotari Road, Navakuru, Macuata – Open to 4x4Traffic
Roads Closed:
 Dreketilailai Crossing on Bulileka Road, Macuata
 Qawa Crossing on Qawa Road, Macuata
 Urata Crossing on Urata Road, Macuata
 Boca Loop Road, Macuata
 Nakelikoso Crossing on Nakelikoso Road, Macuata
 Lagalaga Flats on Wainikoro Road, Macuata
Central
 Navulokani Road near Wailoa Road junction in Rewa
 Vatulili Village Access Road in Rewa
 Naduru Temple Road in Suva
 Deepwater Road in korovou
 Waisomo Crossing on Delailasakau Road, Rewa
 Wainawaqa Road, Rewa is restricted to light vehicles
 Toga Road
 Nabukelevu Road
 Dalip Crossing in Nausori
 Waila Crossing on Nataveya Road
 Wainavida Crossing on Lutu Vuisiga Road
 Buiduna Road near Buiduna Primary School
 Waisa Crossing in Tailevu
 Colata Cocoa crossing on Colata Cocoa Road in Tailevu
 Qelekuro Crossing on Qelekuro Road in Tailevu
 Nakorovou Crossing off Navunisole Road in Tailevu
 Waimalua Crossing on Waimalua Road in Tailevu
 Luvunavuaka Village Crossing in Tailevu
 Nabolau Crossing in Tailevu
 Naboro Cocoa Crossing in Tailevu
 Burewai Crossing in Tailevu
 Nabilo Road in Tailevu
 Nawiwaivusa Road in Tailevu
 Nasau Road landslip in Tailevu
 Waidalice Road land slip in Tailevu
 Lovoni Bridge on Ovalau; contractors are mobilizing to site
Western
 Katudrau Crossing
 Drana Crossing
 Narara Crossing
 Vatukacevaceva Crossing
 Waimari Flat
| SITREP 3 & 4|
The NDMO is working closely with the Fiji Police Force and the Divisional Commissioners to monitor movements of people on the road and small crossings. pic.twitter.com/NkkU2ssWrJ

— Fiji National Disaster Management Office (@FijiNDMO) April 21, 2019
The FRA is closely monitoring the situation of all roads.
Keep Connected With The Latest News, Weather, And Sports on Fiji's Best Radio stations.