News
Rabuka admits sale of government entities was a mistake
February 14, 2019 8:12 am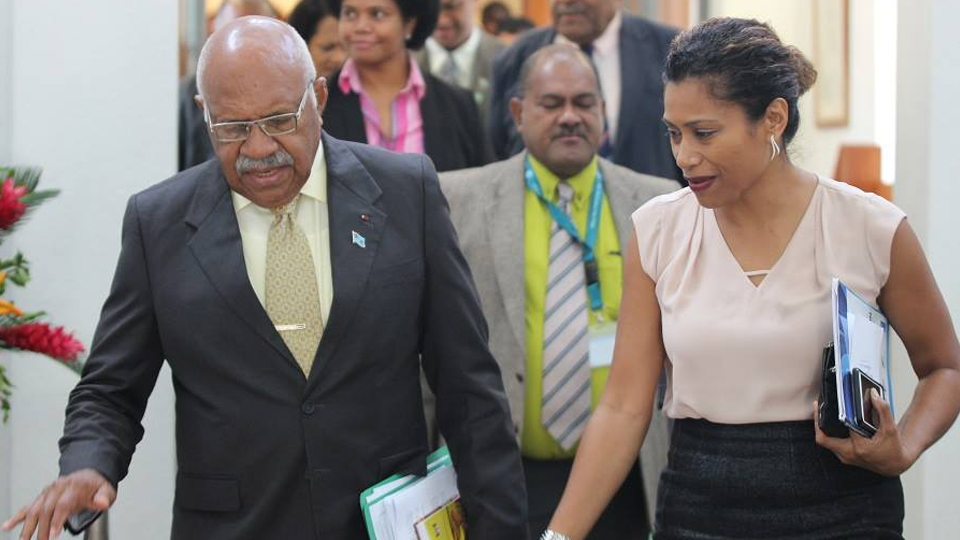 Opposition Leader Sitiveni Rabuka and Opposition Whip Hon. Lynda Tabuya in Parliament [Source: Fijian Government]
In a shocking revelation, Opposition Leader Sitiveni Rabuka has admitted the sale of the Amalgamated Telecom Holdings, National Bank of Fiji and the Government shipyard under his SVT government were divested for the wrong reasons.
This was brought to light by Attorney General Aiyaz Sayed-Khaiyum while responding to the Opposition leader's question on why the government continues to sell government entities such as the Government Printery.
The Attorney General revealed the SVT government asked the FNPF to buy shares in ATH at three times the value, but this cost the FNPF.
Article continues after advertisement
"Under the SVT government when they created the ATH and bought in what we had, the Telecom Fiji, and they bought the Post and wireless company (PNT), so got the FNPF to buy the shares in ATH at three times the value of the share. And then overnight the share price dropped. What does this mean? It meant that for the FNPF members, the value of their funds dropped three times of the investment that was made."
He also revealed that the SVT government sold the government shipyard to a New Zealand based company that went bankrupt a few years later.
"By 1996 it was evident that the entity was not doing well. That company came to the government of the day to borrow money, can you guarantee our loans? We don't sell government assets to private entities for them to come back and ask you to guarantee their loan. You supposed to sell it to a company that can stand on its own feet. Then the company within a short period of time went into receivership and the irony was the government then went back and bought it. The government that sold it went back and bought it to save whatever it was in the shipyard."
Meanwhile, Sayed-Khaiyum adds when the National Bank of Fiji collapsed, 51 percent of bank shares was sold for $9.8m and the remaining 49% was sold by the Qarase government in 2005 for $28m.
These revelations were all proven correct by the Opposition Leader.
"I totally agree with all the facts pointed out by the Attorney General. At our time Mr. Speaker Sir, you will recall the whole world was going through corporatization and privatization as part of enhancing the economy the struggling and growing economy."
The Attorney General informed the House that divestment of shares is not necessarily negative.
He adds there are certain assets the government will not divest at all, while some can be divested partially and there are others that can be completely sold off depending on its conditions.
Keep Connected With The Latest News, Weather, And Sports on Fiji's Best Radio stations.