Parliament
You are a bully, PM tells Bulitavu
August 9, 2019 10:38 am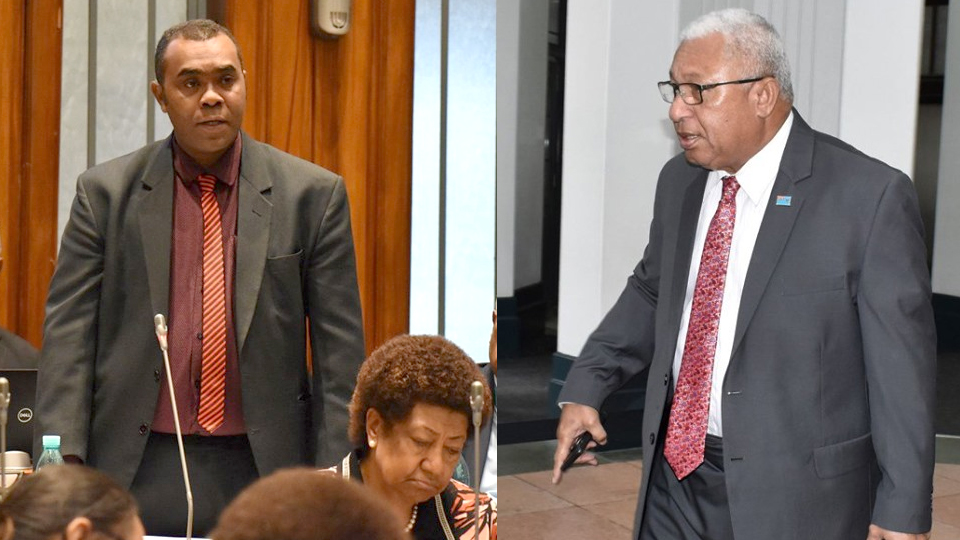 Prime Minister Voreqe Bainimarama [right] and SODELPA MP, Mosese Bulitavu
Parliament has voted in favour of a motion to strongly condemn the statements made or published by SODELPA MP Mosese Bulitavu in the media, including social media.
This is related to Bulitavu having called the Indo-Fiji community vulagi's and also that their way of handling disputes by killing and stabbing has been picked up by the i-Taukei community.
He had also called certain Indo-Fijian women unfaithful and that i-Taukei assaults on women were common, given their built.
Article continues after advertisement
The motion was passed by 30 votes to 21, with all three NFP MPs voting in favour.
Attorney General Aiyaz Sayed-Khaiyum in moving the motion, called on all communities to do away with racial slurs and comments against any member of a different community.
Prime Minister Voreqe Bainimarama says SODELPA MP, Mosese Bulitavu is a bully, who has gone about terrorizing women in his party and also outside of Parliament, and his comments are perverted.
Bainimarama says calling Indo-Fijians vulagi was something that tore down a community, which calls Fiji its only home.
"The context in which the word is used is what matters. At the national level, the notion of being a vulagi, does not apply to any Fijian. No Fijian can be a vulagi in this country to which they are born, where their ancestors are buried where their grandchildren and great children will one-day call home."
The PM also called out Opposition MPs who have not stood up to the comments by Bulitavu, but instead opted to keep mum.
He says with over 30 days having passed since Bulitavu's comments, it was never too late for the quiet ones to take a stand against racism and violence against women.
"It is our duty as elected members of this Parliament to lead our people in this sacred end. When we speak others listen, when we act others follows and no matter which side of this chamber you sit, our voices and deeds today will become the words and actions of future generations."
Bainimarama says violence against women was something which didn't come in the form of ethnicity but something every community had to grapple with
"Solving a Fijians problem such as violence against women, requires action from all Fijians. It requires we put down our communal and political banners to rally together for those who are suffering."
He says abuse knows no colour nor creed. And the abuse of Fijian women will not end until all men make the effort to condemn this sort of violence, condemn abusers, and speak out in defence of the women and girls of this country.
"The nature of these crimes can make them incredibly difficult to combat. Physical and mental abuse often go hand in hand, and victims can be manipulated into thinking that they are to blame for the crimes committed against them. Victims can be intimidated into silence. Crimes go unreported, and abusers go unpunished. What's worse is that entire communities sometimes turn a blind eye to the abusers and do not report such crimes to the Police. They accept and expect a certain level of abuse against women and girls. That culture of tolerance is the ugly underbelly of Fijian society that stretches back as far as history records, and that has made accounting for the true scale of this issue all the more difficult."
Bainimarama says the patriarchal mindset of men who commit abuse doesn't always manifest in violence.
"We see that same mentality in men who think women ought to be brewing tea in the boardroom rather than leading the meeting; the men who think women belong in the kitchen making dinner, rather than going to work and earning a pay check to support their families; and the men who believe they rank above women – even in this very parliament – simply by virtue of being male. Those men all share the same backwards mentality. Those men all feed into the same culture of abuse in our society. In my view, those men are all cowards."
Bainimarama also called out the women MPs of SODELPA and the National Federation Party, to stand up for the women of Fiji.
He says Fiji First will never condone any such comments by one of its own and if they did, it would be the last day for them in the party.
Keep Connected With The Latest News, Weather, And Sports on Fiji's Best Radio stations.