Parliament
PACER Plus, Fiji can't blindly follow others; Kumar
May 16, 2019 4:42 pm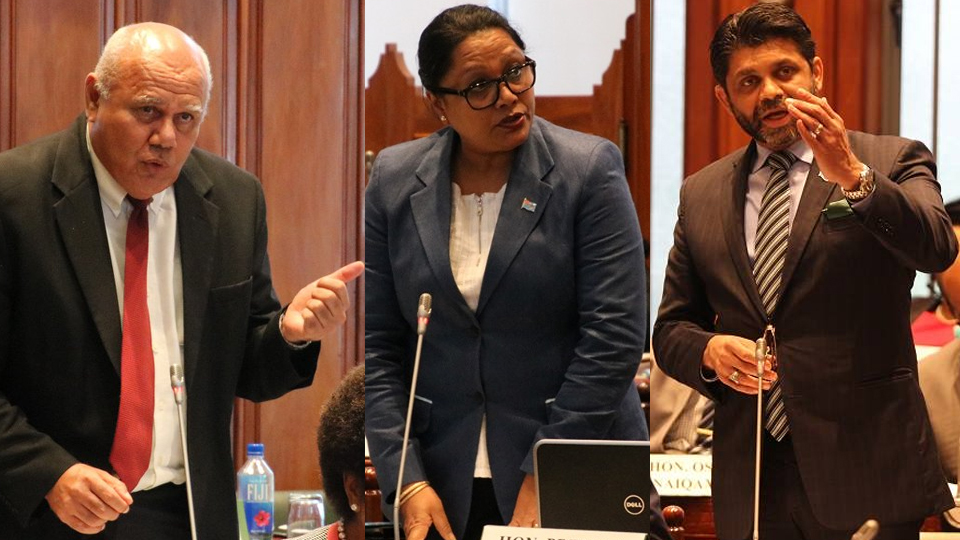 Opposition MP Viliame Gavoka , Premila Kumar and Attorney General Aiyaz Sayed-Khaiyum
Minister for Trade Premila Kumar says the PACER Plus agreement cannot be signed for the sake of signing it.
While debating the review report on the Ministry of Industry and Trade 2014, Opposition MP Viliame Gavoka says that he was shocked to see a full-page advertisement in the Fiji Sun of an Expression of Interest to carry out a feasibility study on PACER Plus.
Gavoka questioned why Fiji is still conducting feasibility studies on PACER Plus when other countries have signed up for it.
Article continues after advertisement
"We spoke with some visitors from the Australian government and they said the key element for countries like Fiji, is the way we help you access our markets. For you to export what you have into Australia and New Zealand."
However, the Minister for Trade says they cannot afford to blindly follow other countries.
"We have looked at the PACER Plus agreement, there are various clause in there that we are not comfortable with because that will restrict our trade with other trading partners.
Attorney General Aiyaz Sayed-Khaiyum says signing the PACER plus agreement will mean that 90% of Fiji's tariffs will no longer exist.
"Any Australia and New Zealand product that comes into Fiji, will be allowed duty-free. We do export to Australia and New Zealand, but the balance of trade is not that high, it's not in our favor. So obviously out tariff revenue will completely go. So the revenue collection for the government will completely go, this government, next government, 20 years' time."
Sayed-Khaiyum says this is one of the issues that they've been negotiating and fighting hard for.
Countries in the PACER Plus agreement includes Australia, New Zealand, the Cook Islands, Kiribati, Nauru, Niue, Samoa, Solomon Islands, Tonga, Tuvalu, and Vanuatu.
Keep Connected With The Latest News, Weather, And Sports on Fiji's Best Radio stations.