Parliament
AG is the expert of everything says Nawaikula, Kumar hits out
May 14, 2019 4:36 pm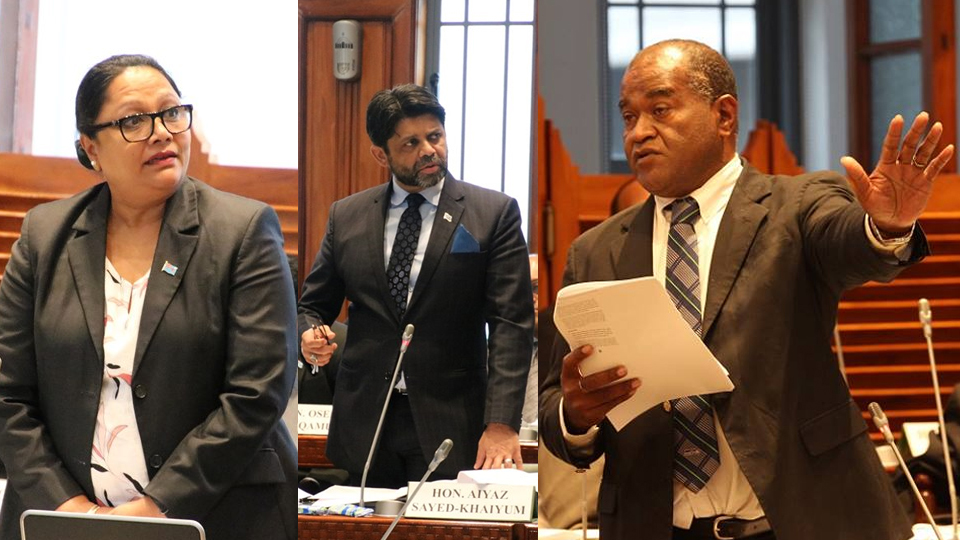 Trade Minister Premila Kumar, Attorney General Aiyaz Sayed-Khaiyum and Opposition MP Niko Nawaikula
Opposition MP Niko Nawaikula today told Government MPs that they rely too much on Attorney General Aiyaz Sayed-Khaiyum during parliament sessions.
During the debate on the report on Investment Fiji 2015 and 2016, Nawaikula claims the Attorney General is the expert in Education, Agriculture, Fisheries and Health and it's all they here on their side of the house.
Nawaikula claims all other Ministers are simply doing nothing.
Article continues after advertisement
"So we asked what are you people doing? Nothing. And he is the expert in hiding things, he says the economy is growing. Fisheries what is your contribution to the GDP? 1.7%, you are not doing your work, Forestry less than 2% or 0, you are not doing your work. That is the truth. Agriculture is going down. You come here with one person leading the house, what's everyone doing? Nothing."
Nawaikula claims the country is only relying on Tourism and remittances to keep the economy on its feet.
Meanwhile, Trade Minister Premila Kumar says Nawaikula needs to understand the role of the Minister for Economy and not make imprudent comments.
"Again the honorable member talked about and belittle this side of the members by simply saying that there is only one person who knows everything and the rest of us are just warming the seats. Let me tell him, he needs to understand the very basic work of the Minister of Economy. When you say Minister of Economy, Minister for Economy needs to understand each and every sector of the economy, and so if he has this knowledge, what is wrong with it? He no longer is Minister for Finance, maybe that's what you are thinking. Get it right. This is Minister for Economy."
Meanwhile, the motion on the Investment Fiji report for 2015 and 2016 has been passed.
Keep Connected With The Latest News, Weather, And Sports on Fiji's Best Radio stations.