Parliament
AG clarifies Climate Action Funds
May 16, 2019 5:01 pm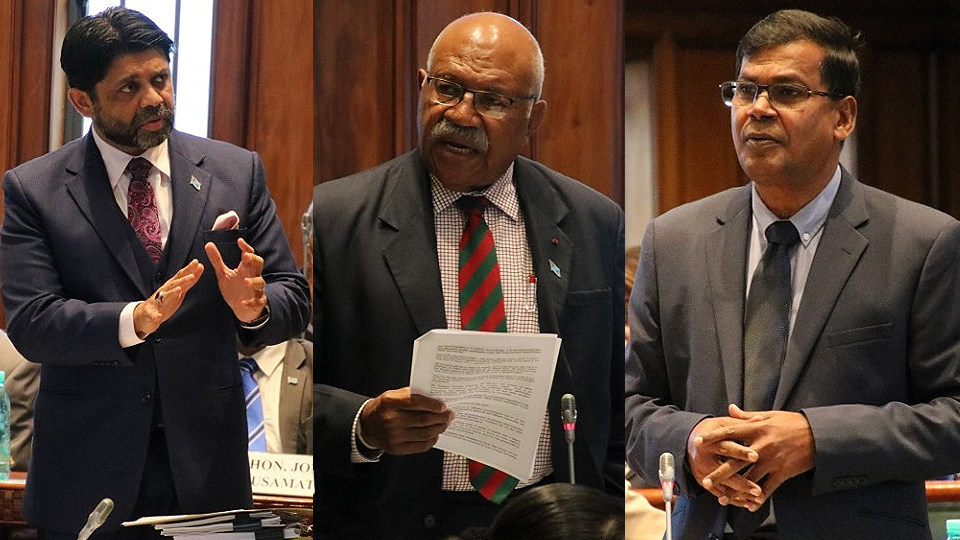 Minister for Economy Aiyaz Sayed-Khaiyum, Opposition Leader Sitiveni Rabuka and National Federation Party Leader Professor Biman Prasad
Opposition Leader Sitiveni Rabuka and National Federation Party Leader Professor Biman Prasad's allegations of misuse of Climate Action Funds have been slammed with the truth of how funds were utilized.
Both Prasad and Rabuka questioned the utilization of funds with Rabuka claiming that evidence suggests a misappropriation of climate funds.
"Have the funds or will the funds in this case that we are debating be truly used for climate action evidence suggests pilferages of funds"
Article continues after advertisement
"I hope to hear from the Attorney General his response to the just reveal information by the leader of the Opposition on the procurement of services to the COP 23 funding"
Minister for Economy Aiyaz Sayed-Khaiyum clarified the funds were audited by an independent auditor and all donors were aware of how funds were used.
"Nobody to date has raised a single objection because they have a better understanding and appreciation unlike you people, that's the reality, that is really the reality and they have looked at the big picture."
Rabuka also claimed that Sayed-Khaiyum violated the procurement procedures by awarding QORVIS a $4.6m communications contract for Fiji's COP Presidency.
"Irrefutable evidence proves the honorable Attorney General and Minister for Economy waived procurement regulations of 2010 and engaged the services of QORVIS MSL group for public relations communication service and the development of the COP 23 website"
Sayed-Khaiyum says the accountability and transparency of the utilization of climate action funds speak for itself as all donors are aware of how the funds were distributed.
Keep Connected With The Latest News, Weather, And Sports on Fiji's Best Radio stations.