News
Opposition stands by UniFiji's academic's comments
May 16, 2019 4:56 pm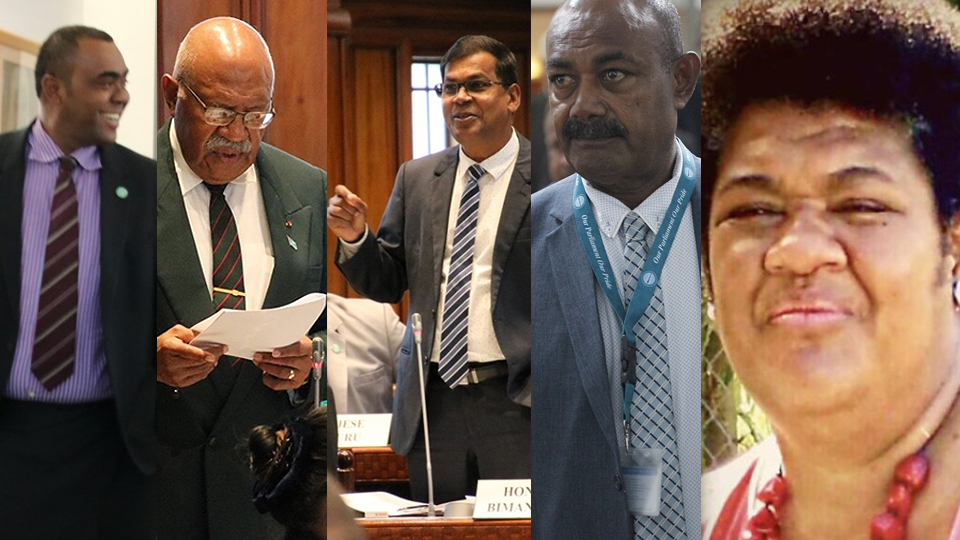 Mosese Bulivatu, Sitiveni Rabuka, Biman Prasad, Inosi Kuridrani and Dr. Litiana Kuridrani
The opposition SODELPA party is today standing by the University of Fiji Academic, Dr. Litiana Kuridrani's recent racist comments to a law student comparing him to a "Barking Indian Dog".
SODELPA party leader Sitiveni Rabuka and Dr Kuridrani's husband who is also a member of parliament have backed Dr Kuridrani's claims that the statement is a common non-racist iTaukei idiom.
Meanwhile, the National Federation Party Leader Biman Prasad says although the statement could be perceived by some as racist he doesn't think anyone should make a big deal of it.
Article continues after advertisement
While calling a student to not bark like an Indian dog may require lots of damage control who better than your spouse, Opposition MP Inosi Kuridrani to come to your defense.
"I know my wife and she does not have that type of personality. What she said is very clear. I believe there is no element of racism or discrimination in that word. It's a Fijian Idiom and it will take a Fijian to understand what a Fijian Idiom is."
SODELPA Leader, Sitiveni Rabuka is also in the same boat, agreeing with linguist Paul Geraghty, that the statement is simply a common iTaukei idiom.
"No, it is not racist. At that time dogs were owned by anyone, dogs just lived in the villages and anyone going out hunting would just whistle and the dog would just follow but when the Indians arrived and started growing in business – they had guard dogs that would bark within the gates but not come out. – so that was the idiom"
Opposition MP, Mosese Bulivatu says the matter has been taken out of context.
"I think it is not racist and it's a Fijian idiom that is commonly used. For it to be sensationalized into a racial issue has gone overboard and I think it should be treated through the confines of that act."
NFP leader Biman Prasad says whilst care should be taken when using certain phrases he doesn't believe Dr Kuridrani's "Barking like an Indian dog" comment shouldn't be given too much attention.
"To me, I don't think we should make it a big issue in the sense that it was said by one particular person. People have said it is racist and for some people, these things are very racist."
The student at the receiving end of Dr Kuridrani's colourful comments, Filipe Bainivalu has called for the academic's suspension pending an investigation by the University management.
The University of Fiji's vice-chancellor is expected to comment on the issue tomorrow.
Keep Connected With The Latest News, Weather, And Sports on Fiji's Best Radio stations.