Natural Disaster
TC Mona intensifies into Category 2 system
January 4, 2019 2:02 pm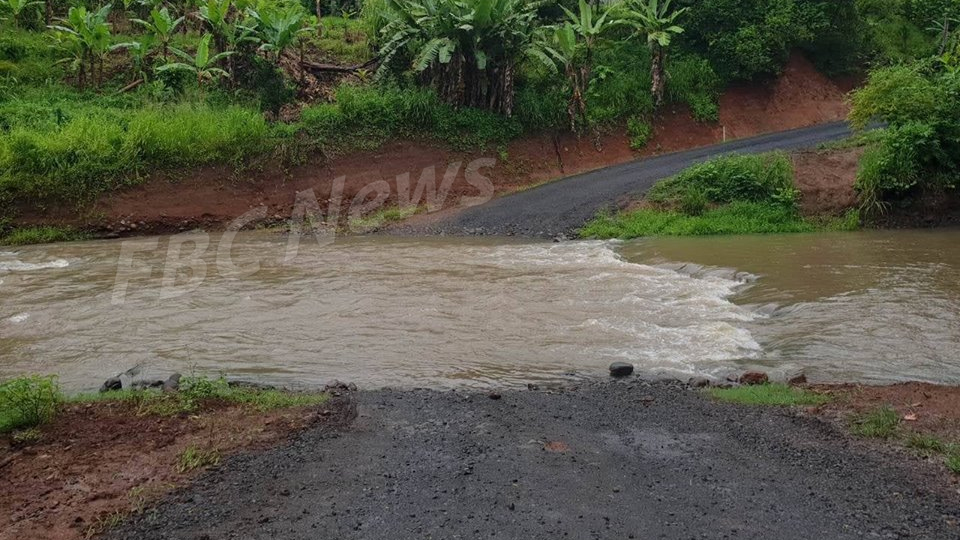 Threat Map: The light pink area will experience Damaging Gale Force Winds. The dark pink area represents a Warning Gales or stronger within 24 hours. The yellow area represents an Alert: Gales or stronger within 24-48 hours [Source: Fiji Meteorological Service]
Tropical Cyclone Mona remains to the northwest of the Group and has gradually picked up speed in the last 24 hours says the Fiji Meteorological Services.
Mona has intensified into a Category 2 system.
Senior Forecaster Amit Singh says the system was located about 230 km north of Yasawa-i-rara or about 300km northwest of Labasa at 10am.
Article continues after advertisement
Close to the centre, the average wind is estimated to be about 95km/hr with momentary gusts to 130km/hr.
TC Mona is moving south-southwest at about 15km/hr.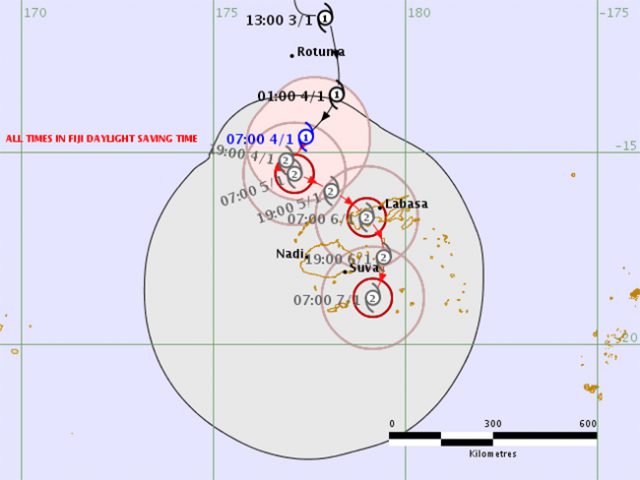 FORECAST-TRACK-MAP [Source: Fiji Meteorological Services]
The cyclone is expected to move towards south-southwest until this evening, turn and then move east-southeast towards the Fiji group from tonight.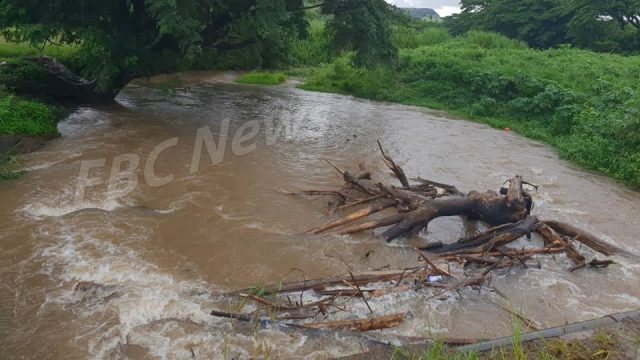 The river at Boca, Bulileka in Labasa, swift flowing with lots of debris.
On the forecast track , the centre is expected to be located about 180 km north-northwest of Yasawa-i-rara or about 290 km north-northwest of Nadi at 10pm today and about 130km north of Yasawa-i-rara or about 250 km north of Nadi at 10 tomorrow morning.
"A tropical cyclone warning is also now in force for the whole of Fiji group. As we see in the coming days or hours the system as it starts to track towards the Fiji group, there is uncertainty with the track. The best that we are going for is that the center is expected to pass over Vanua Levu however there is a possibility it could also go a bit south of Vanua Levu meaning close to Viti Levu as well. It will then take a southerly turn and pass very close to Kadavu."
Singh is urging Fijians to be prepared as there is a lot of uncertainty associated with TC Mona's track.
"Based on the data available to us we have given a track over Vanua Levu and once the system makes a loop or starts to move towards Fiji, that's the time we will be more confident that whether it will move over to Viti Levu or Vanua Levu. At this stage its moving south south west and when and after it takes the loop than we will be more confident which way it will move."
He adds there will be heavy rainfall in most part of the country.
Singh says damaging winds are likely to begin several hours before the cyclone centre passes overhead or nearby.
"Whole of Fiji group should prepare for the cyclone. The main concern for now is rain which will cause flooding and major flooding. Interms of wind the gale force winds can be damaging, it can do damage to the temporary sheds, fine debris can also cause damage and also the structure which is not built very strongly it can cause damage to that as well."
A strong wind warning remains in force for all land areas and waters of Fiji.
A heavy rain warning remains in force for Yasawa and Mamanuca group, Vanua Levu, Taveuni and nearby smaller islands, the eastern half of Viti Levu, Lau and Lomaiviti group and is now in force for the rest of Fiji.
Keep Connected With The Latest News, Weather, And Sports on Fiji's Best Radio stations.