News
Fiji awarded IICTF Excellence Award
October 20, 2019 7:25 am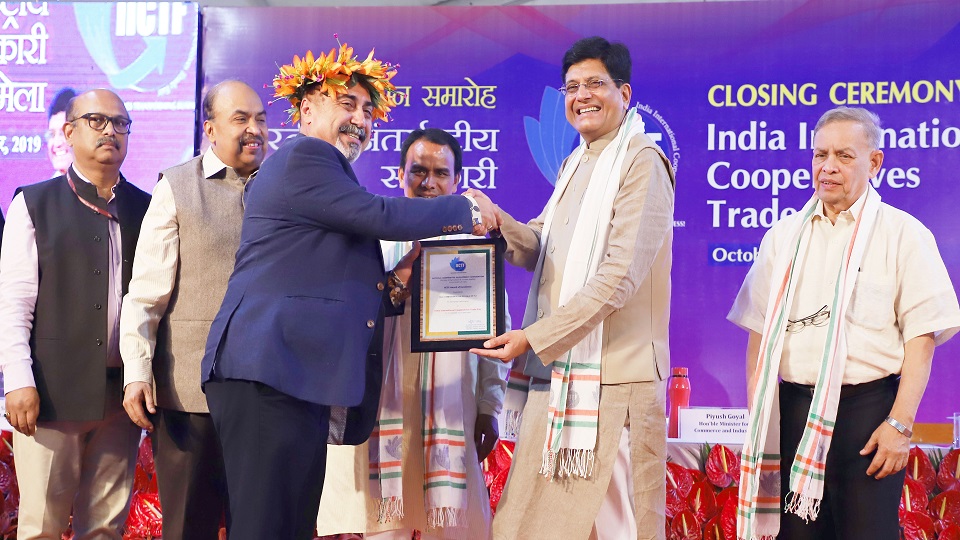 Fiji has once again punched above its weight by earning the recognition and appreciation of the global community at India's largest trade fair.
Fiji's High Commission in New Delhi received "IICTF Excellence Awards" in recognition of Fiji's exemplary participation at the India's first and the largest International Cooperatives Trade Fair (IICTF) which, was held in New Delhi from the 11th to the 13th October 2019.
Fiji was among 35 international countries that participated at the India International Cooperatives Trade Fair.
Article continues after advertisement
The three day trade fair uniquely promoted cooperative to cooperative trade abroad, which was packed with conferences, exhibitions, Buyer-Seller-meets, Customer to Customer meetings, sales promotion, marketing, networking, policy advocacy.
The IICTF Excellence Awards was presented by the Indian Minister for Commerce and Industry, Shri Piyush Goyal to Fiji's High Commissioner to India, Yogesh Punja at IICTF in New Delhi last week.
High Commissioner Punja said that it was an honour to receive the award for Fiji and Fiji's High Commission is grateful for the recognition and opportunity provided to participate at India's first, and the largest International Cooperative Trade Fair (IICTF).
The IICTF is known to be a vibrant platform that nurtures networking and collaboration among cooperatives from all across the world.
Through the fair, Fiji's High Commission in India also had the opportunity to exchange information and draw from the experiences of the operations of Cooperatives in India in various sectors such as in Agriculture, Handicraft, Tourism and manufacturing sectors.
Fiji's High Commission in India, capitalised on the IICTF as a platform to link cooperatives in India with those in Fiji by maximizing on the opportunities for new agricultural mechanism methods to be introduced in Fiji, thereby adding value chain to existing agriculture technologies used in Fiji. The event also enabled Fiji's High Commission to explore partnerships to empower rural communities in Fiji on the use of modern-day techniques and science to progress from small-scale to medium enterprises.
A key strategy of success for Fiji at the IICTF has been the bilateral meetings that High Commissioner Punja and his Team held with several companies who showed interest for potential trade and investment opportunities in Fiji. The IICTF featured the Fijian Made products such as Pure Fiji, Agriculture products, Fiji Water, VaiWai and promotional materials on Fijian Agriculture, Tourism and Investment materials to name a few.
The fair provided a remarkable opportunity for Fiji's High Commission in India to also explore partnerships and business opportunities with 2000 cooperative organisations, officials, and exhibitors from India and abroad.
The agricultural sector exhibitions included wide range of agricultural products, agricultural machinery and technologies, Brand Promoting and Marketing, Cooperative Banking, Cyber Security, Hi-Tech Agriculture, Food Processing to name a few.
Keep Connected With The Latest News, Weather, And Sports on Fiji's Best Radio stations.