News
FBC's PSB service stands at over $27 million
March 21, 2019 10:14 am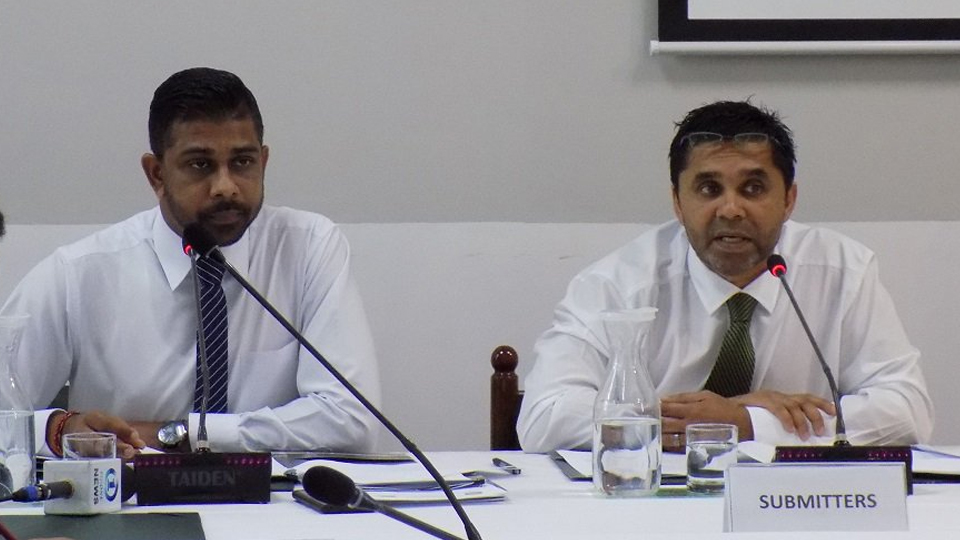 FBC Chief Executive Riyaz Sayed-Khaiyum [right] while submitting its Annual report to the Standing Committee on Economic Affairs
The total value of the Fiji Broadcasting Corporation's Public Service Broadcaster service now stands at over $27 million.
While submitting its Annual report to the Standing Committee on Economic Affairs, FBC Chief Executive Riyaz Sayed-Khaiyum says this is an increase of over $15million compared to the current value of the PSB contract.
Sayed-Khaiyum says as per the current PSB radio contract, the sum of $6.2 million is paid to FBC per year to produce PSB radio programs and to also operate two PSB radio stations.
Article continues after advertisement
He says the FBC is also paid a fee of $4.6million to produce and procure an extensive range of PSB TV programs and for the operation of the brand new non-commercial PSB TV channel, FBC 2.
The CEO adds the value of FBC's PSB radio programs now stands at $16.5million while the value of TV programs stands at $7.6 million.
Sayed-Khaiyum adds as per the government's directive, the FBC 2 channel is solely for the purposes of informing and educating the public at no cost.
He mentions that they acknowledge and appreciate the fact that the government has given an undertaking not to charge transmission rental for this channel on the Walesi platform.
However, he adds the FBC does incur other costs for the operation for this channel in transmission power costs, manpower costs, and some program acquisition and delivery costs amounting to more than $2million annually.
Meanwhile, the FBC on average provides $800, 000 worth of advertising to charitable organizations as part of its corporate sociable obligations.
Keep Connected With The Latest News, Weather, And Sports on Fiji's Best Radio stations.