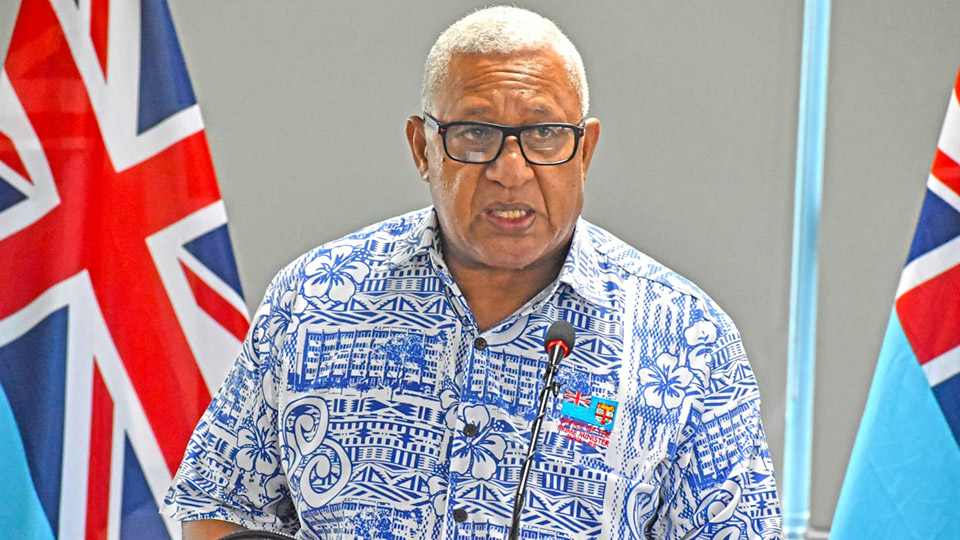 Prime Minister Voreqe Bainimarama
There are no new cases of COVID-19 confirms Prime Minister Voreqe Bainimarama.
Bainimarama says all five Fijians who tested positive are in stable condition.
The Prime Minister says all 300 passengers who were on the same flight and came in direct contact with the first patient were identified and tested and all results came negative.
Article continues after advertisement
"We acted decisively when our first case was confirmed and due to our diligence – we know where every one of our first five cases originated. We've also been successful in identifying and isolating or quarantining their closest contacts –– we have now accounted for the over 300 passengers who flew on the same flights as the first patient all of those passengers who are in Fiji have been directed to self-quarantine for 14 days."
As of 29th March, 2020, Fiji's COVID-19 cases STILL remains at FIVE. There are no NEW confirmed cases.
Let's keep on keeping on #TeamFiji?? #TogetherWeCan #COVID19Fiji #COVID19

— Office of the Prime Minister (@fiji_opm) March 29, 2020
Bainimarama says he acknowledges that the travel restrictions and lockdown measures put in place has not been easy for anyone.
He says through the intensive work of their contact tracing teams, doctors, nurses, health inspectors, police officers, the Republic of Fiji Military Forces personnel, and the support staff from across government, they've done extremely well in term of surveillance, testing and containing new cases.
"But even if we throw every resource in government at our response effort, without widespread public compliance, we will not win the war on coronavirus –– and we are at war, make no mistake. I know every Fijian wants to stop this virus dead in its tracks. I know we all want to get back to the business of living normally as soon as it is safe to do so –– it's high time every Fijian starts supporting and adhering to the government's measures to keep them safe and beat this virus once and for all".
This is a whole of Government Effort. Vinakavakalevu for the collective efforts to protect Fiji. #TogetherWeCan https://t.co/K5f3EOyk2r

— Dr I Waqainabete (@Nadokoulu) March 29, 2020
The Prime Minister once again assured that they are doing everything that needs to be done to urgently contain this virus.
"Everyone who gets off our flights is being quarantined in government-funded, designated centres, and monitored. We have been relentlessly tracking down contacts, monitoring self-quarantines, and testing hundreds of suspected cases. And every day, we are actively ramping up these efforts even more –– preparing and expanding our facilities, setting up new fever clinics, scoping out new isolation centres to prepare for the worst-case scenario. We cannot, and will not, rest so long as COVID-19 poses a risk to the Fijian people."
????No wandering the streets, PLEASE. Nationwide curfew from 10pm to 5am, starts tomorrow.
HELP relevant authorities HELP you‼#TogetherWeCan #COVID19Fiji #COVID19 #TeamFiji

— Office of the Prime Minister (@fiji_opm) March 29, 2020
The Prime Minister reminds Fijians that if they've been directed into compulsory self-quarantine, or know someone who has been ordered into quarantine – treat this crisis seriously.
The Prime Minister has also warned that those caught breaking the government-imposed quarantine, or any other rules will face harsher penalties.
"When we passed our COVID-19 Response Budget, we also gave teeth to our enforcement under the Public Health Act. It used to be a $40 fine if anyone violated our COVID-19 health protection measures; now, it's five years in prison and up to a 10,000-dollar fine, or both. Law-breakers be warned, we will have zero tolerance for those recklessly risking the lives of themselves or others."
❌❌ Don't touch your mouth, nose or eyes if your hands are NOT clean.
✅✅ Ensure personal hygiene at all times.#TogetherWeCan #COVID19Fiji #COVID19 #TeamFiji

— Office of the Prime Minister (@fiji_opm) March 29, 2020
Bainimarama has also reminded all Fijians that while it may be intimidating to visit the health centres, particularly, the new fever clinics – anyone who has a fever, even if they don't have a recent travel history, should visit one of these clinics.
This as Fiji enters the flu season, a virus that has many similar symptoms of COVID-19.
"If you're spreading rumours, or whispering about those who are visiting our fever clinics, you're damaging our containment efforts. Anyone who goes to get a check-up should be praised – they are playing a crucial role in keeping COVID-19 at bay. The only shame comes in hiding your symptoms, or by being dishonest – that is what ultimately spreads this silent killer."
The Prime Minister also spoke about the new nationwide curfew that will be enforced from 10pm until 5am in the morning, every night, everywhere in Fiji from tomorrow.
Bainimarama says police will have over 100 permanent checkpoints set up all throughout the country, to be supplemented with more, temporary checkpoints as the need arises.
He stressed that between the hours of 10 at night and 5 in the morning, no Fijian should be wandering on the streets unless they have an emergency or are working, going to work, or coming home from work.
The Prime Minister also announced that this Tuesday they'll be rolling out a new COVID-19 Call Centre to handle all concerns relating to COVID-19 and their response measures, with one toll-free number anyone can call.
Until Tuesday, if you, or someone you've had contact with, has recently travelled overseas and you are experiencing the symptoms of COVID-19 – even if those symptoms are as mild as a sore throat or cough –– you can call the following numbers: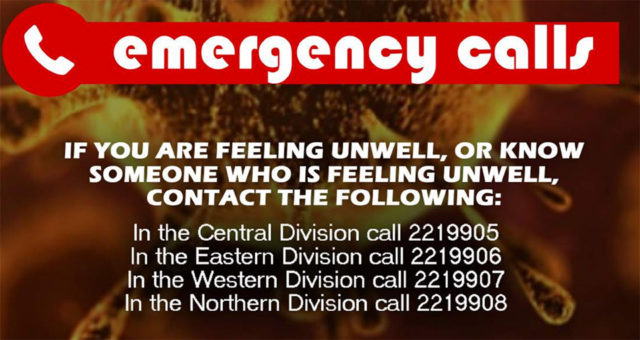 Click here for more on COVID-19